Remembering Mac Miller: A Creative Journey Left Unfinished
Written by Alexandra Tirado. Published: September 12 2018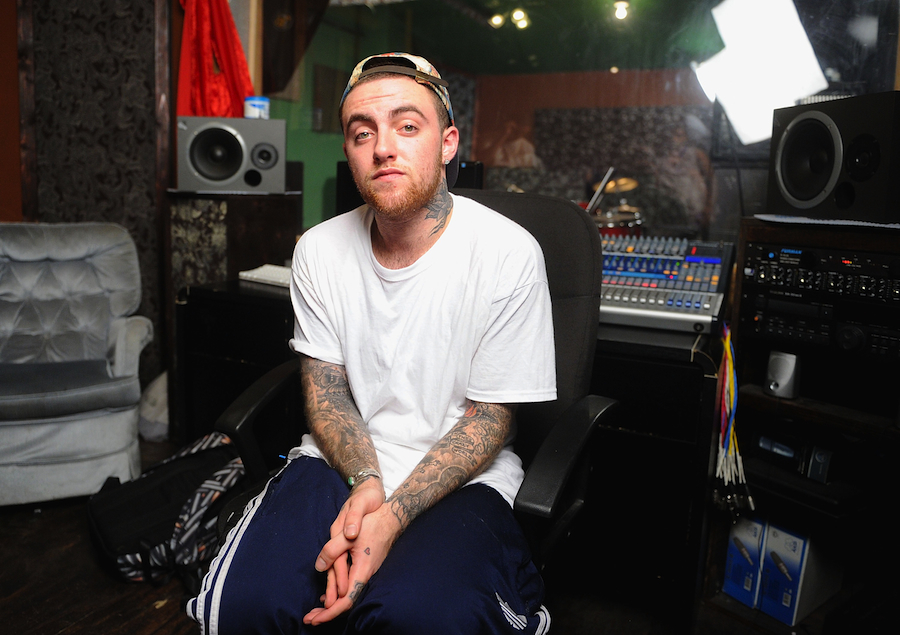 ( © Jamie McCarthy/Getty Images)
Mac Miller andLarry Fisherman didn't share the same profession, but they were both trapped inside the same person: Malcolm McCormick. Better known to the world as Mac Miller, McCormick was born in 1992 in Pittsburgh, Pennsylvania. Last Friday, he was found dead in his Los Angeles home.
As news broke, the internet was filled with outpouring grief by fans and industry friends who lamented Miller's untimely demise. Even with Miller's history with addiction and depression, his death was not something people saw coming -- not after he took some time off to work on himself this Summer, not when it had been scarcely a month since the release of what critics were calling his best album yet, not at the mere age of 26.
Miller's death brings the nostalgia and sorrow that the untimely death of a young artist often brings. It would be unfair to say there is ever a point in an artist's career when they feel like they are fully evolved. It certainly doesn't have to do with age -- takeThe Beatles' Paul Mccartney, who, at 76, just released a new album last week. For some, Kurt Cobain's peak happened with Nevermind, two years before his death at 27. But with Miller, perhaps his biggest legacy lays in the furious way in which he constantly improved himself as an artist. People are not only mourning the loss of an incredibly young human being, but the end of an artistic journey that will forever remain an unfinished business.
Miller's love for hip-hop was always palpable. But it was perhaps this enthusiasm that let his first official record, 2011's Blue Slide Park(he had already release a mixtape, K.I.D.S., under the name of EZ Mac), to be so critically smashed. The main problem was perhaps that Miller approached the record too much as a rap fan, pairing this with rushed deliveries and rap cliché-ridden lyrics. Unlike some of his heroes, like MC Phife Dawg orQ-Tip, he didn't have the life experiences to make his lyrics about drugs and newfound money believable -- he was a white, middle-class teenager. Hip-hop commentators were quick to notice this and dismiss him as "frat rapper". Pitchforkeven gave the album an embarrassing 1 rating. Nevertheless, it debuted at #1 on Billboard 200, giving Miller a huge platform, a bad reputation, and a point to prove.
"A lot of the reviews were more on me as a person," Miller said in a 2013 interview with Complex. "To be honest, that was even worse. You're 19, you're so excited to put out your first album, you put it out -- and no one has any respect for you or for what you did."
After the release of his first album, Miller threw himself into several little projects, including a couple of mixtapes and even a Jazz album under the name Larry Lovestein & The Velvet Reviva. It was during this experimentation period that the singer came up with yet another name to bear: Larry Fisherman, the pseudonym that Miller worked under as a producer. In contrast to Mac Miller, critics had kinder things to say about the work of Larry Fisherman. By the time his second record, Watching Movies With the Sound Off (2013), came out, the artist had completely reinvented himself from his first album. The critical response was mostly positive, most of them recognizing his growth and praising Miller's production skills as Larry Fisherman. Even though there were still a few twigs to tweak, it was an immense improvement from his first record.
Perhaps it was the fact that it was a silent experiment, a way to feel free to fail without making a big splash. It was under this moniker that Miller spent days on end in his L.A. studio home where he paraded in a myriad of talented artists turned collaborators likeThundercat and Anderson .Paak. He opened the door to new artists like Chance the Rapper and SZA, the latter of which credited Miller as "the first person who believed in me''. He also produced Vince Staples's mixtape, Stolen Youth, to general critical acclaim, and even produced a few mixtapes of his own, including Delusional Thomas andFaces. All this led to his third album, GO:OD AM, which was welcomed with even better reviews than his last one and included general favorite "Dang!", a collaboration with .Pakk. He recorded as Miller and produced as Fisherman.  
It seemed that his inflated fame as Mac Miller allowed him to become a mentor as much as his quiet curiosity as Larry Fisherman allowed him to become a student. It was this duality that led him to coach new artists with what he had learned so far while observing and absorbing the qualities they posed to better himself as an artist.
As Malcolm, he shared a two-year romantic relationship with Ariana Grande. As an artist, a wonderful collaborative partnership blossomed between them, including coming together for songs like "The Way" and "My Favorite Part".
It was during this time that Miller released his fourth album, Divine Feminine (2016). What could have easily been a misogynistic male-gaze view of femininity turned out to be a beautiful album of feminine presence in the universe and of love itself. The reviews were yet again better than his last album -- it was hard to believe the same kid who started out singing about Donald Trump was capable of such depth. The record was again produced by Larry Fisherman, but no matter how many names Miller used, he was still one man... and troubled one.
It was no secret that Miller struggled with his addiction. Fame did to him what fame does to almost every young person: it consumed him. It is easy to forget that, at the time of his first album, Miller was not even out of his teens and already a massive success. He was sleeping few hours, changing time zones regularly, and filling concert halls with the songs of an album hated by the critics.
Whenever he referenced his addiction in his songs, it was never in a reverential way, but rather in a raw, almost pleading manner ("To everyone who sell me drugs / Don't mix it with that bulls--t / I'm hoping not to join the 27 club"). He strived to get better, only to relapse shortly after. His struggles ended up costing him his relationship with Grande this past May, followed by a very public DUI that prompted him to make a swift exit from the public eye and go on a radical escape into darkness.
And then, light.
Swimming. Miller's last album and arguably his best. It is hard to summarize what makes this album so good without looking for clues or references, if any, as to what would happen not too long after its release. Teaming again with his alter ego, Larry Fisherman, as producer, Miller composed an album that was classy, subtle, emotional, and uplifting. He sings about depression in the same way he sings about drugs. He doesn't rage about it, but laments it and, in this case, even welcomes it. His delivery is constant and steady, letting the beat breathe and the background instruments have their moment. What could have been an angry album turned out to be his most introspective and self-accepting ones. From his lyrics to his delivery, it all pointed the same direction -- Mac Miller was gonna be okay.
When someone is an artist, there are always the people they know personally and the people they reached through their art. When an artist dies, no matter which way, it has a way of connecting both sides and inexplicably uniting otherwise heterogenous forces. They share their pain, for the person they knew or for the artist they miss. All the outpouring support, the tweets, the messages -- it is all a testament to the person Miller was and how the world will be a little duller without him in it. But by losing him, the world also lost a great artist. It is the ultimate shame that the world won't get to the rest of his artistic journey. However, his efforts in production as Larry Fisherman will be upheld and his songs as Mac Miller will still be sung by a remaining legion of fans. But it all started with a guy named Malcolm.