Carrie Brownstein's Punk Band Sleater-Kinney Reuniting for New Album & Tour!
Written by Kevin Donaldson. Published: October 22 2014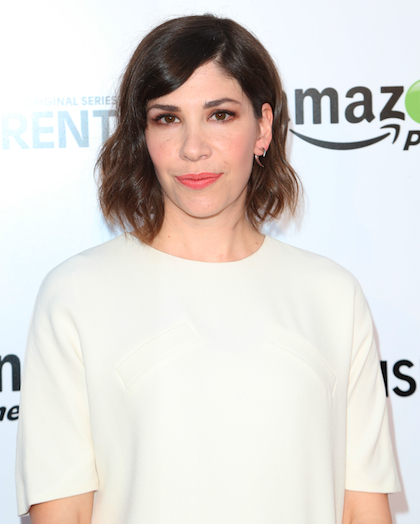 Olympia, Washington,-based all-female punk rock bandSleater-Kinney (named after an exit on Interstate 5 in Lacey, Washington) is reuniting for the first time in almost ten years! The band consists of guitarist and lead vocalistCorin Tucker, drummer Janet Weiss(nothing to do with Rocky Horror Picture Show) and lead guitarist and vocalist Carrie Brownstein. That's right, the Carrie Brownstein who is the other half alongsideFred Armisen on of IFC's sketch-comedy show "Portlandia".
The band was first formed by Tucker and Brownstein during their college days over at the Evergreen State College, which is also known for educating former student and riot grrrl pioneer Kathleen Hanna. Tucker and Brownstein were always the band's constants, having gone through three drummers and never bothering with finding a bassist before discovering Weiss to drum for their third of now eight studio albums Dig Me Out.
The band has had music videos, successful tours, and critical praise from critics and peers like Sonic Youth andPearl Jam but never seemed to have found the mass mainstream appeal many other bands get… until now! With Brownstein having a successful career in comedy and even appearing in commercials nationwide, more people have found a new appreciation for Sleater-Kinney's music. With an album entitled No Cities to Love already recorded and a tour in the works, one can imagine that, this time on the road, the women of Sleater-Kinney will be seeing some new and younger faces in the crowd. By the way, did you notice I said they already recorded an album? Well, check out the link below for their new music video "Bury Our Friends". The video features writer, filmmaker, and "Portlandia" guest starMiranda July.
"Bury Our Friends" first appeared on the Internet last week as a way of spreading news that the band will be releasing a complete discography vinyl box set through Sub Pop Records. Later it was revealed to only be part of the news.
I like Sleater-Kinney and am happy to see they're making music again. My only question is if Carrie Brownstein's best bud Fred Armisen will be involved somehow. Will he be in a music video? Will he show up on stage while they're on tour to do something whacky or do a drum solo? Or will he just enjoy the new music on his IPod while he argues with waitresses on the organic legitimacy of their restaurant's chicken? After all, Brownstein met Armisen because he is a huge fan of Sleater-Kinney, and they just kind of clicked from there, so it wouldn't be too surprising if he's happy sitting back and watching Carrie and company do their thing on their own. No matter what, it's safe to say that Sleater-Kinney's shows won't look like this:
No Cities to Love is due out on January 20, 2015.
2015 Tour Dates:
02-08-15 Spokane, WA @ Knitting Factory
02-09-15 Boise, ID @ Knitting Factory
02-10-15 Salt Lake City, UT @ The Depot
02-12-15 Denver, CO @ Ogden Theater
02-13-15 Omaha, NE @ Slowdown
02-14-15 Minneapolis, MN @ First Avenue
02-15-15 Milwaukee, WI @ Turner Hall
02-17-15 Chicago, IL @ Riviera
02-22-15 Boston, MA @ House of Blues
02-24-15 Washington, DC @ 9:30 Club
02-26-15 New York, NY @ Terminal 5
02-28-15 Philadelphia, PA @ Union Transfer
03-01-15 Pittsburgh, PA @ Stage AE
03-18-15 Berlin, Germany @ Postbahnhof
03-19-15 Amsterdam, The Netherlands @ Paradiso
03-20-15 Paris, France @ Cigale
03-21-15 Antwerp, Belgium @ Trix
03-23-15 London, UK @ Roundhouse
03-24-15 Manchester, UK @ Albert Hall
03-25-15 Glasgow, UK @ O2 ABC
03-26-15 Dublin, Ireland @ Vicar Street

(Photo via Bridow/WENN)
- Kevin Donaldson, YH Staff