Cara Delevingne: From the Runway to the Big Screen
Written by Brittany Taormina. Published: August 07 2015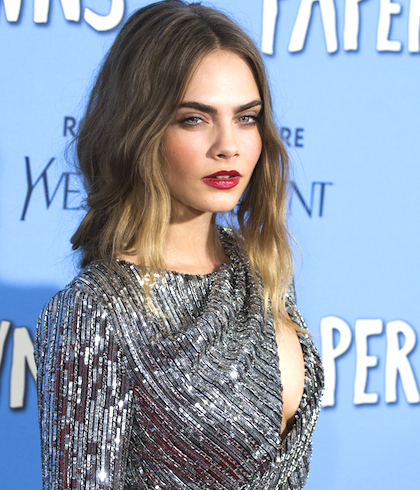 Many knowCara Delevingne as a world-reknowned supermodel, but she is definitely making her way as an up-and-coming actress.John Green's book "Paper Towns" is currently on the big screen, and Cara is front-and-center as the adventurous free spirit, Margo Roth Spiegelman.
Cara is a natural actor; she effortlessly transforms into a different person and does a great job of transporting the audience to another world and making her character relatable. Even though the film is from Quentin's (Nat Wolff) perspective, you really get an idea of what kind of person her character is based off her interaction with Quentin and how she sees the world. It's always fantastic when you can view a film from multiple character perspectives, and Cara shines in hers.
Cara definitely has what it takes to balance both modeling and acting. She also made an appearance in Taylor Swift's epic "Bad Blood" music video.
You'll next be able to check out Cara on the big screen as a mermaid in Warner Bros.'s Pan, opening October 9.
She doesn't take herself too seriously, which is evident from her Instagram; it's quite contagious.
As rare as it might be for a successful model to make the smooth transition into movies, it certainly is not unprecedented! Here are 3 others that paved the way for gals like Cara:
1. Rosie Huntington-Whiteley
Many know her as the Victoria's Secret Angel, but her first modeling job was with Levi's when she was 16. She made her film debut in 2011 inTransformers: Dark Of The Moon... not a bad first film to star in. Her second film, Mad Max: Fury Road, was just released in May, featuring Rosie as a badass mom-to-be who can kick plenty of butt all while heavily pregnant! It appears that Rosie knows how to go after the right roles!
2. Cameron Diaz
We all love her and know her. Cameron also got her start as a model back when she was 16 years old. She even modeled for Calvin Klein! Her first film role was in The Mask with none other than Jim Carrey and she hasn't looked back since, becoming a Hollywood It Girl. Who doesn't love her comedic style? She's the best!
3. Tyra Banks
Many know Tyra as the ULTIMATE Victoria's Secret Angel, but for many of us who grew up in the '90s she was our favorite doll-turned-human inLife Size. She also appeared in "The Fresh Prince of Bel-Air", Love & Basketball, and Coyote Ugly. In addition, she had her own talk show, "The Tyra Banks Show" and now is back with a lifestyle talk show called "FABlife", not to mention her stint as a host of "America's Next Top Model". There is nothing she can't do!
Can't get enough of Cara? Follow her on Instagram, Twitter, and Facebook!
(Photo via WENN)
- Brittany Taormina, YH Contributing Writer