Billie Eilish's Best Red Carpet Looks, RANKED!
10-08-2020 by Zoe Schwartz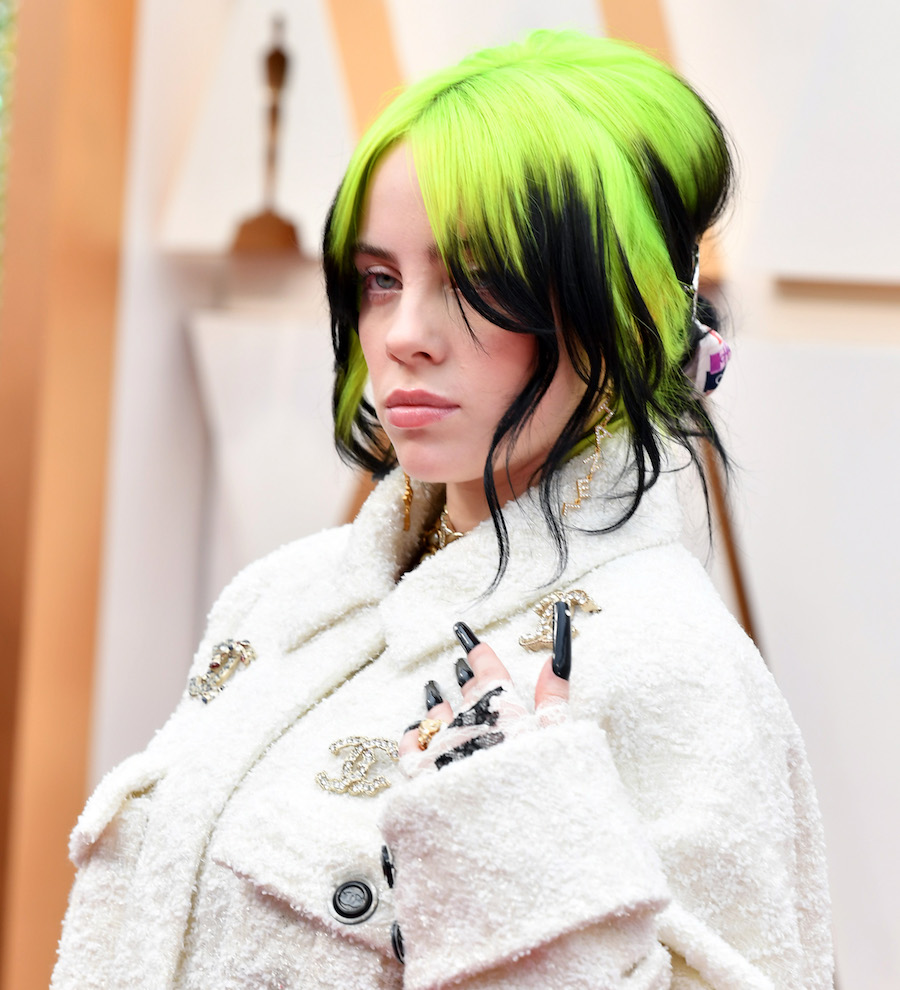 ( © Amy Sussman/Getty Images)  
At just 14 years old, Billie Eilish was discovered through the release of debut song "Ocean Eyes". 4 years and 5 Grammys later, her singing voice has made her a viral sensation. Her successful music career can also be attributed to her bold personality, but a huge part of her self-expression comes from her style. This gal has mastered the art of keeping her "IDGAF" attitude intact, despite being surrounded by a room full of ball gowns. With the exception of two killer looks in one night at the 92nd Academy Awards, we've come up with a list of Billie's 5 best red carpet looks from this past year!

5. 2019 Billboard Women In Music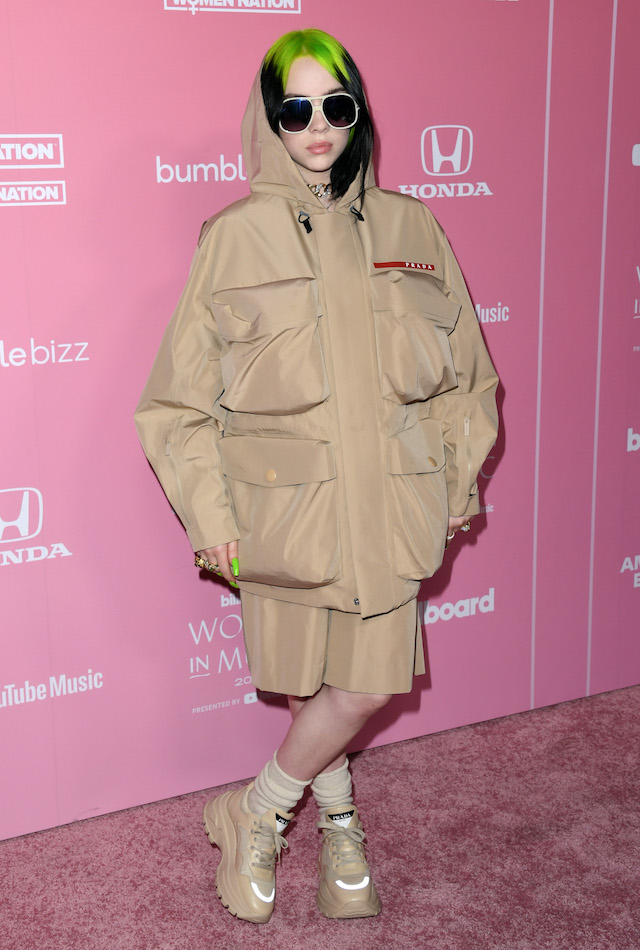 ( © Jon Kopaloff/FilmMagic/Getty Images)    
At the 2019 Billboard Women In Music event, held to recognize all the fantastic women in the industry, Billie walked home with the Woman of the Year title in a monotone Prada outfit. She kept it clean and simple but didn't forget to throw in neon green nails to accent her edgy hair. We love the pocketed windbreaker in particular, because Billie doesn't strike us as a purse carrier.  
4. 2020 Spotify Best New Artist Party
( © Frazer Harrison/Getty Images for Spotify)  
At the more intimate Spotify Best New Artist party, Billie came decked out in a slime yellow Versace outfit with matching Gucci sunnies. At the event, she actually stated that she felt "stupid" in the outfit. We beg to differ – the choice of neon in her puffer jacket and joggers was a great way to add personality to a mid-winter event.
3. 62nd Annual Grammy Awards
( © David Crotty/Patrick McMullan via Getty Images)
This year's Grammy Awards were a historical moment for Billie – She took home 5 trophies and became the second artist to win all four major general field awards. She stuck with her neon green theme but incorporated it in the most detail oriented way. Just look at the shoes – they're bedazzled! We'd also like to draw attention to her mesh Gucci mask. Timely for the outbreak of a global pandemic; perhaps this pop star can predict the future too.
2. 92nd Academy Awards and Vanity Fair After-Party
( © Amy Sussman/Getty Images)
The attention to detail in this Chanel getup is mesmerizing. Billie rocked logo-laced mesh gloves, conveniently cut off at the fingers to flaunt some jewelry we could only dream of having in our collections. Between the embroidery, buttons, and broaches, we didn't know where to begin with this one. Not pictured (though you can see a glimpse of it in the pic at the top of this page) is the Chanel ribbon used to keep her hair tied up in a bun in the back. Unfortunately, she had to change out of this 'fit to make her Oscars debut performance – but we didn't mind.

( © Axelle/Bauer-Griffin/FilmMagic/Getty Images)
We had to kill two birds with one stone here because of the uber-cool outfit she wore to Vanity Fair's after-party. The black on black sparkling Gucci lace was an impeccable way to make a dramatic outfit subtle in contrast to the outfit previously worn that night.
1. 2020 BRIT Awards
( © Mike Marsland/WireImage/Getty Images)
This was truly Billie's most show-0stopping ensemble. There is not a single article of clothing (even the printed manicure) that didn't pay tribute to Burberry. It wouldn't be her without a few chains, though, which you can see intertwined throughout the entire 'fit – yes, even the shoes. The cohesion between the embellishments and traditional Burberry print is immaculate. We think she used the visor to ward off any haters that would dare argue on this one.
To any future stylist of Billie's: make sure to accent whatever hair color she's rocking at the time and don't forget to bedazzle the sneakers she uses in place of stilettos!