Billboard Music Awards: Hottest Performances & Fiercest Fashions!
Written by Caroline Thayer. Published: May 21 2018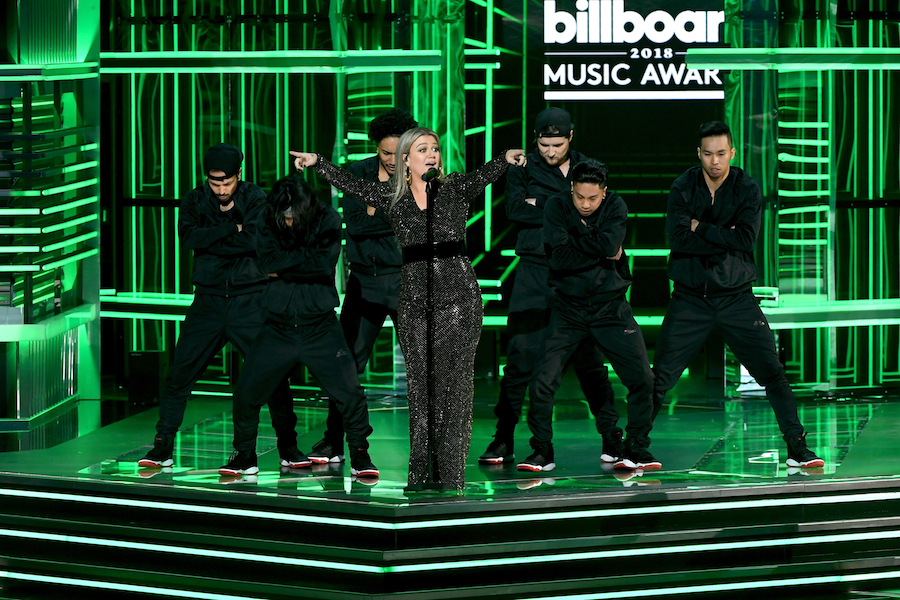 The Billboard Music Awards took place in Las Vegas yesterday, and the fashion was fire while the performances were phenomenal. The BBMAs are one of the best award shows of the year, as the show focuses on giving the audience performances from their favorite artists, whether they're nominated or not. But before music always comes red carpet! Let's break down our favorite looks from last night's event.

1. Taylor Swift in Valentino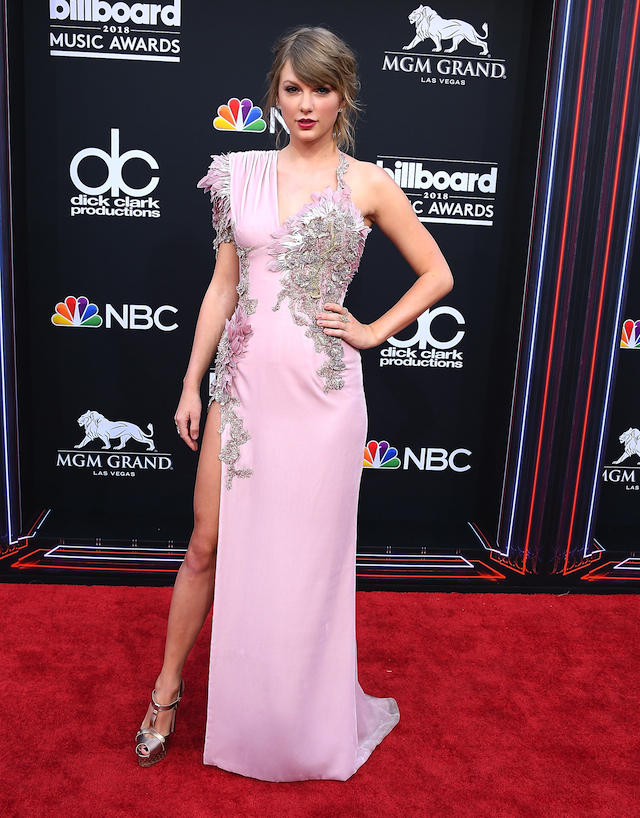 (Steve Granitz/Getty Images)

That "surprise guest" the BBMA's had been teasing us about leading up to Sunday evening? Oh, that would be Taylor Swift, who hasn't graced us with her presence at an awards show for quite some time. The superstar, who is currently on her Reputation album tour, rocked a magical pale pink Valentino dress that featured a single shoulder train. Below the train was a dramatic feathered shoulder, creating a floral-like cap sleeve. The top of the dress also had stunning floral-like rouging, creating a very old Hollywood glam look. A+ Tay.

2. Dua Lipa in Alexandre Vauthier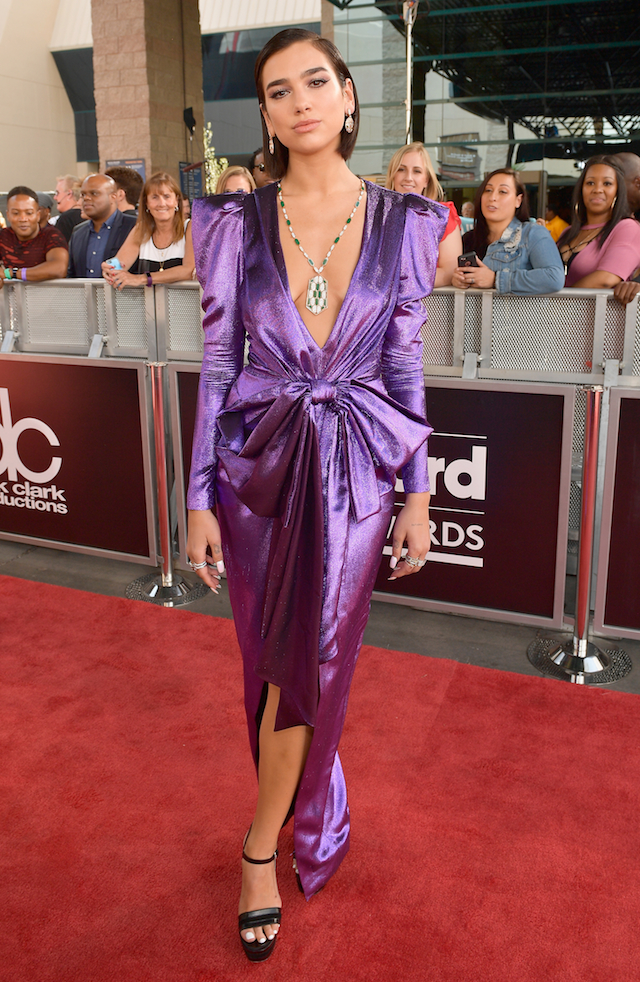 (Matt Winkelmeyer/Getty Images)

Okay, Dua Lipa knows how to make a bold statement -- with a bright purple Alexandre Vauthier dress paired with a gorgeous green and white amulet necklace. The two bold colors don't typically mix, but the dark green from Dua's necklace worked with the shimmery, plunging purple number. With slicked back hair and limited makeup, Dua looked like an '80s-inspired pop star.

3. Shawn Mendes in Kooples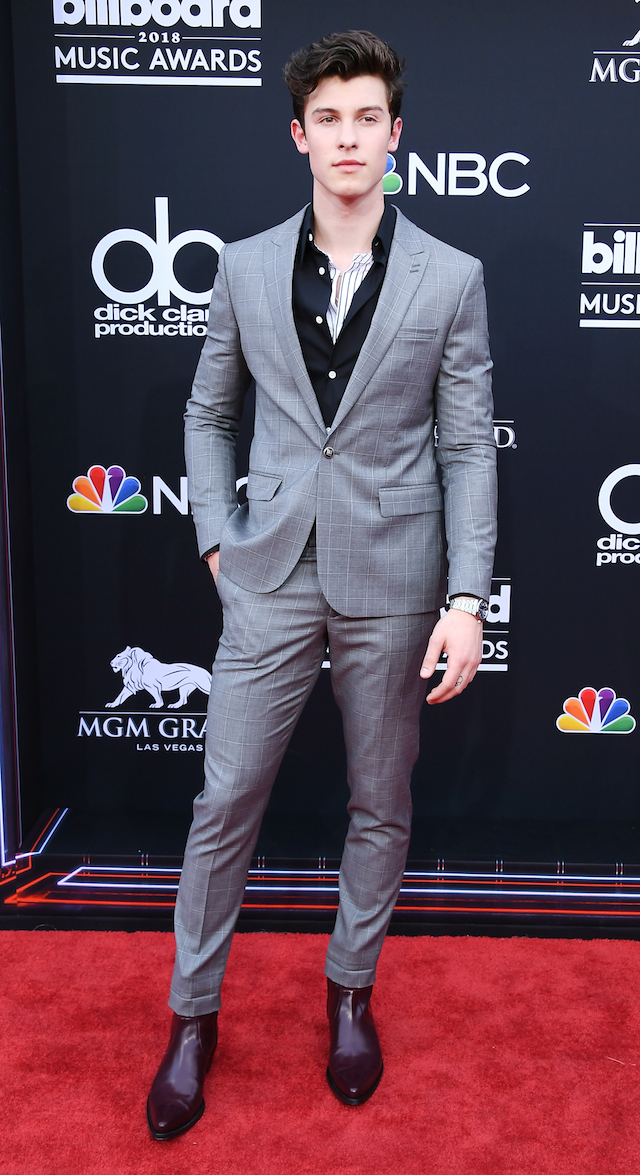 (Steve Granitz/Getty Images)

Sweet, sweet Shawn Mendes. You are growing up too fast. The 19-year-old looked very adult in a fitted gray Kooples suit with an Armani button-down underneath. Men are so frequently overlooked on the red carpet, but Shawn Mendes looked sharp and caught our eye. Gray suits are the way to go, especially when it heats up outside.

4. Normani Kordei in Lethicia Bronstein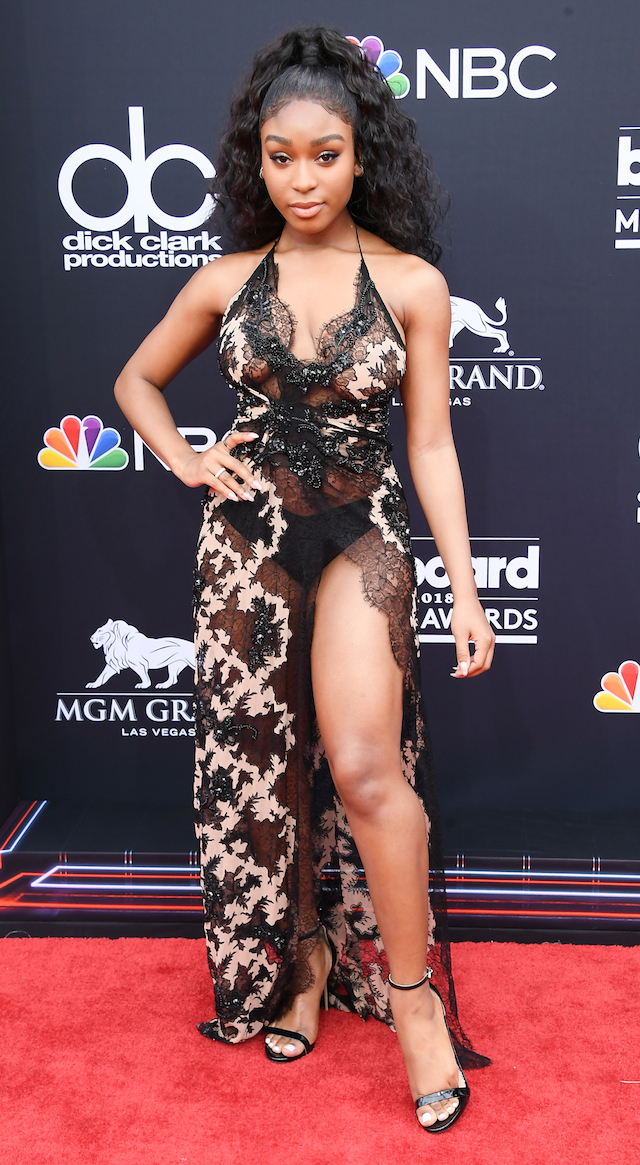 (Steve Granitz/Getty Images)

Fresh off the dissolution of Fifth Harmony,Normani showed up on the red carpet making sure her individual presence was known. Wearing a very transparent, all lace black dress with a dramatic train, Normani chose to keep her hair simple with a high half-up/half-down look à la Ariana Grande. Normani not only made best dressed but was one of the best performances of the night. More on that later…

5. John Legend in Gucci
                                                                                                                                                                                       (Jon Kopaloff/Getty Images)
John Legend and his wife
Chrissy Teigen
just welcomed their second child, but the show must go on, and John Legend not only performed but chose to walk the red carpet at the BBMAs. To be honest, when you have a Summer-appropriate, navy blue Gucci blazer to wear, does it really matter if you look like you've only gotten two hours of sleep in the past 24 hours? No, it most certainly does not.
So while the fashion was a fun and appropriate for the event, it was really just an appetizer for the main course: the performances! As we mentioned earlier, the best part of the Billboard Music Awards is the predominant focus on the artists and their incredible vocal abilities. There were wonderful performances throughout the night -- many of them featuring two artists. Let's get to our favorites...
1. Kelly Clarkson - Medley of Hits
Host of the evening Kelly Clarkson chose to give the most incredible medley of popular songs from the past year for her debut to the crowd. Kelly started off with a little country, embracing her roots, by singing "My Church" by
Maren Morris
. The camera panned to Maren in the crowd, who looked like she was going to burst into tears. Kelly then transitioned into
Sam Smith
's "Too Good at Goodbyes", and then, my personal favorite, "HUMBLE." by
Kendrick Lamar
. We didn't know we needed a glimpse of Kelly Clarkson's rapping abilities before she showcased them to the world last night, but we're so glad we were exposed to that greatness. She then went into "Thunder" (
Imagine Dragons
), "Young Dumb & Broke" (
Khalid
), "Finesse" (
Bruno Mars
), "Shape of You" (
Ed Sheeran
), "There's Nothing Holding Me Back" (
Shawn Mendes
), and "Look What You Made Me Do" by
Taylor Swift
, who was appropriately singing along to her own song in the crowd. Kelly, you are the definition of a performer.
2. Christina Aguilera & Demi Lovato - "Fall in Line"
When you have two women who are known for their incredible range and belting abilities on one track, you are bound to have a hit. Which is exactly "Fall in Line". Christina and Demi both wore black latex-esque jumpsuits and could've passed as sisters, except one has platinum blonde hair while the other has dark brown. Regardless, the moment where they met in the middle of the stage and sang together was a highlight of the night, as Xtina and Demi are spectacular as individuals, but a force to be reckoned with when paired together. We definitely became more obsessed with this song after watching their live performance of the bop.
3. Khalid & Normani - "Love Lies"
The chemistry between Khalid and Normani is palpable -- the two have a very close friendship, but last night, things turned a little more intimate when the two performers sensually sang to one another. We all know that Normani is a dancer, so of course she brought it. Unsure how someone can move like that, but the girl proved she should have won "Dancing with the Stars". We honestly believe this Khalid and Normani performance is one of the greatest we've seen given by a pair in quite some time.
4. BTS -  "Fake Love"
So. Much. Screaming. K-Pop heartthrobs BTS wowed fans yet again with their dance-heavy "Fake Love" performance. Showing off why they are the paradigm of a boy band -- dancing perfectly in sync, alternating their solos, and devout fans singing along -- the seven members sent the crowd into a tizzy. Throughout the BBMAs, celebs like Taylor Swift and Tyra Banks weren't afraid to let their inner fan-girl out, as they showered the boy group with accolades. And clearly they are deserving, as BTS took home the award for Top Social Artist!
5. Ariana Grande - "No Tears Left to Cry"
Don't worry, Ariantors, we did not forget about your queen. Ariana performed "No Tears Left to Cry", her single off her next album,
Sweetener
, to open the show. Ari deviated from her normal outfit choices of soft tones by choosing to wear a black peplum dress and a matching black bow to boot. We cannot get over how talented this girl is, as she hit all of her notes in the vocally challenging song, proving once again she is one of the greatest live performers of this generation. The cutest moment of her entire number? When her brother
Frankie Grande
was shown cheering and beaming with pride after she finished singing.
Well, Young Hollywooders, that's it, until the next award show where we can dissect the fashion choices and performances of our favorite artists.
Tweet us
and tell us who made your best dressed list and who gave the greatest performances of the night!
(Top image via Kevin Winter/Getty Images)
- Caroline Thayer, YH Contributing Writer