Big Time Rush Is Back!
02-20-2022 by Annel Then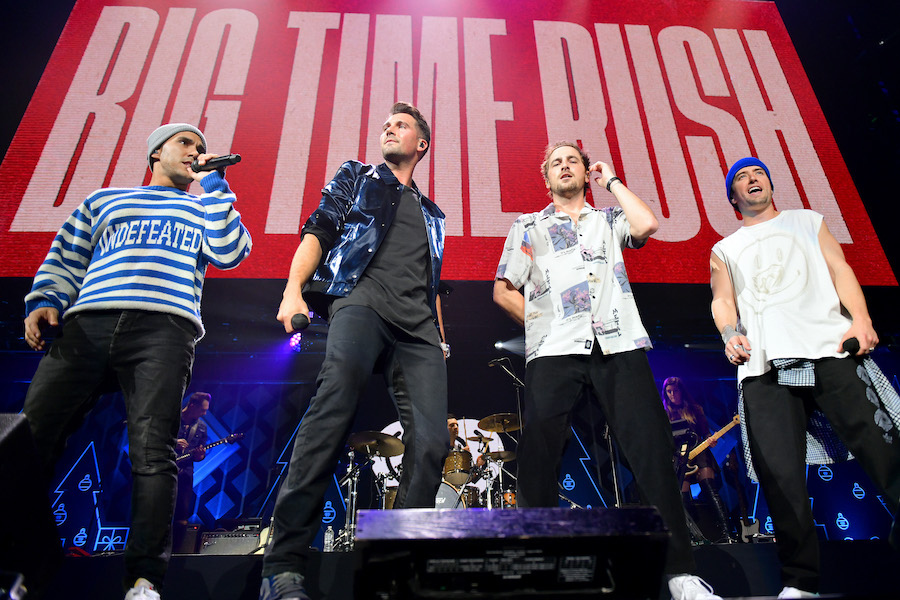 ( © Derek White/Getty Images for iHeartRadio)  
Boy band Big Time Rush is back and they are better than ever! They are reunited and it definitely feels so good. With the release of their new single coming out this February 25 titled "Not Giving You Up", they have already anticipated their new song by posting on their TikTok page.
The group (James Maslow, Kendall Schmidt, Logan Henderson, and Carlos PenaVega) reunited sometime in December 2021 along with the announcement of two shows in Chicago and New York to start off their comeback. Many were thrilled to see the band back together that even the tickets were sold out for their NYC and Chicago shows. We're not a bit surprised -- their fans have been waiting for this moment since their split in 2013 when the Nickelodeon show "Big Time Rush" came to an end.
They released their first single once reunited, "Call It Like I See It", on December 13 of last year, gaining over 1.4 million views on YouTube. They performed the single at the iHeart Radio Jingle Ball event that took place in Philadephia. 
Since their split in 2013, the individual band members have kept busy. Logan Henderson released his EP Echoes of Departure and the Endless Street of Dreams Pt I & II in 2018. The song "Sleepwalker" gained over 2 million views on YouTube throughout its release in 2017.
Kendall Schmidt formed the group Heffron Drive with guitarist and music producer Dustin Belt, which had success with the song "Rain Don't Come" also debuting five years ago.
Carlos PenaVega has kept very busy while apart from his bandmates. He appeared on "Dancing with The Stars" alongside his wife Alexa PenaVega, who is known for playing Carmen Cortez in the Spy Kids movie franchise. Since then, he has also been busy raising his children, Ocean King PenaVega, Kingston James PenaVega, and Rio Rey PenaVega with his wife. 
Meanwhile, James Maslow has appeared on "Celebrity Big Brother" and other projects. He also released music in 2017; "Who Knows" reached seven thousand views on YouTube. He also took on some frequent acting roles before the band recently reunited, including appearances in the films Room for Murder, My Boyfriend's Meds, and Stars Fell on Alabama.
With Big Time Rush's return, we can't wait to hear their new music as well as see what projects they may be working on for their fans. We know it will all be a success for sure, What an exciting way to make a comeback!