Bid for an Omaze-ing Chance to Meet Jennifer Lawrence!
Written by Nicole Koch. Published: November 03 2014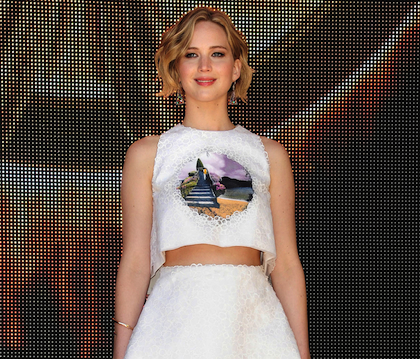 Guys, if you didn't love Jennifer Lawrence before, then this is sure to clinch it.
#Mockingjay star JLaw posted a link on her Facebook account last week giving her fans the deets on how to win a chance to meet her! Now, that already sounds like an awesome opportunity, but all participants in this contest are going to be donating to an amazing cause -- The Special Olympics!
Fundraising platform Omaze and Lionsgate Entertainment have teamed up to raise funds for the 2015 World Games, the world's largest sports and humanitarian event that celebrates the abilities and accomplishments of people with intellectual disabilities. How great is that?!
For 13 days (remember, there are only 13 districts in Panem), Omaze is offering the once-in-a-lifetime opportunity to walk the red carpet duringThe Hunger Games: Mockingjay Part I premiere in Los Angeles in November. The lucky philanthropist will also meet Jennifer and other cast members in the special green room before the screening begins! And after the movie, the real fun begins. The winner will attend the VIP After Party and get to hang out with the stars! I'm signing up as we speak…
All fans can go to the Omaze website to enter! A minimum of $10 is requested -- which sounds like chump change when donating to such a humbling charity. The more money you donate, the more times you will be entered into the raffle for the chance to win.
Don't worry if you don't win the red carpet prize, because other rewards will be offered! Limited quantity offerings include exclusive merchandise, limited-edition posters, social media shout-outs, and an autographed copy of Mockingjay signed by JLaw herself!
Sounds like a good deal, right? Go be the good souls I know you are, there are only a few days left!
Happy donating! And may the odds be ever in your favor!
(Photo via WENN)
- Nicole Koch, YH Staff