BEYCHELLA 2018: A Breakdown of Beyoncé's History-Making Coachella Performance!
Written by Ali Shannon. Published: April 16 2018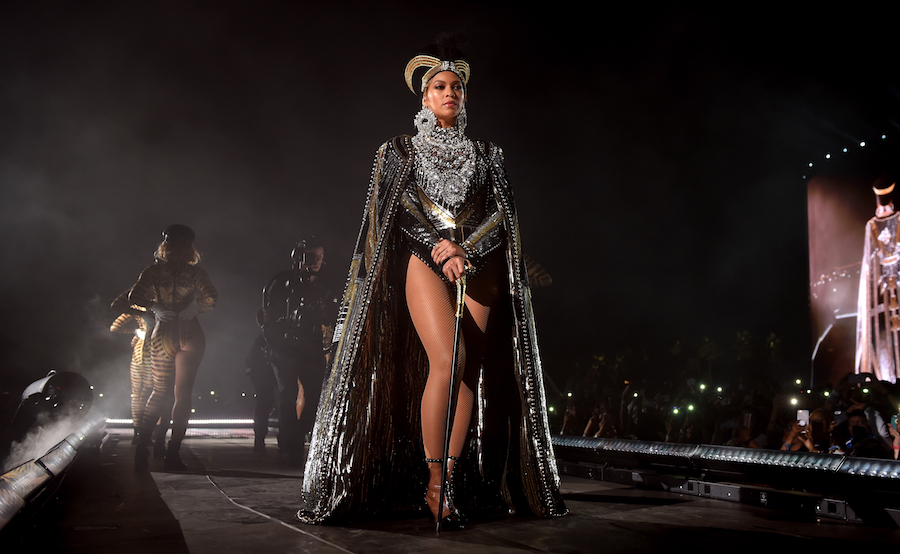 We knew three facts ahead of Beyoncé's history-making performance at Weekend 1 of Coachella: (1) She had gone vegan and was rehearsing 11 hours each day for this; (2) She added 100 dancers to her show last week, rounding out the number to over 200; and (3) the pressure was on after she was doctor-ordered to cancel last year's headlining set due to her pregnancy. None of these facts could have given any indication of the scope and depth of what Beyoncé created; an entirely deconstructed and reinvented version of her past while simultaneously reminding us that her message of female empowerment has spanned her career and is nothing new.
The set opened with her female dancers, donning yellow pharaoh jumpsuits, and an outline of Beyonce. She turns to be seen, not as Queen Bey, but Egyptian Pharaoh Bey, and catwalks to the beat of an entire band playing until she makes her way to the top of her pyramid-shaped bleachers. There, the band begins onKendrick Lamar's "Humble" as she makes her way to center stage and goes straight into "Formation".
What came next was an unforgettable, iconic visual experience in a live, uncut state, arguably the first of its kind. Every song off the setlist was taken apart and flipped on its head, giving a sensation of both nostalgia and newness, the feeling of actually hearing a beloved song again for the first time. It's not as simple as Beyoncé scattering around hip hop songs and adding a band. Every song was interwoven with precise choreography, the instruments that transformed them, and the narrative space that Beyoncé communicated them within. A notable example was her recreation of "I Aint Sorry". She took arguably her most crass lyric and morphed it into a women's cry, synced with the quickening pace of the step dancers as they repeated the lyrics back in almost solidarity. Only after the song went through dance, rhythm changes, mixed lyric order, and band takeover then did Beyoncé sing the familiar chorus. Her dancers wore yellow bodysuits and berets in Black Panther/Malcom X fashion, with a university/pep rally element. This seems to reference Historically Black College and Universities in a revolutionary and activist-filled light. At one point, the singer also crooned "Lift Every Voice and Sing", widely considered as the black national anthem. As the first black female to headline Coachella, these references speak volumes to her intent as an entertainer to be a source of change, not only with herself or the black community, but society as a whole.
The headliner showcased so many styles of dance, with crumpers, contortionists, contemporary dancers, and steppers, as they guided the transitions between songs, and even paying tribute to Nina Simone. She also notably had her band made up of all females, further hammering in Beyoncé's message on the power of women.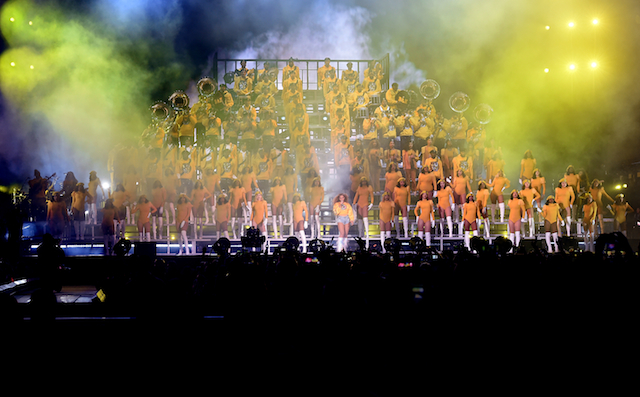 (

Kevin Winter/Getty Images)
It's important to note the depth of Beyonce's involvement and creative direction that can be directly seen in how viewers experienced this performance. It's incredibly evident that Beyoncé directed the precise angles and movements of every camera n order to give people seeing through screens the visuals in their most clear perspective. Dancers were zoomed in on during their moments, and our attention was meticulously directed throughout the entire performance. While festival-goers had the first-hand exposure to this historic moment, at-home viewers were given a feature-film quality immersive and intentional experience of their own. Never before has a live festival performance been in the same caliber as Grammy openings or concert documentaries.
                                                                                                                                                                                     (

Larry Busacca/Getty Images)
Which brings us to this woman's stamina. Since the entire performance was choreographed down to the last step and trumpet blow, Beyoncé somehow fit in a record number of singles (if not close to all in some capacity) in a Grammy-caliber performance… for almost 2 hours. During typical concerts, more breaks are alloted and lower-energy ballads are sung to give the artist a break, but very few moments for respite happened during this.
The surprise guest component of Coachella always adds for higher anticipation for performances, whose identity isn't confirmed but whose presence is somewhat expected. Beyoncé's first "surprise" guest was husbandJay-Z. Their recent On The Run Pt 2concert tour was announced earlier this month, so viewers assumed he would participate somehow. Yet, his appearance on her stage carried a different meaning than concert promotion. She didn't need to bring him out; it wasn't in the same way to excite fans for their work or or her own set, because the biggest name on the stage was still her. Jay-Z wasn't so much elevating the performance but proving an interesting point that Beyoncé can WANT her talented husband with her during this moment as the team they are without compromising her feminist declarations that she re-communicated in her performance.
SisterSolange also joined Bey for a dance during "Get me Bodied". The younger of the pair donned white-blonde choppy hair, almost unrecognizable if not for the obvious sister energy they gave off during their moment. The most surprising was theDestiny's Child reunion Beyonce hosted.Michelle Williams and Kelly Rowland joined Queen Bey on stage, their silhouettes backdropped on a gradient blue stage in the familiar Charlie's Angel entrance to sing hits "Say My Name", "Lose my Breath", and "Soldier".
The intention behind what Beyoncé accomplished in Saturday's set goes beyond her making a comeback. She sent political and social messages, payed homage to dance and music styles, acknowledged today's fight for equality and other movements, and reminded us that all these messages are ones she's been singing for her entire career. She performed a pep rally, dance retical, a homecoming, block party, opera, movie, and a play in one extraordinary fusion of art. There is no predicting what she will create next because there is no precedent for her, and that is how she will remain -- untouched and in a league of her own.
Check out the entire 4-hour live stream of Weekend 1 here. To find out dates for her upcoming tour and exclusive pictures of Beyonce's performance, click here.
(Top image via Larry Busacca/Getty Images)
- Ali Shannon, YH Contributing Writer