Jason Derulo's World Cup Anthem "Colors" Will Get You Inspired!
Written by Diego Pineda. Published: April 16 2018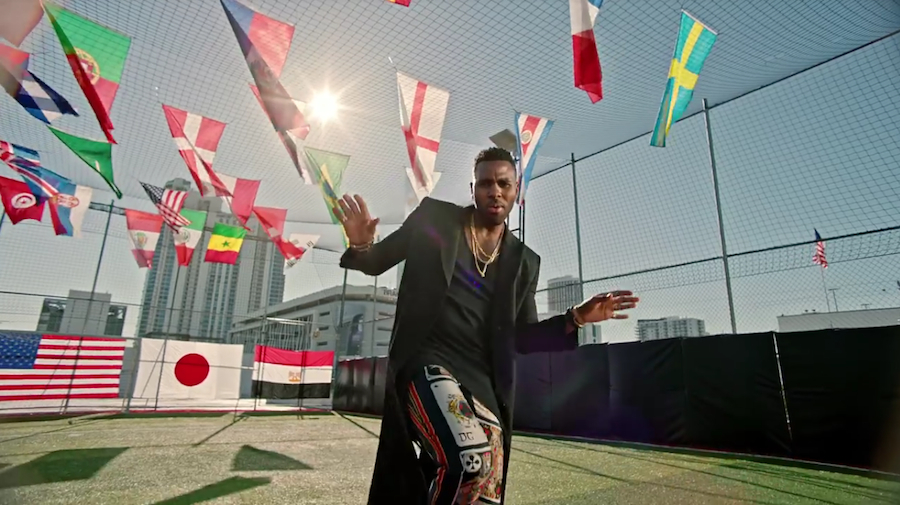 Get ready to put your hands up and raise your flag with Jason Derulo's newest song "Colors!" The World Cup is one of the biggest international events in sports every four years, and though it begins in the summer, fans around the world are already preparing themselves by jamming to inspirational anthems like "Colors."
"Colors" is for sure a song that will get you dancing since it's upbeat and energetic! This is Coca-Cola's song for the World Cup, being the official sponsor of this grand event since 1978. The "Colors" music video celebrates diversity and unity through soccer and features Jason dancing below an array of flags as well as dances, cultures, and people from different corners of the world.
This euphoric video also celebrates the diversity of people through its lyrics. Jason wrote the song and posted on social media, saying he was inspired by the different people and cultures he has met throughout his travels around the world. The message of there being beauty in unity could not be more relevant today!
The unifying power of soccer and music allow people from all parts of the country to come together for a month and honor equality. Though not the official World Cup song, "Colors" is already becoming a global phenomenon. Jason even released a bilingual version of the song along with a video featuring Colombian singerMaluma.
We have seen World Cup anthems like Shakira's 2010 hit "Waka Waka (This Time for Africa)" and Pitbull's "We Are One (Ole Ola)" in 2014 become songs of the summer we keep on repeat. We hope "Colors" can become as big of a success like these hits!
The 2018 Fifa World Cup takes place in Russia from June 14 to July 15 and will be shown in NBC! Make sure to tune in and give "Colors" a listen!
(Image via Jason Derulo/YouTube)
- Diego Pineda, YH Contributing Writer