BBC Releases All-Star Recording of Beach Boys Classic, ft One Direction, Lorde, and More!
Written by Katie Marzullo. Published: October 08 2014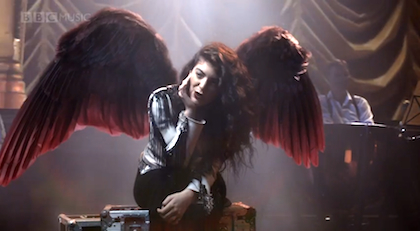 Ever since "We Are The World" came together in 1986, folks have been trying to recreate the magic of the "benefit single", with varying results. The newest effort, though, may very well give its predecessor a run for its money.
BBC just released an all-star cover of the classic Beach Boys jam "God Only Knows" (which some folks might recognize as the opening theme song for HBO's "Big Love") to coincide with the launch of BBC Music. The proceeds from the single will benefit the BBC's Children in Need initiative.
The recording features a slew of popular contemporary musicians from all over the world, not just the U.K., including Pharrell,Chris Martin, Lorde,Elton John, One Direction,Dave Grohl, Emeli Sandé,Sam Smith, Stevie Wonder,Paloma Faith, Florence Welch, OG Beach Boy Brian Wilson, and many more -- those are just the ones I've heard of! – backed by the Tees Valley Youth Choir and the BBC Concert Orchestra.
The music video is hella whimsical, with each featured artist taking a line in an individual setting (as opposed to the "We Are The World" format of cramming everyone together in a recording studio). It's actually quite lovely, a feast for the ears AND the eyes. Check it out below:
(Screenshot via YouTube)
- Katie Marzullo, YH Staff Editor