Bill Murray & Frances McDormand Team-Up for 'Olive Kitteridge' Miniseries
Written by Kevin Donaldson. Published: October 08 2014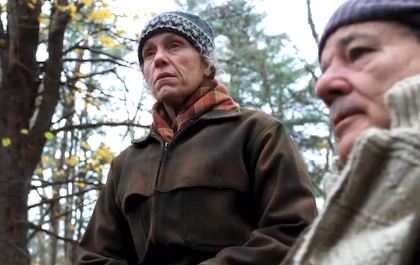 Who doesn't like Bill Murray? (My grandpa doesn't because of his golfing skills.) And Frances McDormand, well, she ain't too shabby of an actress (Oscars!). The two of them have teamed up and filmed a four-part miniseries adaptation ofElizabeth Strout's Pulitzer Prize winning novel,Olive Kitteridge.
For those of you who don't know what Olive Kitteridge is about, let me fill you in. Olive Kitteridge follows 25 years of the life of a small town New England schoolteacher named -- you guessed it! -- Olive Kitteridge. I know, not the most exciting sounding thing, but then you see that her life is anything but simple. She has to deal with issues with her family and her students, as well as combating the troubles that life in a small town can thrust upon a person. All the gossiping and everyday monotony… not everybody is cut out for small town life. Check out the trailer:
Looks like it could be pretty good, right? McDormand appears to give a great performance, as always. Recently, the entire miniseries was screened at the Venice Film Festival, and critics went nuts over her and how great they thought the production was overall. A bunch of people over in Venice, Italy, can't be wrong. Their streets are made out of water… that's just cool. Plus, pizza!
Be sure to check out Olive Kitteridge on HBO when Parts 1 and 2 premiere on Novemeber 2 and Parts 3 and 4 premiere the following day. If you don't have HBO, relax. Just give that relative of yours you barely ever talk to a call and ask them for their HBO Go login info. After all, that's why HBO invented HBO GO, to bring families together!
(Screenshot via YouTube)
- Kevin Donaldson, YH Staff