Back to The Beginning: Everything You Need To Know To Get Ready For Tonight's Epic "American Horror Story" Crossover Episode!
Written by Alexandra Tirado. Published: October 17 2018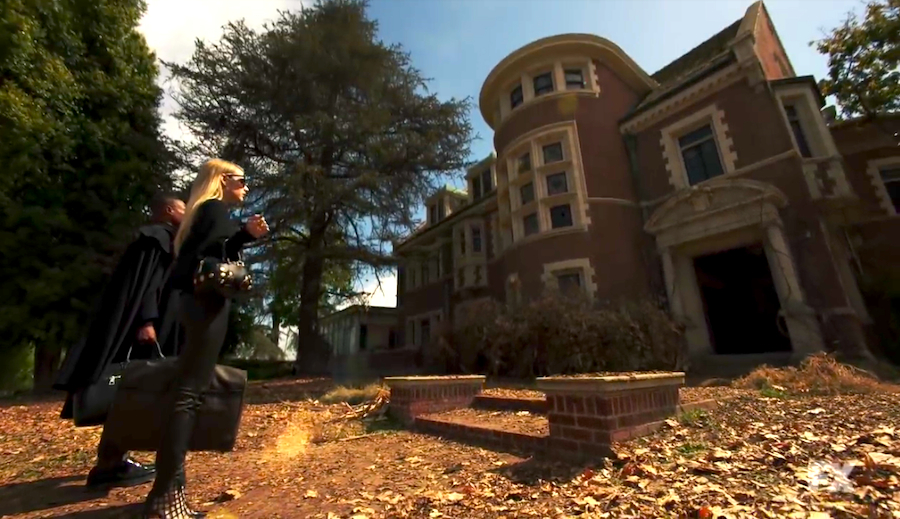 For an anthology series, "American Horror Story" is getting incredibly difficult to follow if you haven't seen its previous seasons.
This week, the show's new season, "Apocalypse", is going back to where it all started: "Murder House". And while the prospect of returning to the first season is a great source of joy to diehard fans, it might all get a little too complicated for people who have not seen all of the seasons (or even those who have but, hey, it has been 8 years!). So for those people that are getting a little overwhelmed, here is a quick recap of what has happened so far and the important things to remember from Murder house:
[WARNING: SOME POSSIBLE SPOILERS AHEAD]
For starters, this seasons is set not too far in the future during the middle of WWIII and starts by following a small group of people hiding in a bunker after a nuclear blast wipes out most life on Earth. In the bunker, different ranks are awarded to each group of people depending on their genetic disposition or financial status. But literally none of this matters, since by Episode 3 most of these people are dead and the bunker is not really a bunker but was a school for magical boys and the man who was sent to evaluate the refugees is actually the Antichrist. Confused yet? Keep reading.
The aforementioned Antichrist happens to be none other than Michael Langdon (Cody Fern), product of the non-consensual sexual encounter between Vivien Harmon (Connie Britton) and Tate Langdon (Evan Peters) back in Season 1. In "Apocalypse", Michael arrives to the bunker to determine "who deserves to live", but that task is quickly cast aside as the season starts focusing more on how the Apocalypse started rather than what is happening in the present.
That is where the witches from Season 3's "Coven" come in. The Supreme, Cordelia (Sarah Paulson) -- accompanied byMadison (Emma Roberts) and Myrtle (Frances McCoy) -- comes back to revive Mallory (Billie Lourd), Dinah (Adina Porter), and Coco (Leslie Grossman), three of the refugees in the bunker who, unbeknownst to them, are witches. After a series of flashbacks, we learn that Cordelia saw the Apocalypse coming in a vision with a white-faced man bringing destruction with him.
After being summoned by Hawthorne School for Exceptional Young Men, she is persuaded into letting Michael Langdon take the Seven Wonders test and challenge her position as The Supreme. After passing the test and even bringing back Queenie (Gabourey Sidibe), who was stuck in the Cortez Hotel (from the 5th season), as well as Madison and Misty (Lily Rabe), who were in their own personal hells, Michael becomes the new Alpha and the new Supreme. Cordelia then confesses to her Coven that she knew Michael was dangerous all along and reveals that her plan was to gauge his power and bring her girls back. After a beautiful rendition of "Gypsy" by Stevie Nicks, who returns as The White Witch, Cordelia starts to put a plan in motion to find out more about Michael.
And that is what brings us back to Murder House.
Madison is tasked to return to Murder House under a special request from Cordelia. Said plan is not revealed, but it probably involves talking to Michael's parents, Tate and Vivien, and maybe even his paternal grandmother, Constance, played by Jessica Lange. In the teaser for the next episode, we get glimpses of The Rubber Man, Billie Dean Howard (played by Sarah Paulson), and of course, the glorious return of Jessica Lange who reprises her role as Constance.
The last time we saw the Murder House bunch, there weren't many loose ends except for one -- Michael. The Harmons were happily celebrating Christmas together along with housekeeper Moira (Conroy), Tate and Hayden (Kate Mara) were envious yet defeated while watching from the distance, and the only surviving member of the Harmon family, Michael, was revealed to be left in the care of Constance. Our last glimpse of little Michael was of him laughing covered in blood after he murdered his babysitter, but now we know how that turned out.
If all of this recap was exhausting, it is probably because "Apocalypse" is. Even though there is no denyingRyan Murphy's genius, it seems that as the series progresses the writers have become more worried about having stand-out characters and memorable lines rather than focusing on the story itself, and "Apocalypse" seems like the perfect season to indulge in that dynamic. We are talking about a season in which they take crossovers so seriously that they killed around 91% of their characters in the third episode to make room for the returning ones. Nevertheless, it is still an incredibly intricate, albeit slightly disorganized, story and there is no better person than Murphy to tie it all together in the end. Even with all the chaos and confusion, there is one sure thing about the returning characters -- we are glad to have them back!
Be sure to check out an all-new episode of "American Horror Story: Apocalypse" TONIGHT (October 17) at 10pm on FX.
(Image via FX Networks)
- Alexandra Tirado, YH Contributing Writer