Back-to-School Must-Haves For 2022!
08-06-2022 by Hayden Roberts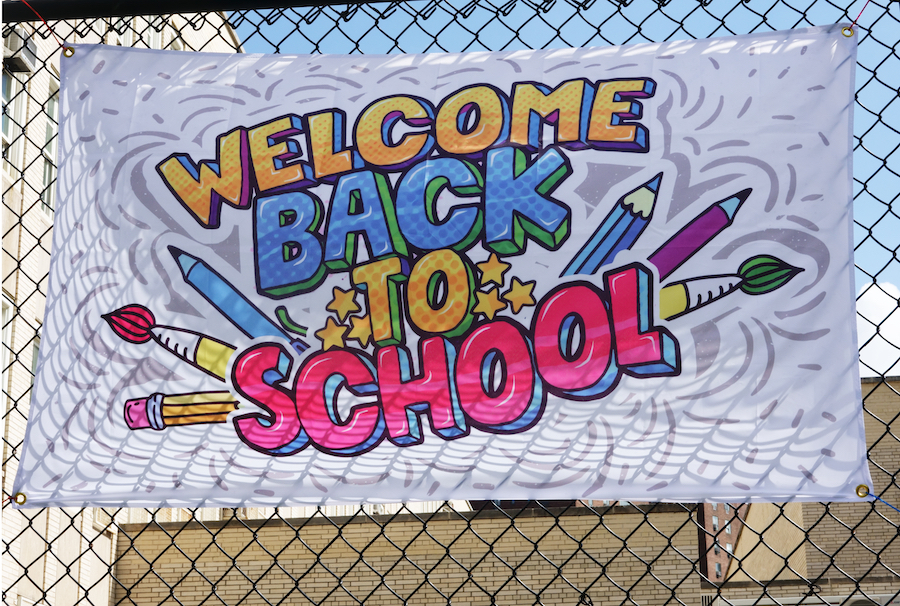 ( © Joan Slatkin/UCG/Universal Images Group via Getty Images)  
It's now August and you know what that means… It's THAT Time of Year!
It's official. Targets and Wal-Marts across the country have begun dedicating large portions of their stores to backpacks, Bic pens, and folders with kittens on them that tell you to "hang in there!" This can only mean one thing: It's Back to School season. 
Whether you are looking forward to your back-to-school shopping or dreading it, the process of preparing for yet another school year is inevitable. But don't fret just yet, because this season, we've got you covered. Keep reading to find some of the hottest (and most affordable) must-haves for this Fall!
1. Backpacks
An absolute necessity for any student of any age is the trusty backpack. 
Adidas x Marimekko Allover Print Sports Backpack
Price: $62
Currently on sale for $38
This backpack is the perfect mix of fashionable and functional with two side pockets, a cushioned laptop compartment, and a hidden pocket for small essentials. The poppy pattern is in collaboration with Finnish designer Marimekko, who created the pattern way back in 1964. The sports backpack is made with at least 60% recycled material. Oh, and did I mention it's on sale?
Carhartt Classic 21L Laptop Daypack
Price: $39.99
This minimalist Carhartt backpack is perfect for anyone on the go. Not only does it contain a dedicated compartment for a 15" laptop, but it is also made with a durable material that is water resistant in order to protect all of your essentials.
Sun + Stone Riley Patchwork Backpack
Price: $80.00
Currently on sale for $19.96 
You better act quickly on this item! This backpack designed for Macy's is a "Last Act" item and won't be around for much longer. Featuring a super cute denim design, this bag has a laptop sleeve and zip closure. All sales are final on this backpack!
Price: $80.00
Currently on sale for $33.99 (with code SHOP on Macys.com)
This roomy bag by High Sierra comes in 5 unique patterns/colors! The bag has dual water bottle compartments, a laptop sleeve, a fleece-lined phone and sunglasses pocket, and airmesh straps!
Price: $79.00
This bag by The North Face doubles as a tote bag and a backpack. The Borealis tote comes in 6 colorways and has a padded laptop sleeve. Perfect for school, camping, shopping, or everyday use!
2. Water Bottles
Who knew water bottles could be cute and functional?
h20 Capsule Carry-All Half Gallon Water Bottle
Price: $32.99
This bottle by h20 Capsule has it all. Not only does the bottle hold a half-gallon of water, but it also comes with a reusable straw and storage sleeve. Not good enough for you? Well, the storage sleeve also contains a removable shoulder strap, keychain hook, phone sleeve, and card sleeve!
Waterdrop Edition Steel Bottle
Price: $45
These 20 oz steel bottles can keep your drink cold for up to 24 hours and hot for 12! They come in 9 of the prettiest patterns and colors!
Price: $29.97
This glass water bottle has absolutely no plastic parts touching your water at any given time! The silicone cover comes in an assortment of colors and the bottle itself comes in four different sizes (12 oz, 22 oz, 32 oz, and 40 oz).
Nalgene Wide Mouth Retro Bottle
Price: $14.99
Currently on sale for $7.99
Nalgene is well known for their classic, plastic water bottles. Not only do they come in multiple designs, sizes, colors, and patterns, but they are also super affordable! These bottles typically range from $6-$15 in price.
24 Oz Actives Insulated Water Bottle with Spout Lid
Price: $34.99
This water bottle by Takeya has become a fan favorite amongst people of all ages this year. The insulated bottle is vacuum-sealed and comes in a wide variety of colors and sizes.
3. Shoes
You can never have too many, right?
Rocket Dog Crushpuff White Platform Flip Flop
Price: $34.95
Y2K styles are in, and that means platform flip-flops are back on the rise. If you're looking to gain a few inches while still staying cool and comfortable, Rocket Dog is the way to go. Their cushioned straps and soles provide comfort at all times.
Price: $79.99
When it comes to comfortable footwear, I always turn to New Balance. Their 237 Sneaker provides a subtle nod to '70s styles while offering an extra cushy insole.
Steve Madden Hayward Leather Boots
Price: $159.95
If you're looking to buy some cowboy boots for the Fall, Steve Madden has a great option with their Hayward boots. These boots come in 6 colors and have a bouncy rubber sole to keep you going all day long.
Price: $198.00
Although these shoes are on the expensive side for a plain black boot, they are so worth it. I have worn my Parker boots at least 3 times a week for the past 2 years and they remain the most comfortable and versatile shoe I own. Don't forget to sign up with UNIF to receive up to 20% off!
Price: $29.99
Differing colors currently on sale for up to 58% off.
How could I do a back-to-school guide without including Crocs? It's time to retire those old Adidas slides anyway! These Crocs slides are the comfiest option for a slip-on shoe. They come in multiple colors and are even more affordable than the clogs style.
4. Denim
The Canadian Tuxedo never goes out of style!
Price: $108
Currently on sale for $54
Everlane is one of the best choices when it comes to women's denim. These '90s-style mom jeans are the perfect pair to style up or down. The classic denim, as well as the limited edition grey and cream colors, are currently available for only $54 (final sale!).
True Religion Billie Big T Stitch Straight Jean
Price: $199.99
Currently on sale for $69.99
These classic jeans are a mid-rise and straight-leg style with ultra large stitching. The super soft denim clings to all of your curves for a sexy fit.
Price: $49.95
Currently on sale for $24.97
A denim mini skirt is an absolute closet staple. If you're looking for a simple and affordable option, then check out American Eagle's denim mini!
Price: $92
Maxi skirts are all the rage these days, and Jaded London has a super sick option with its Dragon Flock Print skirt. The baggier style is perfect for anyone who wants a little extra wiggle room.
Wrangler Five Star Carpenter Jean
Price: $29.00
Although these Wranglers are "meant" for men, they are perfect for anyone looking to sport some baggy carpenter pants. The top seller style comes in classic denim and khaki materials.
Happy New School Year!!!