ARTIST TO WATCH: Young Rising Sons
Written by Amanda Baltazar. Published: May 23 2014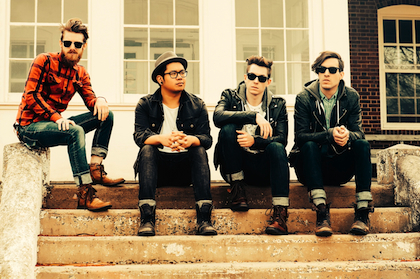 Young Rising Sons is a band that is most definitely "young" and "rising"! This foursome from New Jersey is proving to be an emerging sound in the Internet music sphere. They just released their first music video on YouTube and it was #1 on the New Music homepage!
Check out their music video for their song "High":
They've got that indie-pop-rock sound similar to Fun. with a hint of The Neighboourhood mixed in, not to mention singer Andy Tongren's beautiful falsetto which brings to mind a certain Nate Ruess.
In addition to Tongren, the band features Dylan Scott,Julian Dimagiba, and Steve Patrick. Hailing from Red Bank, New Jersey, these four band mates have been making their way into the big cities to show everyone what they've got to say. And people are listening!
"Just let it go, enjoy the ride / Without the low, there ain't a high."I think I just found my new revamped hakuna matata phrase.
For the latest Young Rising Sons news and information check out theirwebsite and Facebook page.
You can also follow them on Twitter, and if you are an instafan like me, you can check out the four handsome young lads on Instagram!
(Photo via Young Rising Sons)
- Amanda Baltazar, YH Staff