ARTIST TO WATCH: The Staves
Written by Raffy Ermac. Published: February 06 2014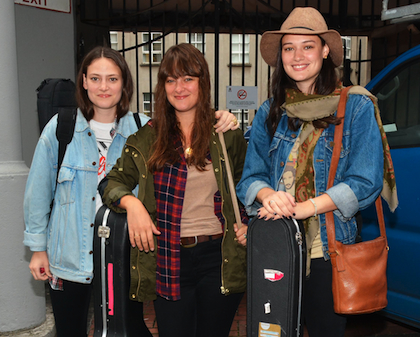 If you thought that Haim was the only popular trio of sisters who were hot right on the charts right now, then you're in for a pleasant surprise – Although the L.A.-based family band is one of the more sought-after indie pop acts at the moment, the U.K. has, as usual, answered back with their own female threesome, and they go by the name of The Staves.
Consisting of sisters Emily, Jessica, andCamilla Staveley-Taylor (they got their shortened band name after someone at a venue they were playing in decided to bill them as so), The Staves have actually been on the scene for a while, having released EPs in 2011 and 2012, Mexico andThe Motherlode, respectively.
After some success in their native U.K., the natural choice was to, of course, try to conquer the States; their first few moves included opening up for The Civil Wars on their tour back in 2012, and then making appearances at some musical festivals, including the hugely popular South by Southwest.
All their hard work eventually rewarded them with the debut of their studio album Dead & Born & Grown, and, more notably, the attention of Justin Vernon, AKA the frontman Bon Iver. As of now, the nearly iconic indie/folk singer-songwriter is working closely with the Staveley-Taylor sisters to create the follow-up to their debut, and with credentials such as Vernon's, we can only wait and see what kind of awesome music will become of this collaboration.
Oft described as English rock-meets-soft acoustic folk, some of the better Staves singles include "Facing West", "Mexico", and "The Motherlode":
For more songs from The Staves, be sure to check out their YouTube channel. The Haim-loving indie folk rocker in you won't regret it.
(Photo via WENN)
- Raffy Ermac, YH Staff