ARTIST TO WATCH: Nightly
10-28-2021 by Katie Marzullo
  ( © Zach Pigg)  
If you're a fan of good music and good things in general, you definitely need to get Nightly on your radar! The Nashville-by-way-of-Philly-based trio have been quietly building a loyal and impressive fanbase since they officially launched in 2016 with their debut single "XO", first signing with Interscope and then most recently with BMG, and supporting artists like Kesha, Lennon Stella, and K. Flay on tour.
The band, consisting of cousins Jonathan Capeci and Joey Beretta and their friend Nick Sainato, recorded and released their debut album night, love you. in October 2020 at the peak of the pandemic, and now, a year later, they are gearing up for their biggest headlining tour yet, kicking off with a show at the Avalon Hollywood in Los Angeles last night (October 27) as well as a brand new single!
Young Hollywood got to chat with Jon ahead of their big L.A. gig and single release last night to find out more about them and their new music! Check it out below!
YH: What was the experience like for you recording and releasing your debut album night, love you. during the pandemic? Do you think it was an advantage or disadvantage?
JC: It was very difficult at first, but we're fortunate that we were able to isolate together. We used the time to become better producers and take songs from start to finish by ourselves. That's something we're super proud of and have kind of fallen in love with. I will say that releasing the record was very hard without being able to play shows or get that connection with our fans that you do on tour. It was almost a year after the album came out that we played our first show with the new songs.
YH: What's the meaning/inspiration behind your band name?
JC: We liked the phrase "night, love you" because it felt personal and familiar; something you would text a significant other. We kept writing that out, and it just felt nice, but was a little clunky as a band name, so we shortened it to "Night,ly". Eventually we cut the comma and made it "Nightly". Even after a couple years, I like it because it still feels like it fits our music.
YH: You're originally from Philadelphia but relocated to Nashville to pursue your music career. Since Nashville is known for its country scene and your music is more alt-pop, what went into the decision to go there?
JC: Honestly we said that we'd go down for 3-6 months just to fully immerse ourselves in music – it's full of so many amazing songwriters and we wanted to learn how to get better at writing.
YH: Do you feel your early years in Philly influences your music at all?
JC: I think so. Mostly because there was a big underground scene in Philly/Jersey and that community really shaped who we are and what music we listened to. Philly will always feel like home for me, even though I haven't lived there in years.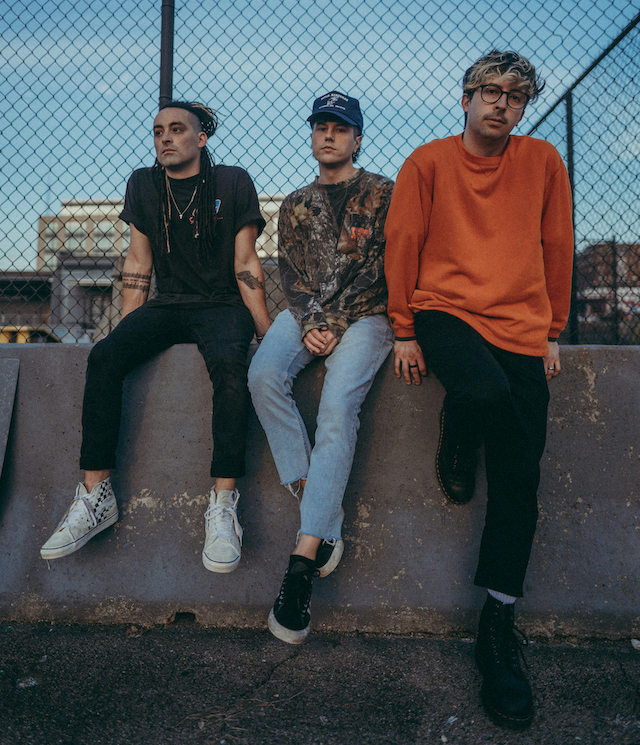 ( © Zach Pigg)
YH: You've opened for acts like Kesha and The All-American Rejects; what other acts would you love to share a stage with?
JC: Oh there are hundreds, haha! I think like if I just had to pick only one, it'd be one that I'd really be able to brag about, ha, someone legendary like U2 or the Rolling Stones. 
YH: Who would you love to collaborate with in the future?
JC: Also sooooo many artists. Blackbear, Chelsea Cutler, The 1975, Kendrick Lamar, Hayley Williams, Zedd, Coldplay.
YH: You've played huge festivals like SXSW and Bonnaroo; what's been your favorite live performance experience to date? Any favorite cities or venues?
JC: This is always such a hard question because we have the most amazing fans and have done shows at cool festivals and venues, but for some reason one show that popped into my head right now is our first headline show in Salt Lake City. It was this tiny venue and we didn't know if we even had 2 fans in Utah, but it sold out and the crowd was so loud. 
YH: Tell us more about your new single "Lose My Number".
JC: We've actually had the idea for this chorus for about a month and tried to write it a couple times but couldn't nail it. Then one day we were writing with 2 of our friends in Nashville and it finally clicked. I think that was a good lesson for me to learn to fight for an idea that you believe in, even if you don't get it on the first or second try.
YH: Any updates on a second album you can tease for your fans?
JC: I don't want to give too much away yet, but 2022 will be the vibe.
*********
With nearly 1 million streams per week and counting, Nightly are clearly a vibe indeed, and they're just getting started!
Check out their brand new single "Lose My Number" below and keep an eye on their website for more upcoming live show dates!