ARTIST TO WATCH: Mays
Written by Sarah Osman. Published: February 13 2014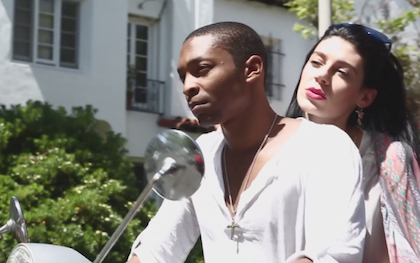 Say hello to L.A.'s newest hot artist and actor, Mays!
Born Malcom Michael Mays, Mays recently released his lead single, "Buss it Open (Dichotomoy)", a rather unique sounding track with an interesting story. Mays is the nephew of the notorious Stanley "Tuki" Williams, founder of the Crips gang. "Buss it Open" is the first single to be released off of his upcoming album, The Fred Williams Story, which tells Mays's tale of growing up in a rather unusual family in South Central Los Angeles, as well as how difficult it was to choose the road less traveled. His album truly reflects his mantra, "Peace. Luv. Art."
Upon watching the video for "Buss it Open" (check it out here, NSFW), I was struck by the strong visuals and unique aesthetic of the video. It's no surprise that Mays himself is a film director -- his video reminds me of a Michel Gondry film. I'm a lyrics gal, so I was drawn to Mays's socially conscious lyrics; it's always great to see a musician reflect upon the world around him. After all, we make art to make a statement, and a statement of peace Mays does indeed make.
In addition to being a musician, Mays is also a film producer, director, and actor (he makes me feel as though I have done nothing with my life!). He recently starred alongside Cuba Gooding Jr. in the film, Life of a King, which tells the story of an ex-felon who opens a chess club in the inner city. The film first premiered at the L.A. Film Festival and will be released this year. In addition, he also directed a film entitledTrouble, which focuses on the racial tension in South Central Los Angeles.
I have a feeling that this is just the tip of the iceberg from Mays. I look forward to the release of his entire album this month.
You can keep up with Mays on Twitter.
(Screenshot via YouTube)
- Sarah Osman, YH Staff