ARTIST TO WATCH: Kelsea Ballerini
Written by Brittany Taormina. Published: August 07 2015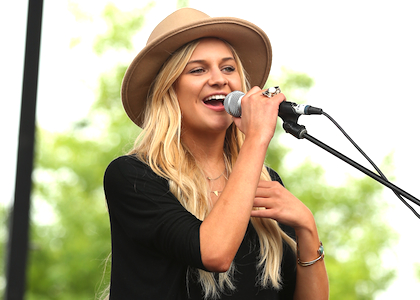 I'm calling "Dibs" on Kelsea Ballerini!
This girl is truly one-of-a-kind! At only 21 years old, her debut single "Love Me Like You Mean It" hit the top of Billboard's Country Airplay Chart, making her only the 11th female country solo artist to have her first single debut at #1. That is crazy!
On paper, it didn't seem possible for Kelsea to reach the top of the Billboard chart, but she did and we are incredibly proud of her. She's currently signed to Black River Entertainment, who also boastCraig Morgan and Kellie Pickleron their roster, and she made her debut at the Grand Ole Opry in February, which is a BIG deal in the country music industry.
Kelsea wrote and co-wrote every single song on her album, The First Time, which is rare. In fact, she has been writing for this album since she was 12 years old! Kelsea says that "the album is a snapshot of my life from 12 to 21." There are many "firsts" in your life growing up, and this album captures that perfectly. (Make sure to listen to "Stilletos" -- her voice sounds amazing.) She has recived an immense amount of support from fellow artists such as Hillary Scott from Lady Antebellum, Dierks Bentley, and even -- wait for it -- Taylor Swift. Yeah, you heard me!
She doesn't take herself too seriously -- she's relateable, charming, and, oh, have you seen her new puppy? Might be the cutest puppy of all time. Not to mention, the puppy is named Dibs, and her current single is called "Dibs" as well. How cute and clever is that? She's a ray of sunshine and has a positive outlook on life.
She currently has contest going on for her fans, where if you lip sync her song "Dibs", you could be featured in the music video! Here's how to enter yourself!
Kelsea says that she wants to be an approachable artist and best friends with people that she meets. It is obvious that she is already doing that. She has a big heart and everyone better be ready because we have a new country star on our hands!
Want to see more of Kelsea? Follow her on Facebook, Instagram, and Twitter!
(Photo via Judy Eddy/WENN)
- Brittany Taormina, YH Contributing Writer