ARTIST TO WATCH: Julia Michaels
Written by Brittany Taormina. Published: February 23 2017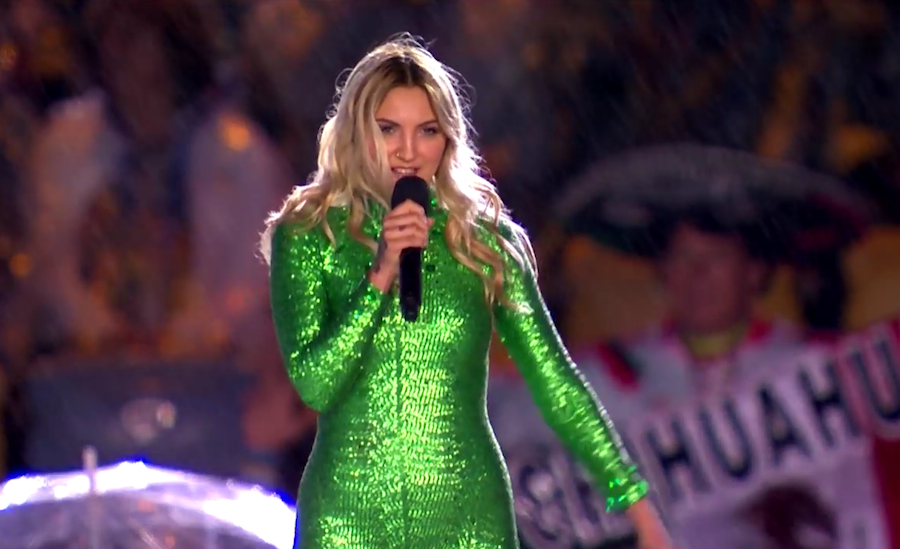 We are currently loving all things Julia Michaels, an Iowa native-turned-California girl who started singing at 12 years old and hasn't stopped since. She turned to a career of songwriting in her late teens, so even if you haven't heard the name before, you are probably more familiar with her work than you think. She's had 12 hits on the Billboard Hot 100 and 8 have reached Top 40. #GOALS
At just 23, she has written tracks for Justin Bieber,Nick Jonas, Selena Gomez,Fifth Harmony, Demi Lovato,Little Mix, Britney Spears,John Legend, Ed Sheeran,Hailee Steinfield -- and the list just goes on. Let's just say she pretty much writes all our favorite sexy songs, including Bieber's "Sorry", Nick's "Close", and Gomez's "Good For You".
Julia performed with Kygo at the closing ceremony for the 2016 Summer Olympics in Rio, singing Kygo's track "Carry Me", which Julia is featured on. She rocked a sparkly green jumpsuit to close out the games -- in the rain! Not too shabby!
She is currently signed to Republic Records and is stepping out on her own as a solo artist. Her debut single "Issues" has become a radio hit, thanks to its relatable meaning. If her upcoming EP, expected out this spring, is anything like "Issues", we are in for a treat -- and new musical superstar!
Want to find out more about Julia? Follow her on Facebook, Instagram, and Twitter!
(Image via Olympics/YouTube)
- Brittany Taormina, YH Contributing Writer