ARTIST TO WATCH: Blood Orange
Written by Meg Spaulding. Published: October 18 2018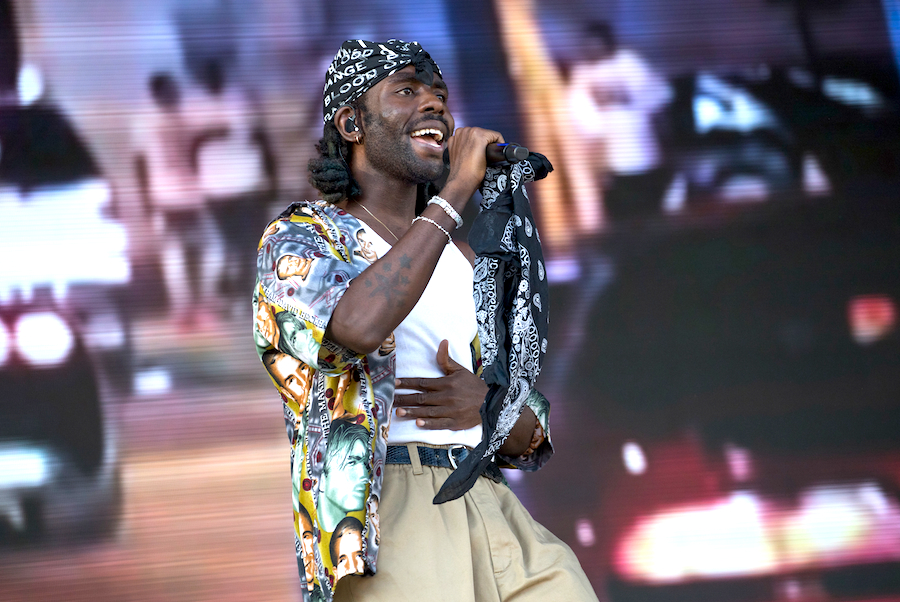 In case you have missed Blood Orange's entire existence -- which wouldn't be your fault since he's aways preferred to stay a bit under the radar -- I'm here to tell you why you should be a fan of this multi-talented artist from London. Read on to find out what makes his album unique, and what you can expect from this artist's latest work. 
Blood Orange, whose real name is Devonté "Dev" Hynes, is a singer, songwriter, music producer, and dancer, to name just a few of his talents. Before (and during) his career as Blood Orange, he was writing and producing songs for powerhouses likeSolange Knowles, Carly Rae Jepsen, Florence + The Machine, and many more. Although he clearly has the talent to break into the mainstream himself, Hynes has preferred to help others with their big hits and keep his own music low-key. His first band,Lightspeed Champion, which was more rock-influenced, gave way to his newer creation of Blood Orange, which is more focused on R&B and electronica. Critics and indie music fans began to make a ruckus about Blood Orange to the point where less-aware listeners (like me) finally discovered Blood Orange in 2016 with the release of his album Freetown Sound. The title comes from his parents' Afro-Caribbean roots — his father was born in Freetown, Sierra Leone. The song "Best to You" has emotional connotations for me; it feels like one of those songs where you'll never forget the circumstances in which you heard it. It's also just really good.
With the musical and critical success of Freetown Sound, Blood Orange went back to the studio, taking 2 years to hand-make his newest album, Negro Swan. This record captures Hynes's multiplicity -- how he lives as a black Londoner in New York, with a fluid gender and sexuality, and broad musical style. Pigeon-holing anyone into simple categories or genres is hard, but with Blood Orange, he wants to make it near-impossible.
A pervasive theme in Negro Swan is his identity as a black and gender non-conforming individual and how that's perceived and how it affected his past. Hynes has said that the album is stream-of-consciousness, both thematically and musically. It's an insight into how his mind works, as songs on the same album flow from rap to electronic pop to spoken word, sort of like how songs in our heads sometimes pop up out of nowhere. Speaking of rap, the one rap song on Negro Swan is called "Chewing Gum", and it featurea A$AP Rocky and Project Pat. According to Hynes, it's about getting tired of being outraged, in terms of politics and inequality. Hynes lived at A$AP Rocky's house in L.A. for a while, which sounds like heaven, and when Rocky heard the song, he offered to collaborate. The result is an instant classic; listen for yourself!
Some of the songs on the album contain spoken word from writer, director, and trans activist Janet Mock. In "Charcoal Baby", she speaks about how gay and transgender people often have their own chosen family if they aren't accepted by their own. It's one of the few songs on the album that features guitar played, of course, by Blood Orange himself. The music video turns the idea of chosen family into a visual celebration, and I want to be invited to whatever family functions these are based on.
There's a lot more to catch on this album — listen for the words of Sean "Diddy" Combs on "Hope" — but I'll leave you with this video, with the signature shot of the "Black Angel" from the album cover making a quick appearance. This song took Hynes a few years to perfect, adding many guest vocalists along the way. The opening shot is from his music studio in Chinatown, where much of the album was made. In that way, it sums up this album: homemade by a professional. By letting us see into his music-making world, Blood Orange has created a revealing and honest album that's easy on the ears to boot.
(Image via Rick Kern/WireImage/Getty Images)
- Meg Spaulding, YH Contributing Writer