ARTIST TO WATCH: Ansel Elgort
Written by Raffy Ermac. Published: April 08 2014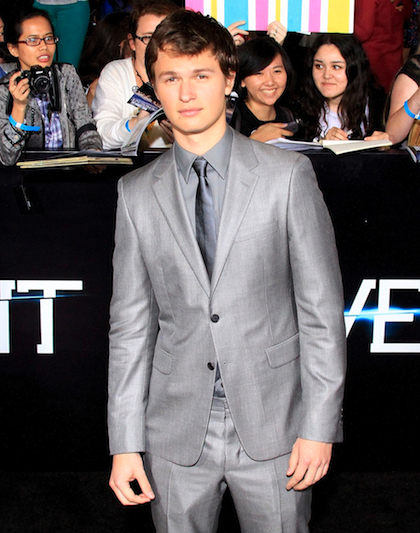 If you haven't heard of Ansel Elgort by now, just wait until June rolls around, because you probably won't be able to go anywhere without seeing his face or hearing his name.
Much like other young actors who have taken the world stage by storm, Ansel is set to star (alongside another young fave of ours and new queen of the cinema Shailene Woodley) in the movie adaption of a YA mega hit, this one being based on the feel good tear-jerker by John Green entitled The Fault in Our Stars. Although we want nothing but all the success for in the years following his Hollywood breakout role, we do want him to always remain the same incredibly charming, slightly adorkable, and oh-so loveable young man he has grown to become, and surely will always be.
Ansel is a New York City-born jack of all trades when it comes to entertainment and has dipped his theoretical spoon in the many bowls of different fields when it comes to performance and the arts.
According to Elgort himself, he started out in ballet and theater at an early age, having starred in school productions of Guys and Dolls and Hairspray, and it was most likely plays like those that sparked the acting bug in him.
After a stint as a model (he appeared in a few issues of Teen Vogue in 2009, and has been seen in countless other mags since then) and a stint in the off-Broadway Regrets, Elgort eventually (and we all known this by now) landed the role as Tommy in last year's horror remake of Carrie, followed by this year's mega fangirl hit Divergent, starring the aforementioned Woodley and other up-and-coming acting extraordinaire Theo James. Another YA movie, but still excellent and buzzworthy nonetheless…
As if acting wasn't enough of a way for a young twenty-something to keep busy, Elgort also loves to mix and make his own music. He performs as an EDM artist under the stage-name Ansolo, and although there is somewhat of a stigma when it comes to actors who try to do music, there is no flowery exaggeration when we say that the stuff Elgort/Ansolo has done is pretty damn good. And that's coming from someone who does not regularly indulge in EDM whatsoever.
We're not going to confirm or deny Elgort's status as the nextEfron/Pattinson/Lautner/Franco-type, but what we are saying is that there is much more to Ansel than the industry newbie he is. He is a promising, fresh-faced, multi-faceted, and (above all) talented entertainer who is most definitely going to make a splash in more than one trade. And we want to be with him every step of the way.
(Photo via Winston Burris/WENN)
- Raffy Ermac, YH Staff