ARTIST SPOTLIGHT: Jack Ü (AKA Skrillex + Diplo)
Written by Amanda Baltazar. Published: June 22 2015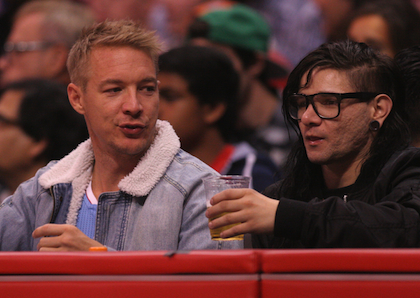 By now, you've probably heard the new Justin Bieber song, "Where Are Ü Now?"
If you haven't, or you need a refresher, you can check it out here:
We all know that Justin Bieber is the singer, but who created that sick beat and killer flow?
Jack Ü, that's who. 
Who is Jack Ü?
Jack Ü is a DJ collaborative duo made up of none other than EDM kingsSkrillex and Diplo. It's all coming together, right? No wonder that track is fire!
Skrillex and Diplo created Jack Ü as a side project. Both DJs and music producers share the same value of creating new, progressive music no matter what style or genre and both are willing to work with different types of artists. The duo came together in 2013 at Mad Decent Block Party in San Diego as well as other dates on the tour. The two have worked with each other on many different projects, but this was the birth of their official collaborative effort. In 2014, Jack Ü played an hour-long set at Ultra Music Festival, which I still listen to on the reg.
A good portion of their sets and tracks include trap and dubstep elements, bridging many different types of genres together as well as a diverse group of artists. One of their first collaborations includes vocals from CL and G Dragon, very famous Korean Pop artists.
In 2014, they released their first single featuring Kiesza.
Early this year, they released their first album, Skrillex and Diplo Present Jack Ü; it features only nine songs, but we can't help but think that Diplo and Skillex have a little more up their sleeves... at least we really hope so!
Their trendsetting music style mixed with their shared value of creating unique, new, unfiltered music is what makes Jack Ü such a successful and intriguing collaboration. Not to mention that Skrillex and Diplo by themselves can blow the roof off of any party, but bringing them together… well, my mind is just exploding with excitement. I had the privilege to see them live at Mad Decent Block Party last year, and I was obsessed. I am dying to see them live again, and we hope that this is just the beginning of Jack Ü.
You can listen to more Jack Ü on their SoundCloud and keep up with them on their official website.
(Photo via WENN)
- Amanda Baltazar, YH Staff