ARTIST SPOTLIGHT: boygenius
Written by Robert Sweeney. Published: May 01 2023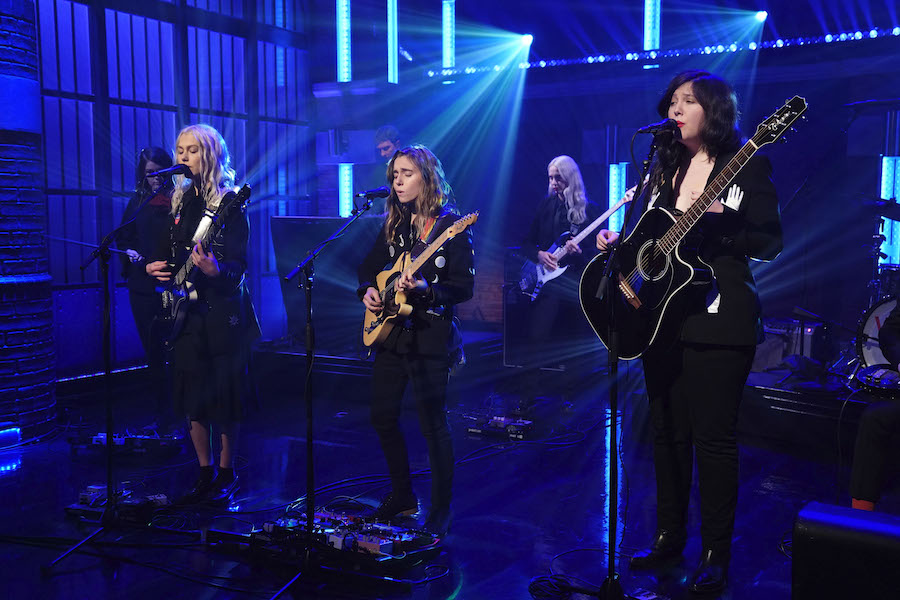 Supergroups have shocked listeners and music fans since the early days of rock music, allowing collaboration between artists that result in new sounds, perfectly complimenting each member of the band. In recent years, the 3-piece indie rock and boygenius has certainly proved themselves to join the Mount Rushmore of supergroups, with their unique mixes of beautiful harmonies, intricate lyrics, and tender production. Boygenius's members consist of three of the most prolific and talented women working in music today: Phoebe Bridgers, Lucy Dacus, and Julien Baker. Each member has their own distinct discography, filled to the brim with introspective anthems, cathartic scream-alongs, and spellbinding stories. Let's examine how these three titans of the indie rock genre mix and weave their own sounds into the supergroup boygenius! 
Boygenius was formed in 2018, releasing a self-titled EP sporting 6 tracks filled with introspective lyrics and melodic harmonies that showcased each member's vocals. Some standout songs from the EP include the soft ballad of "Me and My Dog", the electrifying "Salt In the Wound", and the gorgeously layered "Souvenir".
After the release of this EP, each member moved on to their own musical projects. In the years that followed, Phoebe Bridgers soared to stardom on the heels of her breakout album, Punisher, Julien Baker shone on her more personal third album, Little Oblivions, and Lucy Dacus dazzled avid fans of the indie rock genre with her 2021 album, Home Video. This hiatus allowed for each member of Boygenius to evolve and expand upon their own sound, exploring new avenues of production and further polishing each member's lyricism. Recently, 2023 marked the return of the 3 friends and bandmates with the release of their new album aptly titled The Record. 
After a hiatus that allowed their individual fanbases to grow, Bridgers, Dacus, and Baker's return to boygenius was met with praise from each of their own fan bases along with critical acclaim towards the new project. The album itself gives the listener a view into not only the mind of each member of the band but also the chemistry between the musicians and how it has fully evolved from a small EP to a 42-minute-long album. The Record pleases just about every listener, with tracks that showcase the 3-part harmonies that made their first EP so iconic while also giving each member a space to shine throughout the tracklist. The trio's songwriting has also never been stronger, as songs throughout The Record explore new viewpoints on love, relationships, and friendship. With their recent performances on live television and a highly-buzzed about performance at Coachella, it looks like this is only the beginning for the star-studded supergroup!