Ariana's Grande Week!
Written by Caroline Thayer. Published: June 14 2018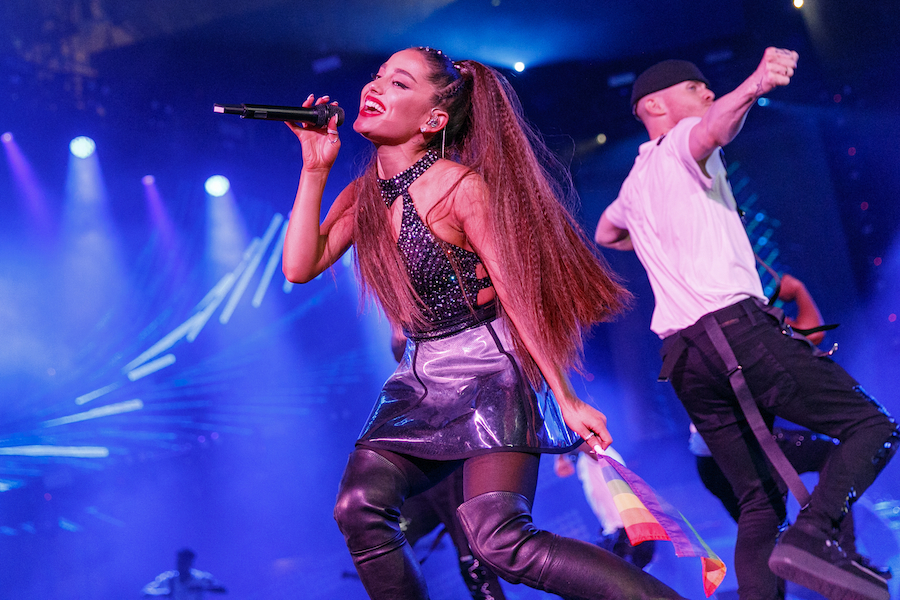 Once your name has graced practically all major publications for an abundance of reasons over the course of one week, you will have reachedAriana Grande status. I wouldn't hold your breath, though. If I were a betting woman, I'd say Ari has a crystal ball, given the fact the title of her next album, Sweetener, is indicative of how her life is going right now: pretty darn sweet.

Even if you've been living under -- well, you know how that phrase goes -- I'm confident you'd still somehow know Ariana Grande has had an absurdly eventful week. First of all, she's engaged. We're choosing to overlook the fact that she and her fiancé, Pete Davidson, have seemingly been together for less than a month. If she's happy, we're happy. In wake of her engagement, she and fellow pop-princess Camila Cabello underwent a public custody battle on Twitter… over cannolis and dogs… which many have resulted in a "divorce". I volunteer as their mediator. So while the two pals jokingly battled it out, fans reveled in their public display of friendship.

While personal and social updates are fun to obsess over, let's talk music from our girl! Yesterday (June 13) was the release ofTroye Sivan's song, "Dance To This". Why is this relevant to Ari? Oh, well, she's featured on the track. Let me just say, since I've heard it, my inner inclination to get up and dance cannot be subdued. With a sultry, synthesized intro followed by a sweet opening verse from Troye, I knew this song was going to garner headlines. It's interesting, as both Troye and Ari share a slightly raspy, soothing tone of voice that when combined make a sound that is effortless and beautiful. The song could be on either of the singers' albums; showing how uniquely encompassing the song is and how strikingly complimentary their voices are together.  About three quarters of the way through "Dance To This," we are blessed with some breathy chanting. It evokes aBritney Spears-like vibe, reminiscent of her spoken intro in "Piece of Me".
As if one song collaboration wasn't enough to send Arianators everywhere into cardiac arrest, this very morning (June 14) "Bed" dropped, aNicki Minaj song from her upcoming albumQueen with a feature from Ms. Grande. Fair warning…it's definitely a little NSFW. But a lot less graphic than I anticipated!
The song begins with, and consistently features, a melody from Ariana -- something the track definitely requires in between Nicki's rap verses. In signature Ariana form, there is an impressive octave change towards the end of the song, where she is actually harmonizing with herself. While Ariana doesn't lend her rap abilities to Nicki on "Bed", fans won't have to wait much longer to hear a little sample of Ari's rhyme game. Another song with Nicki, one off her own album this time, is coming in six days. Die-hard fans know what song I'm referencing: "The Light Is Coming". Ariana gifted Wango Tango concert-goers with a semi-live performance of the song on June 2. Unlike "Bed", Nicki opens "The Light Is Coming" with a reference to her own hot track "Chun Li" and a quick shout-out to Ariana.

While both songs are sure to hit airwaves and penetrate our ears so fervently that we question if radio stations have conspired against us to only play songs from these two leading ladies, I think fans of Ariana and Nicki's older work will enjoy "Bed" most out of the two. It has a similar flow and beat to Ariana's song "Side To Side", which also featured Nicki Minaj. In some aspects, the beat of "Dance To This" with Troye and "The Light Is Coming" are comparable. If anything, the consistency throughout all the tracks Ariana sings on -- whether they be off her own album or not -- proves her sound is seamless and fluid, and that her talent is REAL.

But you already knew that.

Congratulations to Ariana on her immense success. While it might not be newfound, I'm sure it tastes as sweet as ever.

Make sure you pre-order Ariana Grande's fourth studio album,Sweetener, on June 20!
(Image via Rich Polk/Getty Images)
- Caroline Thayer, YH Contributing Writer