Inside Look At The New "Stranger Things" Adventure Exhibit In Brooklyn!
Written by Tiara Brownie. Published: June 10 2022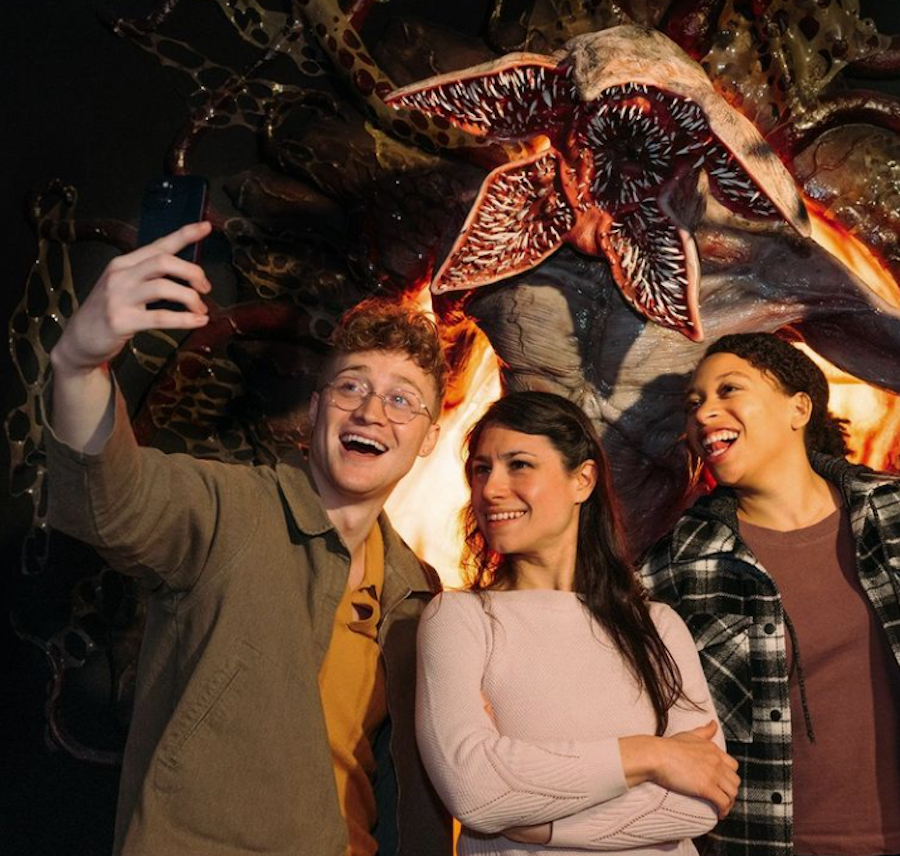 (Instagram/@strangerthings.experience/Fever US)
Calling all NYC nerds! Do you copy?
Six weeks after the mid-season finale, "Stranger Things" Season 4: Volume 2 will be released on July 1, 2022. So, in the meantime, while everyone waits impatiently for the final two episodes to drop, what are fans supposed to do?
For starters, how about purchasing your tickets for Stranger Things: The Experience, located in Brooklyn's Navy Yard, offering 35,000 square feet of summer fun? For the duration of the stay at the exhibit, guests will be captivated by an original storyline created by the series' writers, Ross and Matt Duffer (AKAThe Duffer Brothers). During the first part of the exhibit, fans will get a chance to put themselves in the world of "Stranger Things" and play the hero role in an interactive experience in which you will discover your hidden abilities and fight with your favorite characters to save Hawkins. Using pre-recorded instructions and videos, the cast of the Netflix show — including Finn Wolfhard, Mille Bobby Brown, Noah Schnapp, Gaten Matarazzo, Caleb McLaughlin, andSadie Sink, among others — will walk you through the entirety of the exhibit.
After watching the long-awaited 4th season of "Stranger Things", you're probably asking yourself, what can be scarier than Vecna, a villain resembling the Night King from "Game of Thrones" and Jeepers Creepers? How about the original monsters, the Demogorgons. Yup, I said it, DEMOGORGONS! During the interactive experience at Hawkins Lab, you get to have an up-close and personal encounter with Demogorgons. While you ponder whether or not you have truly descended into the Upside-Down, several Demogorgons will spring at you while a virtual version of Eleven snuggles up next to you.
Just when you think it couldn't get any cooler— oops, I mean STRANGER, it does.
After the interactive quest of saving Hawkins, players enter the second and final part of the exhibit, which is the '80s nostalgic mixtape room, a reproduction of Starcourt Mall with Scoops Ahoy, Family Video, an arcade (with working games) and, of course, Rink-o-Mania. The area also has a merchandise counter, a bar featuring Hawktails ("Stranger Things"-themed beverages), and some costumes. But, most importantly, the mixtape room offers photo opportunities, including the Byers' living room, a phone booth, and a pulsating Demogorgon.
As a fan of the show, my favorite part of the exhibit is that you get to make new friends and get a chance to bond with other individuals who share the same love for the show. The fact that we must work together to complete the interactive experience to save Hawkins is probably one of the most exciting aspects. During the 45 minutes, you will be divided into groups, and each group will be given a unique set of activities to complete. In some ways, there's a little nerd in all of us, right?
So, what are you waiting for?! Grab your significant other, best friend, or family members and have some summer fun at Stranger Things: The Experience. The exhibit is currently happening in San Francisco and London as well, and you can nominate YOUR city via the website. Buy tickets/nominate your city here. 
LET'S SAVE HAWKINS ONE LAST TIME!