5 Ways To Have a COVID-Safe Halloween!
10-12-2020 by Adriana Darcy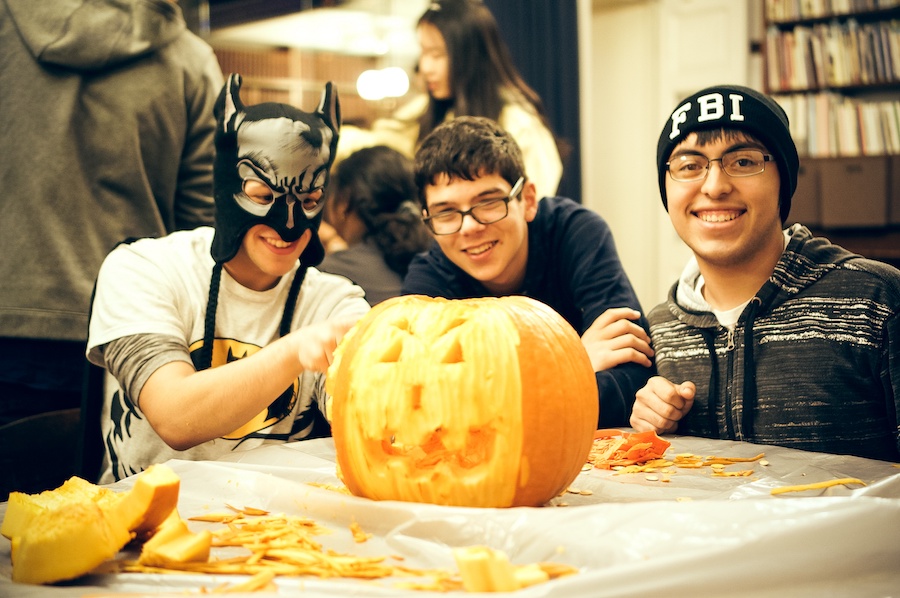 ( © JHU Sheridan Libraries/Gado/Getty Images)  
Halloween this year is looking a lot different than previous years. Due to COVID-19, your usual Halloween activities like trick-or-treating and parties aren't recommended. But that doesn't mean that Halloween is cancelled -- there are still tons of COVID-safe ways to have fun! Here are some of our faves:

1. Pumpkin Carving
Pumpkin carving is a staple Fall activity, and it's the perfect way to have some fun and celebrate Halloween. Go to your favorite pumpkin patch or your local store to pick up some pumpkins and, along with your family or roommates, start carving! You don't have to keep it just to your household either; video chat your friends and family, or invite everyone to a socially-distanced pumpkin carving session outside! 
If you want to have even more fun, you can have a contest to see who creates the spookiest jack-o-lantern! Vote among yourselves or post your finished pumpkins on social media and let your followers choose!
2. Visit a Local Farm
If you are missing the Halloween feeling, visit a local farm! Even though corn mazes and haunted houses may not be happening, many farms are open. Grab your masks, grab your friends, and go apple picking, flower picking, pumpkin picking, or just go and take some photos! You can make your trip even more fun and memorable by dressing up in your favorite costume!
3. Creepy Photoshoots
No parties to go to and no trick or treating, so what's even the point of buying a costume this year? One word: Photoshoots! With your friends or family (or even by yourself!), get your camera and costumes ready, visit your favorite Fall location, and take some fun photos! Need some location inspiration? Go to the woods and take some photos in front of the Fall foliage, visit an abandoned building (if it's legal! Do not break and enter or trespass!), or just take some photos in your room. Just don't forget your mask if you're going to be around others!
A recent TikTok trend has been ghost photoshoots, where you and your friends throw on some white sheets and take photos and videos to the song "Oh Klahoma" by Jack Stauber.

4. (Small) Outdoor Gatherings
Even though you can't have a party, you can still get together with your friends and family outside, at a safe distance, for some COVID-safe activities! You may not be able to bob for apples, but you can still do fun crafts! Carve pumpkins, create "apple art", decorate Halloween cookies, create costume accessories (wands, crowns, jewelry), and more. You can even create a mini catwalk and have a costume contest! 
5. Halloween-Themed Movie Marathon
If you like scary movies, you can celebrate Halloween with a scary movie marathon! Decorate your house in all of your spookiest decorations, get out the trick-or-treat bowl and fill it with your favorite candy or snack, dim the lights, and get started! If you're not a big fan of scary, there are tons of "family-friendly" Halloween-themed movies, likeHocus Pocus, Twitches, The Nightmare Before Christmas, and Halloweentown.
Even though Halloween is different this year, there are still tons of fun things to do. Just remember to stay 6 feet apart, wear your mask, and take the proper precautions to keep yourself and your loved ones safe! Happy Halloween!