5 Ways To Celebrate Pride Month From Home!
06-08-2020 by Adriana Darcy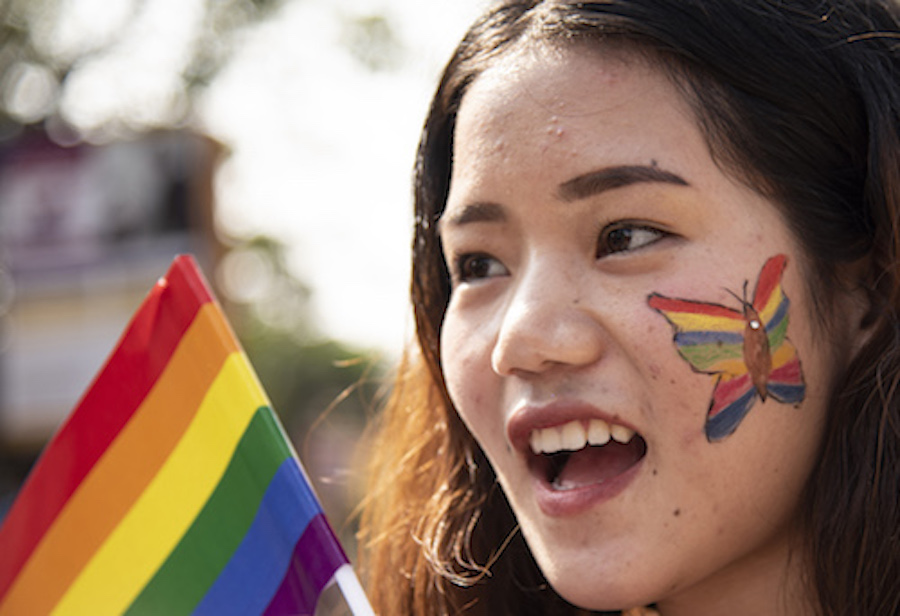 ( © David Talukdar/NurPhoto via Getty Images)  
It's Pride Month, folks, and on any other given year, we would ypically celebrate by attending our local Pride parade, but with the ongoing pandemic, 2020 Pride parades have been cancelled around the world. That doesn't mean you can't still celebrate, though! 

Here are 5 ways to celebrate Pride without the parade.
1. Supporting LGBTQ+ brands 
One of the best ways to celebrate Pride, with or without the parade, is by buying some new Pride gear! You can take it one step further by shopping from LGBT brands and checking out LGBT artists.
Some LGBTQ+ brands to consider supporting include: GLSEN,Rebirth Garments, TomboyX, Wildfang, and gc2b.
2. Pride-themed baking
If you like to bake, you can take it up a notch with some Pride-themed baked goods! There are tons of gorgeous ideas on Pinterest, or you can create your own. Make some colorful cupcakes with frosting the colors of your flag, make some rainbow cookies, or you can even make a beautiful cake that shows the colors of the rainbow when you cut into it. There are so many ways you can add some Pride to your baking!
3. Watch LGBTQ+ movies 
Though there is a long way to go in LGBTQ+ representation on film, there are still plenty of queer films to check out on Netflix and other platforms, from teen rom-coms (Love, Simon), to dramatic films (Moonlight), to documentaries (Paris Is Burning), there is something for everyone. 
4. Do some fun LGBTQ+ makeup
If you're a fan of makeup, you can add an LGBTQ+ themed twist to your everyday look! Some rainbow eyeshadow can be a fun way to show your support, or if you want to take it a little bolder you can go for a rainbow lip or even a rainbow eyebrow! If you need some inspiration you can always check out some of Young Hollywood's favorite MUAs like PatrickStarrr or Manny MUA!

5. A Pride Mini-Party (while maintaining distancing, of course!)
Just because you can't go to a parade doesn't mean you can't bring the celebration to you! With your quarantine family, you can throw a celebration full of rainbow decorations, rainbow food and desserts, and rainbow outfits. If restrictions have eased in your area, you can get a few of your close friends and celebrate in your yard (but don't forget to stay 6 feet apart)!
Happy Pride, everyone!