5 Underrated Throwback Songs from Ariana Grande's Debut Album 'Yours Truly'!
Written by Skylar Zachian. Published: August 10 2022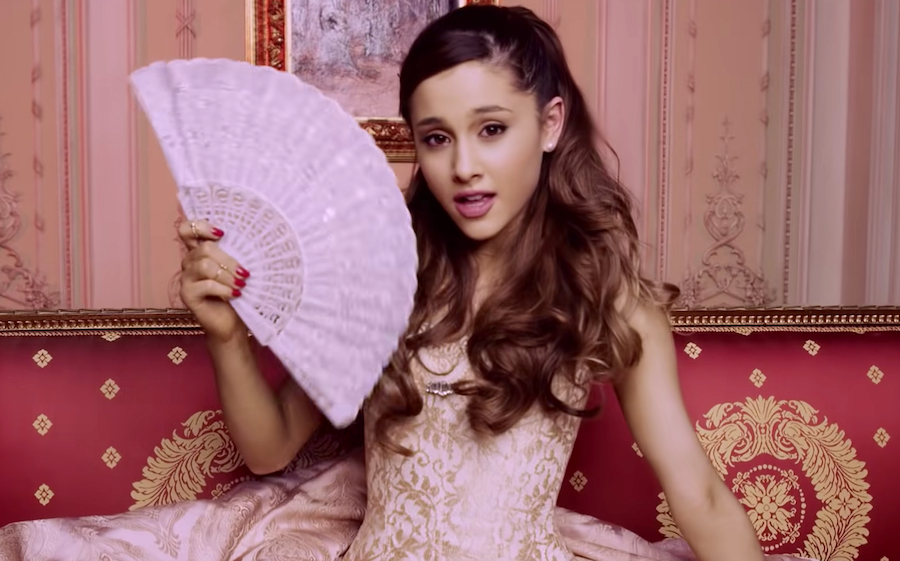 (Ariana Grande/YouTube)
Remember whenAriana Grande stepped into the spotlight in 2010 as Cat Valentine in Nickelodeon's "Victorious"? Who could forget her iconic high voice, infinite energy, and bright red hair? A decade, 6 albums, and a few hairstyle switch-ups later, Ariana's vibe has matured and some of her earliest (Cat Valentine-era) songs have slipped under the radar. Let's take a look back at where her career started. Here are the top 5 underrated Ariana Grande songs from her very first album, Yours Truly (2013)!
1. "Popular Song"
"Popular Song" is an original twist on the well-known song "Popular" from the Broadway musical Wicked in which Glinda teaches Elphaba how to become popular. Ariana and MIKAemulate the tune of "Popular" but completely invert the song's meaning: they share the inspiring message that the key to popularity is being true to yourself. The gothic-themed music video follows Ariana and MIKA as they get bullied by the popular kids and make a witches brew to turn the bullies to stone. The vocals and fully-developed plot combine to make this video a cinematic masterpiece. Plus, this music video hits way different now knowing that Ariana will be playing the role of Glinda in the upcomingWicked movie (premiering in December of 2024)! 
2. "Piano" 
The girls that get it, get it. On the surface, this song is just about a piano, but when you dig deeper, it's extremely creative. The song has a meta quality to it, as Ariana's lyrics are about the process of songwriting itself. She debates whether she should write a tender love song or a pop song that would be a hit on the radio. The song gives us a glimpse into the inner workings of Ariana's approach to music and reflects her enduring ability to successfully blend genres and cover a wide range of emotions. At the end of the day, Ariana just wants us to rock out to the piano, and this song sets up the perfect conditions for us to do just that. The song is made even more vibrant thanks to the backing track's emphasis on piano and hand clapping.
3. "Daydreamin'"
I don't know how she did it, but Ariana perfectly captured the feeling of a daydream and condensed it into 3 minutes and 31 seconds of a soothing pop song. If you want to feel like you're floating on a fluffy cloud, look no further. This song, in which Ariana can't stop thinking about her crush, is adorably lighthearted. Don't think "Daydreamin'" can get any cuter? Think again -- the last few seconds feature an audio clip of Ariana's grandparents talking about how they fell in love!
4. "Better Left Unsaid"
This song starts out on a soft, delicate note with Ariana explaining that leaving things unsaid can save a broken heart. The song gradually builds up energy until it morphs into a full-on party number. It might seem a bit odd that the song shifts from "a broken heart is all I have now" to "if you wanna party, put your hands up", but we're here for it! Ariana challenges us to contemplate the complexities of human communication and throw our cares away all at the same time. Whether you're getting over a tough break-up or looking to dance the night away, you can't go wrong listening to "Better Left Unsaid".
5. "Right There"
Love Ariana's R&B style songs like "The Way" ft. Mac Miller? If so, it's definitely time to revisit "Right There" ft.Big Sean. Ariana starts the song off with one of her signature whistle tones, so you know what follows is going to be good. This love song starts out with the repetition of "if you wanna party, put your hands up", the same phrase that was repeated throughout "Better Left Unsaid". It looks like Ariana really wants us to put our hands up, and what she says goes! Then Big Sean comes in with an extremely catchy rap, and Ariana continues to hit some seriously impressive notes throughout the rest of the song. The music video is a whole Romeo and Juliet-themed production with extravagant costumes and even synchronized swimming! 
Ariana has skyrocketed to superstardom since her first album was released in 2013, but these wholesome throwback songs will always hold a special place in our hearts.