5 Things You Might Not Know About Veterans Day
Written by Nicole Koch. Published: November 11 2014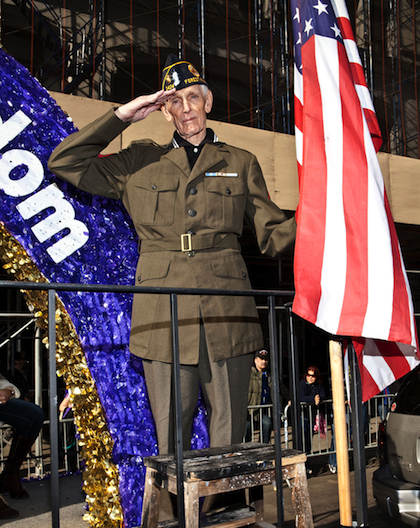 It's already November, which means Thanksgiving is almost here! But before we all get ahead of ourselves by daydreaming about all of the stuffing and mashed potatoes we'll consume in just a few weeks, I think we should first focus on another November holiday that's just as important: Veterans Day. Everyone's getting excited, including Baskin Robbins, who has just debuted a camouflage ice cream in honor of the vets.
The holiday (not to be confused with Memorial Day) pays tribute to all American veterans – living or dead – but especially gives thanks to living veterans who served their country honorably during war or peacetime. I'm sure you know that Veterans Day always falls on November 11, but I'm about to give you a history lesson on other facts that I betchya didn't know. Get the whole story behind the holiday here!
1. Veterans Day was originally called Armistice Day (it was changed in 1954 byPresident Eisenhower). It was created to commemorate the truce signed between the Allies and Germany, on the 11th hour of the 11th day of the 11th month of 1918.
2. On the first anniversary of the end of World War I, all services were suspended at 11am. Suspension and silence lasted for two minutes, with parades and celebrations following.
3. Shortly after, America started to honor "unknown soldiers", and the tradition continues today. Every Veterans Day at 11am, a Color Guard Ceremony represents all branches of the military at the "Tomb of the Unknowns" at the National Cemetery in Arlington, Massachusetts.
4. In 1968, Congress moved Veterans Day to the fourth Monday in October so that government employees could enjoy a long weekend (uh what?). In 1975, President Ford returned the holiday to it's proper place, November 11, because of it's historical significance.
5. According to the U.S. Census Bureau, over 23 million military veterans are currently living in the United States! More than 17 million of them served during war, and about 6 million of them served during peacetime.
Super interesting right? Even if you aren't a history buff, you can't deny the importance of this holiday.
It takes less than five minutes to say "thanks", so make sure you don't forget to show your love and appreciation today to some of the millions of men and women who have served our country!
(Photo via WENN)
- Nicole Koch, YH Staff