5 Things We Hope to See in Disney Channel's "Raven's Home"!
Written by Kayla Miracle. Published: July 06 2017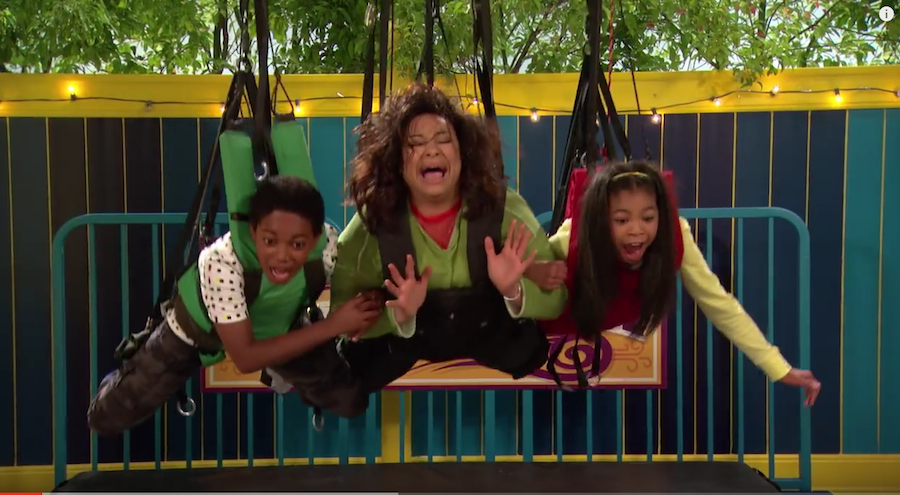 Disney Channel is at it again with another spin-off series to one of their most memorable shows. Raven-Symoné returns this summer in "Raven's Home", a spin-off of the popular "That's So Raven" television hit from the early-2000s!
Similar to Disney's "Girl Meets World", which shifted focus of the story to the life of the legendary "Boy Meets World" couple Cory and Topanga's daughter, "Raven's Home" follows the life of Raven Baxter and her two kids. Raven appears to be up to her regular hijinks along with still being able to see the future in the show's preview. It also looks like she's not the only one getting visions anymore! That's right, her son has inherited her psychic ability! This is sure to cause all kinds of mayhem throughout the show's run as he navigates life with his family and friends, including Raven's BFF Chelsea's son.
We can't wait to watch how this story unfolds, but there are a few things that we are dying to see pay homage to the original "That's So Raven" series!
1. Oh snap!
One of Raven's best characteristics are her hilarious catchphrases. Ray-Ray was always getting into a situation that required her iconic commentary, like that time she was in the vent system with the stinky cheese or when she joined Chelsea in her effort to save Old Oakey. One can never hear "oh snap!" or "ya naaasty" enough. We can assume, based on the antics from the new show's trailer, that we will be hearing these phrases again real soon and we couldn't be more excited!
2. Cory Baxter
Cory Baxter, Raven's little brother, will always be a fan favorite character. Whether he was getting on his sister's nerves by flirting with her friends, being a nuisance to their parents, or trying to form his own band, we loved keeping up with him! After "That's So Raven" ended in 2007, Cory, played by Kyle Massey, and their dad Victor moved into the White House in their own spinoff series "Cory In The House". We hope to get a glimpse into Cory's life post-Washington D.C. because he is just too funny. Besides, Raven's kids have to see their uncle sometime, right?
3. Boyz N Motion
"Boys, we are the boys in motion / We give you our devotion." You can't help but sing along everytime this fictional boy band is brought up in the original show. Raven and her friends worship[ed the ground this *NSYNC-wannabe group walked on – how could you not? Their songs were catchy, the boys were cute, and their dance moves were dope. The Boyz N Motion just have to make an appearance in "Raven's Home" if only so her kids can find out what she jammed to back in her young days!
4. Raven's many different personas
Not many actors are able to take on so many different roles, but Raven-Symoné does so flawlessly. Throughout the run of "That's So Raven", Raven's character was disguised in a crazy number of ways. She took on the role of Chelsea's art project, all of her country cousins, pretended to be her mom for a parent-teacher conference, the hilarious fake pop star Liz Anya, and so much more! "Raven's Home" just wouldn't feel right without Raven portraying some very different characters.
5. Important issues
"That's So Raven" really did a stellar job of addressing very important topics in each episode. Raven tackled issues with body image, friendships, relationships, stealing, cheating, and more. Each episode seemed to teach a very critical lesson and start a conversation about issues for audience members of any age. I am hopeful that "Raven's Home" will continue this tradition. Watching stories similar to the ones Raven tackled while she was in school and new ones based on today's society will be very interesting to see!
Unlike Raven Baxter, I can't see the future, but I have a feeling this is going to be awesome. "Raven's Home" will premiere July 21 on the Disney Channel! Until then, check out Young Hollywood's behind the scenes look at the show with the stars!
- Kayla Miracle, YH Contributing Writer