5 Shows to Binge-Watch This Holiday Season!
Written by Raffy Ermac. Published: November 27 2013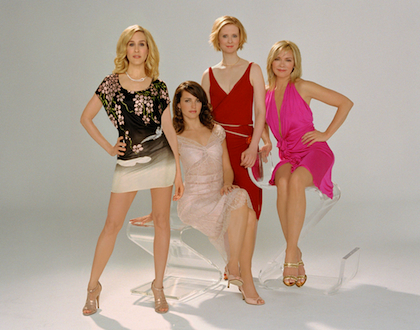 If you don't have those days or nights where all you want to do is snuggle up in bed with your laptop and watch TV shows, then you're either super productive, or you're lying to yourself. We're guessing it's the latter.
This time of year (more than ever) is the best time to catch up on some of your favorite programs and literally do nothing except eat and lay around while doing it. But what if you're already caught up on the current season of whatever sitcom or drama is already on television?
Well, we the TV lovers here at Young Hollywood got to thinking, and here's some of what we think are the best shows (both past and present) to binge on and marathon watch during the cold (sometimes lonely) nights of the Winter season!
"American Horror Story"
The best part about watching AHS is that each season stands completely on its own. No prior commitment necessary, so take your pick of whichever storyline you want and have at it! Season One focuses on the Harmon family and their move into a haunted house in L.A.; Season Two chronicles the goings-on in an insane asylum; and Season Three (the best season yet and the one currently playing on Wednesday nights on FX) explores a house of fierce-some witches no one should ever mess with. Whatever season you pick, Jessica Langeis reason enough to watch.
"Party of Five"
The show that propelled the likes of Neve Campbell,Matthew Fox, Lacey Chabert,Scott Wolf, and Jennifer Love Hewitt into stardom chronicled the life, times, and coming-of-age of an orphaned family of five kids who live in San Francisco. It was hailed as "the best show you're not watching" in the mid-'90s, and with 6 full seasons of drama, laughs, and tears, this is a show you won't regret marathon-watching in your room with your cat, a box of tissues, and a large pizza by your side.
"Sex and the City"
This wasn't just a show, it was a way of life. Sarah Jessica Parker played a columnist who, with her quirky friends (Kim Cattrall, Kristin Davis,Cynthia Nixon), navigated through life in New York trying to find and deal with the trials and implications of modern love. Throw in some sexy times and some of the best fashions of this century, and you've got a recipe for success. With all of its episodes still on HBO GO, what excuse is there not to marathon-watch this?
"Law & Order: Special Victims Unit"
With a cult following as big as SVU's, it comes as no surprise that it would be included on this list of best shows to binge on. Mariska Hargitay makes the show, with her relentless work ethic, thirst for justice, and sheer bad-assery as Detective Olivia Benson in the NYPD's sex crime unit.
"Skins"
Another show that catapulted many of its stars into Hollywood A-List status, including Nicholas Hoult, Dev Patel, and Kaya Scodelario, the U.K. hit does what most other teen shows failed to do by realistically showcasing the attitudes of and what it is like to be a Millennial growing up in a drug-, money-, and sex-loving generation. Seriously a must for anyone in their late-teens and early-20s.
With this quick and handy guide in mind, and an internet connection, marathon-watching the aforementioned shows will surely make anyone's Fall/Winter the most fun and entertaining one yet.
(Photo via WENN)
- Raffy Ermac, YH Staff