5 of "Outer Banks" Star Madelyn Cline's Best Fashion Looks!
07-05-2021 by Rebecca Breitfeller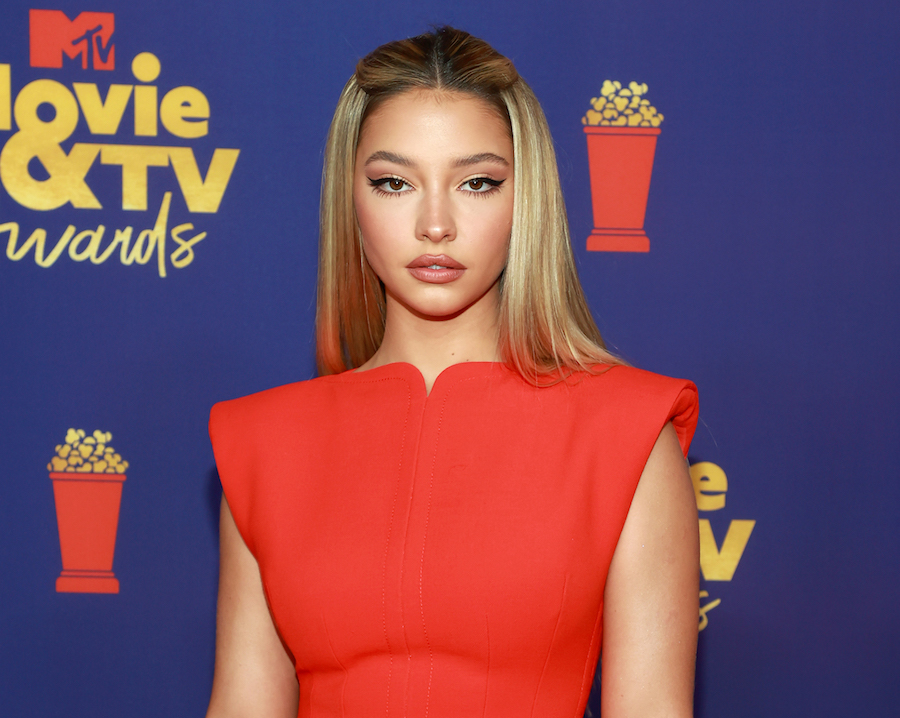 ( © Matt Winkelmeyer/2021 MTV Movie and TV Awards/Getty Images for MTV/ViacomCBS)  
Quarantine may have brought us isolation, banana bread baking, and strange TikTok recipes, but it also brought us the joy that is the Netflix series "Outer Banks". Madelyn Cline plays Sarah Cameron on the hit teen drama, and whether she's on or off-screen, Madelyn always looks stunning.
While we are all on the edge of our seats waiting for "Outer Banks" Season 2, we are breaking down 5 of Madelyn's best and brightest moments in fashion!
1. 2021 MTV Movie & TV Awards
Madelyn Cline quite literally owns the color red now. At this year's MTV Movie & TV Awards, the entire cast of "Outer Banks" showed up ready to impress. Madelyn donned a red Versace mini-dress with the most trendy shoulder pad situation. She kept it simple with accessories and looked absolutely STUNNING!
2. Grazia USA Cover
We love a good magazine cover, and we love a Madelyn Cline magazine cover even more! In May, Madelyn was Grazia USA's cover star for their "On The Rise" feature. She looked like a total boss in a Salvatore Ferragamo pantsuit and some matching pointed-toe pumps. The cover is breathtaking, to say the least, and we are completely obsessed with this chic boss-babe look on Madelyn.
3. Set Active Shoot
While we completely adore a red carpet moment, we equally can enjoy an athleisure look. When that athleisure look includes Set Active, we are ALL in. Madelyn is one of the recent spokespersons for Set Active and is constantly donning amazing matching workout sets on the 'Gram. If we looked that good while working out... we may never stop!
4. HeroMagazine 
Has a white tee and denim shorts ever looked so ICONIC? Madelyn is such an effortless beauty, we are pretty sure she'd look amazing in anything. For Hero Magazine, Madelyn was styled in a mainly black and white photoshoot, highlighting her natural beauty and easy-to-put-together looks. Don't mind me, I think this outfit will now be my new uniform.
5. All-Blue Ferragamo
I could stare at this all-blue outfit all day long. For the Ferragamo fashion show this February, Madelyn was styled by the stylist to the stars, Mimi Cuttrell, and wore a head-to-toe monochromatic Ferragamo look with a pop of a pale yellow purse. I am LIVING for this look. The monochromatic look is incredibly trendy right now, and Madelyn pulls it off with ease as if she wears this look every day.
We are obsessed with Madelyn's fashion sense. What is your favorite fashion look from Madelyn Cline?