2023 Oscars Wrap-Up!
Written by Katie Marzullo. Published: March 13 2023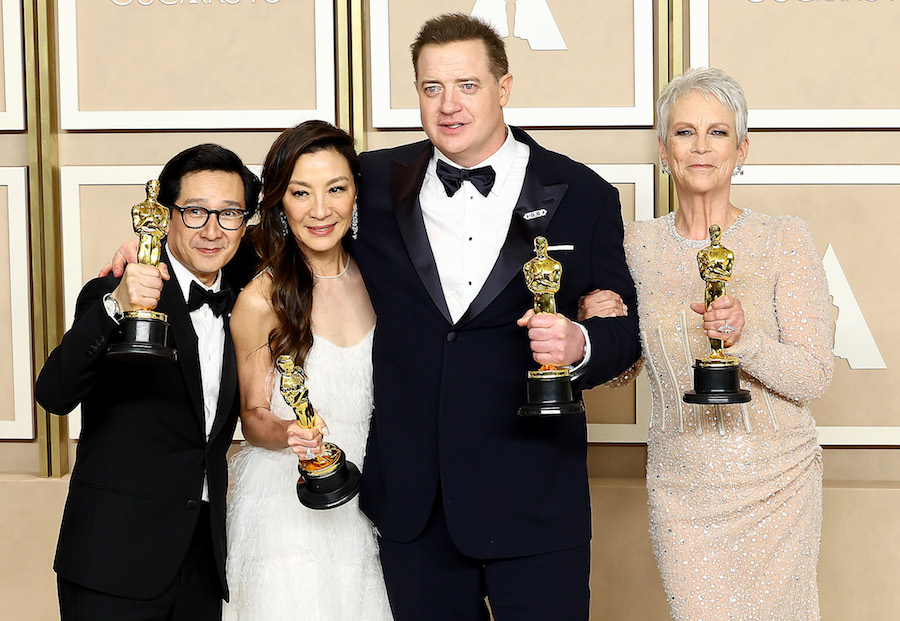 ( © Arturo Holmes/Getty Images)
This is it, the moment everyone in Hollywood has been holding their breaths for all year -- Oscars Night!
The 95th Annual Academy Awards finally took place last night, and it was chock full of joy, inspiration, firsts, comebacks, and history-making moments! So let's get into it!
- The big story of the night was, of course, Everything Everywhere All At Once, which came into the ceremony with the most awards at 11. Well, they more than came through, winning 7 of those awards, including 3 of the 4 acting categories, Best Director(s), Original Screenplay, Editing, and the big one, Best Picture!Michelle Yeoh, Jamie Lee Curtis, and Ke Huy Quan all became first-time winners after decades in the business, and each one of them came with their own set of groundbreaking circumstances: Yeoh became the first ever Asian woman to win Best Actress; after almost half a century as an A-list performer, Curtis finally took home an Oscar, 62 years after her mother Janet Leigh was nominated in the same category (only the 3rd time in history that a mother/daughter duo have both been nominated); and Ke Huy Quan sealed his triumphant comeback after Steven Spielberggave him his big break in 1984 with a win for Best Supporting Actor. (1984 also happened to be the last year an Asian actor won in this category.) Even more incredibly, with his win last night, Quan has collected over 70 awards this Awards Season for this role!!!
- In the category of No Big Surprise There, Avatar: The Way of Water took home Best Visual Effects, while All Quiet On The Western Front (a Best Picture nominee) won Best International Film.
- And speaking of All Quiet On The Western Front, the German-language war movie had a pretty impressive showing too, taking home not only the aforementioned International Film Oscar but also Best Production Design, Original Score, and Cinematography.
- The Brennaissance came full circle when heavy (no pun intended) favorite Brendan Fraser won Best Actor for The Whale, joining Michelle Yeoh, Jamie Lee Curtis, and Ke Huy Quan on the podium of well-deserved and long-overdue accolades.
-Guillermo Del Toro became the first ever person to win Best Picture, Best Director, and Best Animated Film when his stop-motion movie Pinocchio won. No small feat when you're up against a Pixar picture!
-Angela Bassett may not have done the thing -- i.e. be the first actor ever to win for a role in a Marvel movie -- butBlack Panther: Wakanda Forever was well-represented by the amazing Ruth E. Carter, who won the award for Best Costumes. This is her second Oscar, her first being for the previous Black Panther movie. Incredibly, this win makes Carter the first Black woman to ever win two Oscars!
- After being very notably snubbed for a Best Director nomination, Sarah Polley instead snatched the Best Adapted Screenplay award for her Best Picture-nominated Women Talking. We love to see it!
- Proving their Golden Globes win was no fluke, M.M. Keervani, Rahul Sipligunj, andKaala Bhairava took home Best Original Song for their song "Naatu Naatu" from RRR, shutting out bothLady Gaga and Rihanna!
- Top Gun: Maverick didn't leave the building empty-handed, though; the film took home the Oscar for Best Sound Design.
- And, of course, I would be remiss if I didn't mention Jimmy Kimmel's opening monologue, which was honestly brilliant, especially the last 3 minutes, which I have queued up for you below... you're welcome!
What was your favorite moment from last night's Oscars?