2023 Golden Globes Recap!
Written by Katie Marzullo. Published: January 11 2023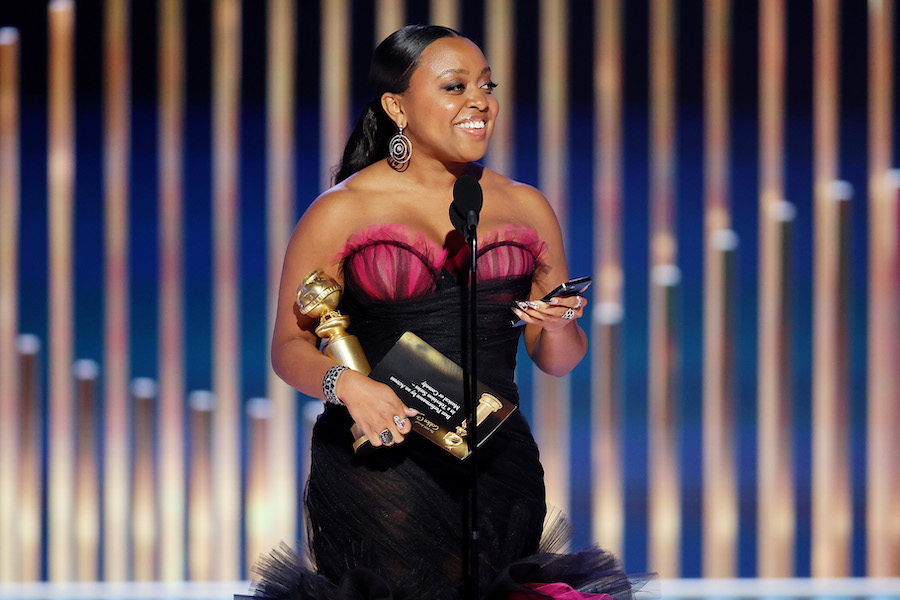 ( © Rich Polk/NBC via Getty Images)
As we're all aware by now, the Golden Globes were not televised last year in protest of the lack of diversity among the Hollywood Foreign Press Association. But after promising to change their ways, the show found its way back to our TVs last night, and they seemed to have made good on their word! From the selection of host in Black LGBT comedian Jerrod Carmichael to the presenters to the winners, the Globes seem to be on the right track! Of all the individual winners of the night, 8 of them went to people of color; we love to see it!
Even still, many of the outcomes of the night were pretty predicatable, but there were a few surprises, so let's break it down by those two categories!
SURPRISES
- Perhaps the biggest shocker of the night was The Banshees of Inisherin  beating out critical and audience darlingEverything Everywhere All At Once for Best Motion Picture - Musical or Comedy. Then again, maybe I should have seen it coming when Banshees won Best Screenplay and EEAAO lost Best Director, but after nabbing two of the acting categories, it seemed it would be their night. But we're all about diversity now, so the HFPA is spreading the love around!
- Even though she's won 3 times previously, I was nonetheless surprised -- nay, shocked! -- that Cate Blanchett beat outAna de Armas for Best Actress in a Motion Picture - Drama. Ana seemed a shoo-in for her portrayal as Marilyn Monroe in Blonde, considering Hollywood's propensity for good impersonations (and especially afterAustin Butler won for Elvis earlier in the night).
- Speaking of which, despite the "cosplay" rule among awards voters, it was still a bit surprising to not see Brendan Fraser win for Best Actor in a Motion Picture - Drama... even though he has loudly voiced his distaste for the Globes and his intention not to attend. No doubt he and Austin will go head-to-head again at the Oscars, so stay tuned for that!
- "House of the Dragon" winning Best Drama Series wasn't a huge surprise in itself -- it was merely unprecedented. It's predecessor, "Game of Thrones", notably did not do well at the Globes in it's 8-season run, gaining only a handful of nominations and never once winning for Best Series. Even former co-showrunner Miguel Sapochnik and stars Emma D'Arcy andMilly Alcock were visably caught offguard -- now you know why! "HotD" has proved that it's ready to step out of "GoT"'s looming shadow and stand on its own.
- Sorry,Taylor Swift. Sorry, Lady Gaga. Sorry, Rihanna. Better luck at the Oscars maybe, but at the Globes, none of them took home Best Original Song; they were upset instead by M. M. Keeravani,Kaala Bhairava, and Rahul Sipligunj, the team behind the theme song "Naatu Naatu" from the sleeper hit Indian Telugu-language action filmRRR, which gained a loyal cult following when it hit Netflix last March.
- Redemption for Stingray?! Paul Walker Hauser, whom YH audiences will recognize immediately as the smarmy Raymond Porter on "Cobra Kai", has come through with the Skills™ by beating out the likes of F. Murray Abraham (an Oscar winner),Richard Jenkins (a 2-time Oscar nominee),Domhnall Gleeson, and Seth Rogen  as Best Supporting Actor in a Limited Series for the Apple TV+ crime drama "Black Bird".
- It's no surprise that Guillermo del Toro'sPinocchio won Best Animated Film; what was surprising is that it beat out a Pixar film (Red) -- that does not happen very often!
TOTALLY EXPECTED
- Look, you don't have Steven Spielberg make a movie about Steven Spielberg and not expect it to win ALL the awards. Such was the case last night, as the legendary director made his triumphant return to Awards Season with a win for Best Director and Best Motion Picture - Drama for his semi-biopic The Fabelmans, beating out other more "flashy" contenders like James Cameron/Avatar 2 and Baz Luhrmann/Elvis. Perhaps the most surprising thing about this win was how, after 2 previous wins, 20 nominations, and over half a century in the industry, Spielberg was just as touched and delighted to be standing on that stage as if he were a newbie winning his first ever award. Perhaps the fact that this film is so deeply personal had a lot to do with that.
- We knew it was coming but it was still a delight to witness two actors who have had such different yet similar career journies,Michelle Yeoh and Ke Huy Quan, take the Globes stage for the very first time after both having come to a bittersweet acceptance that their best days were behind them until Everything Everywhere All At Once came calling. It was an especially poignant moment when Quan, during his speech, gave a shoutout to Steven Spielberg, who gave him his first big break in Indiana Jones and the Temple of Doom 39 years ago. (Fun Fact: Jeff Cohen, Quan'sGoonies co-star [he played "Chunk"] is Quan's entertainment lawyer and actually negotiated his role forEEAAO!)
- We anticipated that "Abbott Elementary" would do well in the TV Comedy categories, and it certainly came through, picking up 3 awards, including Best Comedy Series, Best Supporting Actor (Tyler James Williams), and Best Actress to Quinta Brunson, which comes as some welcome validation after not winning this same category at the Emmys last Fall.
- Still riding the high of her Emmy win in September, Jennifer Coolidge sealed the deal with a Globe for her unforgettable and endlessly meme-able performance as Tanya in "The White Lotus". Her acceptance speech was completely unhinged in only the way she could pull off. "The White Lotus" went on to win Best Limited Series, as expected.
ODDS AND ENDS
- A hot trend I noticed during the broadcast last night was the number of winners who read their acceptance speeches on their phones. I suppose it was only a matter of time but the practicalities of it seemed to be lacking, especially when friends and family are blowing up your texts as you're trying to give your speech!
- 29 years after winning her first Golden Globe, Angela Bassett returned to the stage to collect her 2nd trophy for her role in Wakanda Forever, which also marks the first major acting award for a Marvel movie!
-Ryan Murphy received the Carol Burnett Award for his (numerous) contributions to television and spent the majority of his speech honoring LGBTQ+ actors in the audience that he has worked with, most notably Michaela Jaé Rodriguez, who, due to there being no televised ceremony last year, was not able to experience accepting her history-making award for her role in "Pose" to an uproarous audience, which Murphy rectified by having her stand up so she could receive her much-deserved flowers.
- One person who seemed to be having a rough night was composer Chloe Flower, who played the piano during the commercial breaks and who many of the winners seemed to mistakenly believe was the one playing them off stage when their speeches ran long, leading to many admonishments in her direction (most notably from Michelle Yeoh, who told her to "shut up" and threatened to beat her up. Ouch!) The fact of the matter is, the play-off music was a track, but even if she was the one playing it, she would not have been the one making that decision! I'm guessing there won't be a house pianist at next year's show...
- I wasn't the only one who kinda hoped father and son Domhnall &Brendan Gleeson would both win in their respective categories last night, right? That would have been hella cute!
- As always. the fashion was on-point, with Jenna Ortega,Niecy Nash-Betts, Michelle Yeoh, Regina Hall, Quinta Brunson, Billy Porter, Julia Garner, and Barry Keoghan topping our Best Dressed list. Even host Jerrod Carmichael was serving some fierce looks in a succession of wardrobe changes throughout the evening!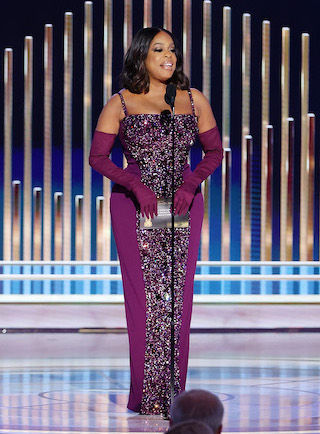 ( © Rich Polk/NBC via Getty Images)
What were your favorite moments from last night's Golden Globes?