2022 Celebrity Halloween Round-Up!
Written by AnnMary Mailyan. Published: November 01 2022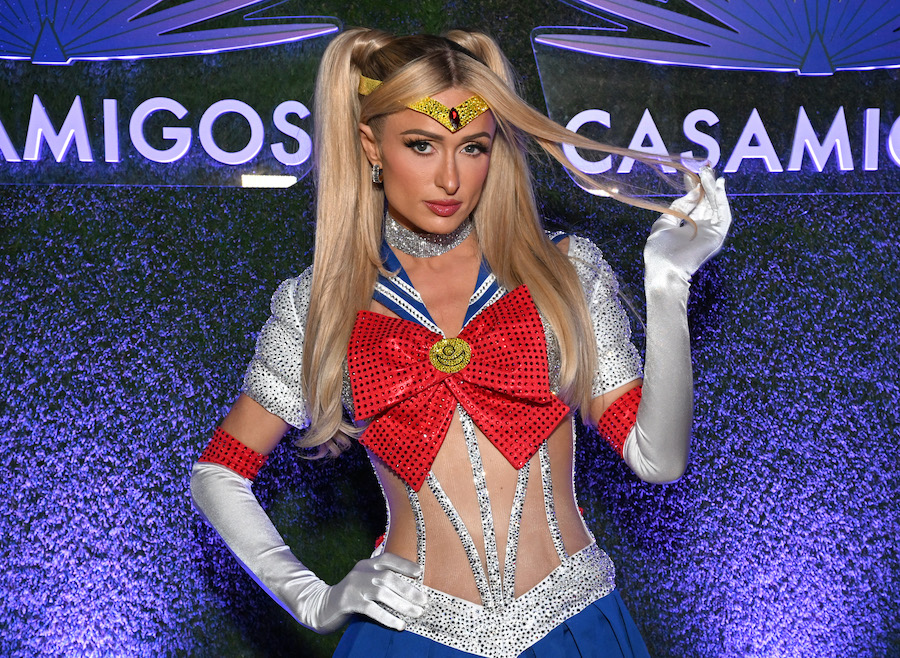 Alas! The spookiest time of the year has come to its official end! Time to put all the Halloween decorations and costumes away, slowly giving way to the festive Holiday vibes. However, there's no need to feel sad, not yet, cuz we still have lots of Halloween-y leftovers, and we don't only mean the candies and snacks. There are lots of photos and videos left from the most mysterious night of the year to sort out, and we still need to check out the sickest cosplays of our friends and, of course, celebrities! 
So, without further ado, let's see some of the best celebrity costumes of the year!
1. Kim Kardashian
The most famous Kardashian sister transformed into wonderful Mystique, a character from Marvel's X-Men comics and movie series. She showed up to a Halloween event in this costume, even though it wasn't a costume party. Well, it is now!
2. JoJo Siwa
Draco's father will hear about this, cuz there's a new Malfoy in town! JoJo portrayed the perfect Draco Malfoy! Her facial expressions look just like our favorite Slytherin student! 
3. Paris Hilton
Hilton had not one, but three awesome looks for Halloween. Her first costume was Sailor Moon, which is Paris's childhood icon. Then, she transformed into the coolest FBI agent, and last but not least, she took on Captain Marvel! 
4. Diddy
The Joker is one of the most popular cosplays for Halloween every year, especially the one portrayed by one and only Heath Ledger. Diddy's portrayal of Batman's enemy was truly on-point! 
5. Camila Mendes, Lili Reinhart, and Madelaine Petsch
It's just a bunch of Hocus Pocus! "Riverdale"'s legendary trio is slaying again! This year, the girls dressed up as the Sanderson sisters, and they looked incredible! 
6. Machine Gun Kelly and Megan Fox
One of the most extra couples decided to dress up as another iconic couple of '90s -- Pamela Anderson and Tommy Lee! 
7. Addison Rae
The TikTok star recreated Lady Gaga's iconic look from her 2009 VMAs performance. That deserves some A-P-P-L-A-U-S-E! 
8. Halle Bailey
A little dream come true moment for Halle, as she got to transfer into a Na'vi from Avatar, something she always wanted to do! Looks really great! 
9. Kylie Jenner
The youngest of the Kardashian clan served not one, but FOUR amazing looks. First, she dressed up as the iconic Bride of Frankenstein. Her second cosplay was of another iconic Halloween queen,Elvira, Mistress of the Dark. As for her third and fourth outfits, Kylie chose a space theme -- she became a space girl and an alien!
10. Janelle Monáe
Janelle seems to be a big fan of fantasy genre (and prosthetics!), as both of her costumes represent famous characters from fantasy stories. First, she dressed up as the Diva Plavalaguna from the movie The Fifth Element, and her second cosplay was of the White Rabbit fromAlice in Wonderland.
11. Kerry Washington
Kerry Washington managed to pull off the perfect Lionel Richie from the cover of his famous 1982 debut LP. Looks identical! 
12. Kourtney Kardashian and Travis Barker
Kourtney and Travis were serving spooky looks! The newlyweds transformed into Chucky and Tiffany, the Bride of Chucky. 
13. Hailey Bieber
Hailey also had two beautiful costumes this year. Her first look was a reference to Laetitia Casta's wedding dress, made of roses, which she (Laetitia) wore at Yves Saint Laurent's haute couture runway show in 1999. The second costume of Mrs. Bieber was a complete opposite to sweet and cute roses, as she became a gorgeous gothic vampire! 
14. Jennifer Garner
Jennifer Garner made a whole little "play", cosplaying two different characters at once. For the first look, she chose to be a ghost bride, and in the second, she's portraying a Victorian goth, that looks slightly like Winona Ryder's character inBeetlejuice. And we must also mention Garner's dog, who played an important part in the video as well. 
15. Ariana Grande and Liz Gillies
Could the former "Victorious" co-stars be more iconic? The two friends decided to recreate the '00s cult-classic mockumentary Best in Show, dressing up as the characters played by Jennifer Coolidge and Jane Lynch. 
16. Lizzo
It's about damn time to remember the good old Simpsons. At least that's what Lizzo thought, transforming into Marge Simpson. She also stepped into the hooves of another big grrrl icon, Miss Piggy!
17. Cardi B
And not to be outdone, Cardi B also donned the blue beehive of the Simpsons matriarch!