2015 Golden Globes: A Big Night for Newbies!
Written by Katie Marzullo. Published: January 12 2015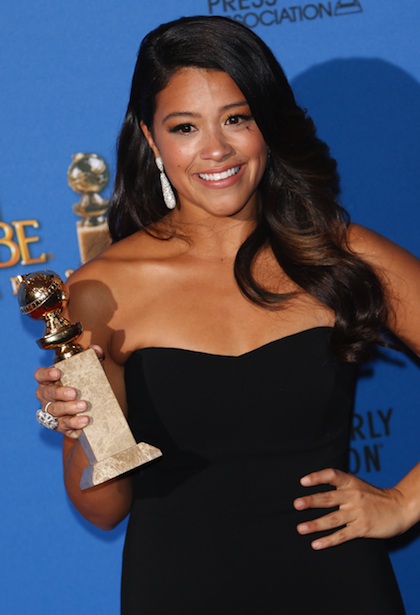 The running theme of last night's Golden Globes seemed to be me going, "What?? WOW!" every 10 minutes. Indeed, upsets and newbies were the flavor du jour as we saw the Hollywood Foreign Press mix things up and deliver a few surprises this year!
In fact, every single winner in the Television categories last night was a first-timer (if not for the Globes themselves then at least for the show they represented). The big winners included: The CW's "Jane The Virgin", which earned star Gina Rodriguez the Best Actress in a TV Series Comedy or Musical (also earning the network their first-ever Globe); FX's "Fargo", which took home Best Mini-Series or TV Movie and Best Actor in a Mini-Series or TV Movie for Billy Bob Thornton; Joanne Froggatt, who won for her role on "Downton Abbey";Kevin Spacey, who nabbed his first-everGolden Globe, period (after 7 previous nominations), for Best Actor in a Drama Series for "House of Cards"; Showtime's "The Affair", which I have never even heard of, upset the likes of "Downton Abbey", "The Good Wife", "House of Cards", and "Game of Thrones" to take home Best Drama Series and also earned Best Actress in a Drama Series honors for Ruth Wilson; and Amazon Prime scored a big one for original online content when "Transparent" walked away with both Best Comedy Series and Best Actor in a Comedy Series for star Jeffrey Tambor, which is a huge boon for LGBT-themed content as well.
As for the film categories, there were a couple surprises, such as Wes Anderson's Grand Budapest Hotel taking home Best Motion Picture Comedy over the much-hyped Birdman, andHow to Train Your Dragon 2 upsetting Big Hero 6and The Lego Movie for Best Animated Feature, but for the most part, everything fell in the way most people predicted –Michael Keaton sealed his big "comeback" by winning his first-ever Golden Globe for Best Actor in a Comedy for his role in Birdman; the film also took home Best Screenplay. Eddie Redmayne's much-lauded performance as Stephen Hawking in The Theory of Everything was rewarded with the Best Actor in a Drama.Julianne Moore (Still Alice) andAmy Adams (Big Eyes) repped in the lead actress categories (Moore's 3rd Globe, Adams's 2nd in a row).John Legend and Common took homeSelma's lone award of the night for their original song "Glory". J.K. Simmons clawed his way out of "character actor" territory by claiming the Best Supporting Actor award for his role in Whiplash. But the big winner of the evening was Boyhood, the coming of age tale that was filmed over the course of 12 years, which garnered a total of 3 awards – Best Supporting Actress for Patricia Arquette, Best Director for Richard Linklater, and Best Motion Picture Drama.
Now, according to my Facebook timeline, Boyhood is either (a) the most brilliant, touching, heartwrenching piece of cinema in a generation, or (b) the worst dreck to ever soil a reel of celluloid. There is literally no in-between. I have not seen the film myself yet, so I do not know which category I fit in. Suffice it to say, these award wins are either the greatest thing in the world or tantamount to a war crime. However you slice it, though, it definitely puts Boyhood on the front burner for the Oscar race. Ladies and Gentlemen, start your engines…!
As for the ceremony itself, it was marred only slightly by the fact that the AC in the Beverly Hilton ballroom wasn't working, which explains the dewy glow that all the presenters seemed to be sporting (I thought that was just because of the rain/humidity outside). The broadcast saw the third and final hosting gig of Tina Fey and Amy Poehler, who, in my opinion, weren't quite as strong as in previous years but were still a breath of fresh air. The award for Best Speech of the Night was a three-way tie between Billy Bob Thornton, who pointed out in just a few words the ironic juxtaposition of freedom of speech with our current Culture of Offense; Maggie Gyllenhaal, who expressed her happiness about the current trend of not just good roles for women but good roles for REAL women; and George Clooney, accepting the Cecil B. DeMille Award and reminding everyone in the room that the amount of hardware on your mantle isn't as important as the legacy you leave behind. Bravo, y'all!
What did YOU think of last night's Golden Globes? Favorite moments? Biggest snubs? Tweet us your thoughts at @younghollywood!
(Photo via WENN)
- Katie Marzullo, YH Staff Editor