2014 Color of the Year: Radiant Orchid!
Written by Rita Korkounian. Published: February 20 2014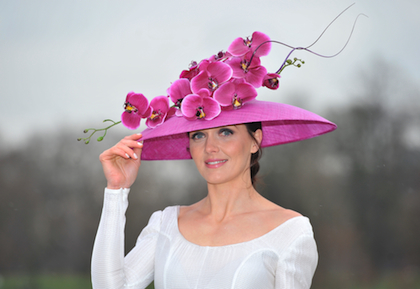 Listen up, fashionistas! The 2014 Color of the Year is Radiant Orchid! Sounds promising, right? According to Pantone, the global authority on color, Radiant Orchid "blooms with confidence and magical warmth. It intrigues the eye and sparks the imagination. A captivating harmony of fuchsia, purple, and pink undertones, Radiant Orchid emanates great joy, love and health." Consider me intrigued and captivated. I'm no happiness guru, but there is nothing like a bright, cheery color to kick the winter blues. Polar vortex, say what? Radiant Orchid has Spring written all over it. Let's hope Punxsutawney Phil was wrong and Spring comes early this year.
So, are you ready to prance around town in this color? Can I help you add a few key pieces to your wardrobe? No need to twist my arm! Here are a some of my Radiant Orchid picks!
Jimmy Choo Suede Sandals - Half price, ladies. Need I say more? Some of us are in pursuit of love and happiness. And some of us are in pursuit of shoes. At the end of the day, they're kinda the same thing, right?
Stella McCartney Clutch - Hot Damn! This clutch would look gorgeous styled with an all white ensemble.
Annabel Ingall Tote - You may want to save the Stella McCartney clutch for special occasions, but this pebble leather tote is perfect for everyday wear. P.S. It's large enough to carry a pharmacy, beauty supply store, and more!
Nasty Gal Top - "Go easy breezy with this sheer off-the-shoulder top with bell sleeves and cinched elastic neckline. Subtle high-low length. Super fun and flirty!" Doesn't this blouse speak to your inner flower child? Style with a wide-brimmed hat and a pair of flared jeans.
Monique Lhuillier Lace Dress- "It's not about the money, money, money. We don't need your money, money, money. We just wanna make the world dance. Forget about the price tag." It's hard to forget that price tag, but it sure is a purty dress. Calling all brides! This would be fitting for a Spring/Summer bridal shower!
Kushcush Lauren One Piece Swimsuit - This swimsuit is definitely an attention grabber. You're sure to have a "Baywatch" moment in this piece. I mean, that color is hard to miss and you can't help but admire the dainty details. And it's a flattering silhouette too!
Manolo Blahnik d'Orsay Pumps- In the words of Carrie Bradshaw, "I like my money right where I can see it... hanging in my closet." Mmm-hmm. And you know she would have these "timeless lush suede" pumps in her shoe collection.
Rag & Bone Leggings - These comfy and "ultra-chic legging jeans pair with everything from oversized knits and flats to feminine silk blouses and heels."
Gap Gingham Shirt - I have 3 gingham shirts in my closet: pink, blue, and black. If your style has preppy influences, this shirt is the way to go. It looks fabulous layered under a knit sweater and paired with an a-line, tulle, or pencil skirt. And for a casual look, style this shirt with skinny jeans or distressed boyfriend jeans.
Ikat Floral Scarf - For a pop of color, throw this floral scarf over any ensemble.
Well, I think I've done enough damage. There goes like a year's paycheck. Until next time, my friends! 
(Photo via WENN)
Rita Korkounian is a blogger from Los Angeles. She is shy and introverted, but her personality shines through her quirky writing style. She is a lover of all things food, fashion, and music.
Coast on over to her blog for life/style inspiration or follow her on Twitter @RitaKorkounian.