19 Epic Orchestral Covers of Your Favorite Songs!
Written by Natalya Gioiella. Published: April 05 2017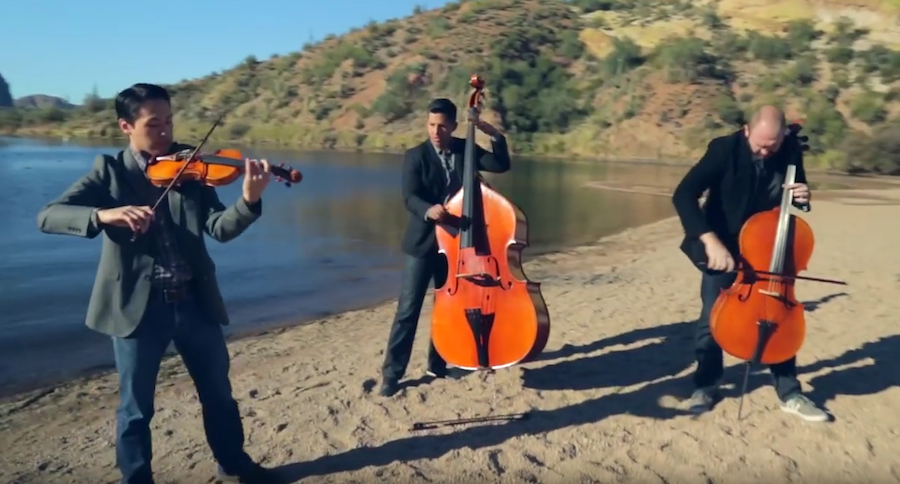 There's just something about an orchestra that kicks anything up to epic levels. Even the most laidback, mundane song in the world suddenly becomes the soundtrack to a big-budget war movie once you slap some violins and horns behind it! In that spirit, here are 19 orchestral covers of some of our favorite tunes that gives them an all-new, elevated flavor!
1. Simply Three -- "Rolling in the Deep"
There are so many versions of Adele's hit song out there, but for my money, the best version is this cover by Simply Three. The song opens with Zach Clark tapping on the side of his cello in order to indicate the song's beat but he is soon joined by Alex Weill on violin andNicholas Villalobos on bass. All of them together help emulate the tone of sadness that the song evokes and together they further dramatize the emotional vibe already present. There is absolutely no singing involved but for fans of Adele or the song in particular, you still get the same feeling that Adele was getting across.
2. The Piano Guys -- Beethoven/One Republic
The Piano Guys are another popular music group known for creating popular song covers, and we highly recommend listening to this mashup of Beethoven and One Republic's "Secrets". When the song first opens, we hear Beethoven's "5 Secrets" being played by a single man and his cello, soon joined by another cello emulating "Secrets". Before you know it, a whole accompaniment of cellos joins in.
3. 2Cellos -- "Game of Thrones" Medley
Technically, "Game of Thrones" music is already orchestral, but "Rains of Castamere" does include lyrics, so it counts! It still sounds very depressing, almost as if someone died...
4. The Royal Philharmonic Orchestra -- "Burning Love"
The Royal Philharmonic Orchestra allows the King of Rock 'n' Roll's music to become even more legendary. Yes, there are lyrics in this one, but the beginning features an interesting arrangement of string instruments before Elvis Presley's vocals drop, accompanied by an electric guitar and drums. Somehow, this version is even more upbeat than the original.   
5. Christopher Tin -- "Bad Blood"
This cover ofTaylor Swift's song features a symphony of brass and string instruments like trumpets, horns, tubas, and violins. One can imagine just by listening to this music an epic battle taking place. We swear the version of this song sounds like it belongs in action movie, or better yet in a video game.
6. Lewis Ashley -- "Rude"
This version of MAGIC!'s hit features a group of many strings, ranging from violins to violas. For people that know the song well, they can easily recognize that it sounds exactly like the version that MAGIC! performs.
7. Symphonic Pop -- "Outside"
For those who are familiar with Calvin Harris and Elllie Goulding's song, this orchestral version emulates it exactly on the nose. In this version, instead of the upbeat electropop music, string instruments take its place backed by the sound of drums and a gong. It actually inspires one to get up and accomplish something great. It's that uplifting.
8. The Piano Guys -- "Fight Song"
This is an interesting version of Rachel Platten's hit. The song is already supposed to inspire men and women to stand up for causes that they believe in, but in this case the song sounds like it was made for the military. You hear bagpipes and the sound of a drum accompanied by string instruments and piano.
9. Symphonic Pop: "Bang Bang"
This sounds so different from the original sung by Jesse J,Ariana Grande, and Nicki Minaj; it almost sounds like it belongs in a horror movie with its high-pitched string instruments and deep melodic tones.
10. Symphonic Pop: "Take Me To Church"
This song is one of our absolute favorites. Instead of Hozier's somber voice, we only hear string instruments matching the dramatic backing of an occasional drum. It seems like this version would be a great way to end a sad or uplifting movie.
11. Symphonic Pop: "Problem"
This song is an interesting cover to hear without Ariana Grandeand Iggy Azalea's vocals; it sounds like it belongs in a video game. It employs this rather upbeat but violent tone of string and percussion instruments.
12. Symphonic Pop: "Earned It"
This song byThe Weeknd, featured on the Fifty Shades of Grey soundtrack, sounds even better as an orchestral cover. It's prettier and cleaner, a song that one could almost dance the Tango too. The song features numerous string instruments and in some instances features a gong to help with the more uplifting parts of the song.
13. Jacob School of Music's Symphony Orchestra: "Bohemian Rhapsody"
This song already lends itself very well to an symphonic feel, yet this orchestra manages to still turn it up to 11. Freddie Mercury would approve!
14. London Symphony Orchestra: "Eye of The Tiger"
This classicSurvivor jam is even more interesting and inspiring when you're hearing only instruments play the song. It literally sounds like it should be the theme song for the next Super Bowl.
15. Symphonic Pop: "Style"
This is an interesting take of Taylor Swift's song, more mellow and less uplifting than the previous songs we recommended, and it's definitely less uplifting than the actual song itself. Perhaps the accompaniment of string instruments make it so.
16. Symphonic Pop: "The Heart Wants What It Wants"
The original song sung by Selena Gomez is very sad whereas this cover belongs in another Lord of the Rings movie or something. The strings have both a deep and uplifting tone accompanied with the occasional sounds of a drum.
17. Symphonic Pop: "Warriors"
Let's face it, you guys, Imagine Dragons is MADE for orchestral covers!
18. Simply Three: "Counting Stars"
Ditto with OneRepublic. This song in particular already has an epic vibe to it which this cover only amplifies.
19. Simply Three: "Wake Me Up"
Yes, we know this is the third time we recommend listening to a Simply Three cover but we can't help it if we think they are good. In this version the strings are backed by the sound of a drum or an object being hit on the side of something to create that upbeat tone we hear in the song. We also hear all of the strings playing as fast as they can as the song itself is a fast one.
(Image via Simply Three/YouTube)
- Natalya Gioiella, YH Contributing Writer; additional reporting by Katie Marzullo, YH Staff Editor