Taylor Swift & Selena Gomez rule at Teen Choice Awards
Written by . Published: August 08 2011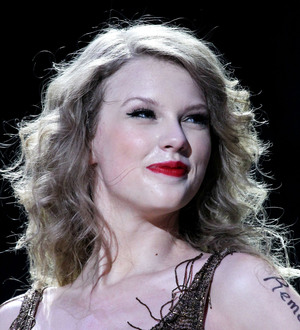 Vampires and wizards ruled at the Teen Choice Awards in Los Angeles on Sunday (07Aug11), but it was a magical night for Taylor Swift and Selena Gomez.
The two stars picked up 11 awards between them - Taylor Swift six and Selena Gomez five - including the bulk of the event's music honours.
Taylor Swift, who was feted with the Ultimate Choice Award, also picked up the Choice Female Artist, Choice Country Female and Choice Red Carpet Fashion Icon accolades, while Gomez was named Choice Female Hottie opposite boyfriend Justin Bieber and Choice TV Actress (Comedy) for her role in The Wizards of Waverly Place.
Selena Gomez and her band The Scene, who performed during the show, also took home Choice Music Group, Choice Love Song and Choice Single awards.
The stars of Harry Potter were honoured with seven prizes including Choice Movie Actress (Sci-Fi/Fantasy) - Emma Watson - Choice Movie Villain - Tom Felton - and Choice Movie (Sci-Fi/Fantasy).
The Twilight Saga: Eclipse picked up four awards during the ceremony including a Choice Vampire honour for Robert Pattinson and Choice Movie Actor (Sci-Fi/Fantasy) for Taylor Lautner.
And there was more vampire success as TV drama The Vampire Diaries picked up five awards honouring stars Ian Somerhalder and Nina Dobrev.
The prizes awarded during the ceremony were:
Choice Movie Actor (Romantic Comedy) - Ashton Kutcher (No Strings Attached)
Choice Comedian - Ellen Degeneres
Choice Movie Actor (Sci-Fi/Fantasy) - Taylor Lautner (The Twilight Saga: Eclipse)
Choice TV Actress (Drama) - Blake Lively (Gossip Girl)
Choice TV Show (Drama) - Gossip Girl
Choice Movie Scene Stealer (Male): Kellan Lutz (The Twilight Saga: Eclipse)
Choice Movie Scene Stealer (Female): Ashley Greene (The Twilight Saga: Eclipse)
Choice Female Hottie - Selena Gomez
Choice TV Actress (Comedy) Selena Gomez (Wizards of Waverly Place)
Choice Movie Hissy Fit - Ed Helms (The Hangover Part II)
Choice TV Show (Sci-Fi/Fantasy) - The Vampire Diaries
Choice TV Actor (Sci-Fi/Fantasy) - Ian Somerhalder (The Vampire Diaries)
Choice TV Actress (Sci-Fi/Fantasy) - Nina Dobrev (The Vampire Diaries)
Choice TV Scene Stealer (Female) - Katerina Graham (The Vampire Diaries)
Choice TV Scene Stealer (Male) - Michael Trevino (The Vampire Diaries)
Choice TV Show (Comedy) - Glee
Choice TV Actor (Comedy) - Cory Monteith (Glee)
Choice TV Breakout Star - Darren Criss (Glee)
Choice Action Movie - Fast Five
Choice Movie Actor (Action) - Johnny Depp (The Tourist)
Choice Movie Actress (Action) - Angelina Jolie (The Tourist)
Choice Music Star of the Summer (Male) - Bruno Mars
Choice Music Star of the Summer (Female) - Katy Perry
Choice TV Reality Show - Jersey Shore
Choice TV Reality/Variety Star (Male) - Paul 'Pauly D' Del Vecchio (Jersey Shore)
Choice Female Artist - Taylor Swift
Choice Female Country Artist - Taylor Swift
Choice Country Single - Mean by Taylor Swift
Choice Red Carpet Fashion Icon (Female) - Taylor Swift
Choice Break-Up Song - Back to December by Taylor Swift
Choice Movie Actress (Comedy) - Cameron Diaz (Bad Teacher)
Choice Summer Song - Skyscraper by Demi Lovato
Choice Male Artist - Justin Bieber
Choice Male Hottie - Justin Bieber
Choice Twit - Justin Bieber
Choice TV Villain - Justin Bieber (CSI: Crime Scene Investigation)
Choice Vampire - Robert Pattinson (The Twilight Saga: Eclipse)
Choice Music Group - Selena Gomez & The Scene
Choice Love Song - Love You Like a Love Song by Selena Gomez & The Scene
Choice Single - Who Says by Selena Gomez & The Scene
Choice Movie Actor (Drama) - Robert Pattinson (Water For Elephants)
Choice Summer Movie - Harry Potter & The Deathly Hallows Part 2
Choice Summer Movie Star (Male) - Daniel Radcliffe (Harry Potter & The Deathly Hallows Part 2)
Choice Summer Movie Star (Female) - Emma Watson (Harry Potter & The Deathly Hallows Part 2)
Choice Movie Actress (Sci-Fi/Fantasy) - Emma Watson (Harry Potter & The Deathly Hallows Part 1)
Choice Movie Villain - Tom Felton (Harry Potter & The Deathly Hallows Part 1)
Choice Movie Lip-Lock - Emma Watson & Daniel Radcliffe (Harry Potter & The Deathly Hallows Part 1)
Choice Movie (Sci-Fi/Fantasy) - Harry Potter & The Deathly Hallows Part 1
Choice Movie Actress (Romantic Comedy) - Emma Stone (Easy A)
Ultimate Choice Award - Taylor Swift
Acuvue Inspire Award - Demi Lovato