Coldplay and Muse rock Lollapalooza
Written by . Published: August 06 2011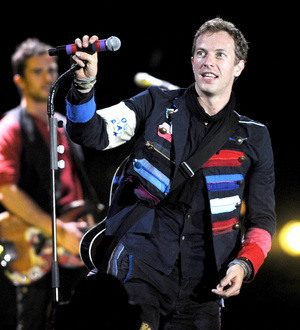 British bands Coldplay and Muse rocked out in Chicago, Illinois on Friday night (05Aug11) as they opened the Lollapalooza music festival.
The first day of Perry Farrell's annual event kicked off with performances from The Vaccines, Crystal Castles and Muse, who acknowledged the American audience with a rendition of the U.S. national anthem.
Chicago native Pete Wentz also played a homecoming show with his new band Black Cards.
He told MTV news, "It's really exciting, because I've never played (Lollapalooza) before, and to be able to play and hang out with my friends and family and have them see me play is really cool."
The opening day was concluded by headliners Coldplay, who used the set to pay tribute to late British singer Amy Winehouse following her death last month (Jul11). Frontman Chris Martin played a version of Winehouse's hit Rehab before launching into Coldplay's Fix You towards the end of the band's set, according to the Chicago Tribune.
The festival will also see performances from acts including Foo Fighters and Eminem over the weekend (06-07Aug11).