Black Eyed Peas reschedule rained-off charity super concert
Written by . Published: August 18 2011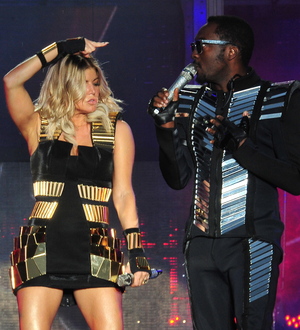 Black Eyed Peas have rescheduled their Central Park charity concert in New York after the initial show was cancelled because of heavy rain.
The group was billed to headline the Robin Hood Foundation spectacular on 9 June (11), but the show was scrapped at the last minute when a storm hit the Big Apple.
Determined to raise funds for a good cause, the Black Eyed Peas are now hoping to stage the Concert 4 NYC on 30 September (11).
Band member will.i.am says, "We are so thankful to Robin Hood, the City of New York, Central Park Conservancy and (sponsors) Chase for allowing us to reschedule this special experience in Central Park. We were sad beyond words that our last show was cancelled and we weren't able to perform for this city and help people in need."
Bandmate Fergie adds, "I was devastated when the Concert 4 NYC was cancelled. This was the biggest show we had ever prepared for and we felt horrible for all the fans who waited in the rain. We have nothing but love for New York and are thrilled that we found a new date to not only help fight poverty in NYC, but to perform a once in a lifetime show for our fans."
The concert will benefit the Robin Hood Foundation and its mission to fight poverty in New York City. It will also help fund the creation of three new sites for The Black Eyed Peas' Peapod Academies in New York City.