Jesse Eisenberg
A fresh face on the scene but no newbie to performing, Jesse Eisenberg has proven time and again he's one to watch. The multi-vaceted actor stops through the studio to talk about how he keeps his head straight in the crazy business. Hosted by RJ Williams.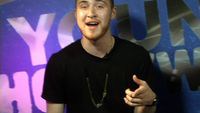 Mike Posner
Multifaceted musician Mike Posner exlains why he's "Cooler Than Me."
Jason Dolley
We meet Disney's go-to guy Jason Dolley who talks about his own good fortune being on the hit "Good Luck Charlie."
James Van Der Beek
James V an Der Beek explains how he's grown up on screen and the reception he still receives from his fan base.
V.V. Brown
One of 2010's best new artists, V.V. Brown rocks her one-string at the YH Studio.
Busy Philipps
"Cougar Town" star Busy Philipps talks work, play, motherhood and Justin Bieber.
Secondhand Serenade
John Vesely gives the YH Studio an unplugged performance of the newest single, along with his big hit "Fall For You."
Jim Breuer
Comedy heavyweight Jim Breuer explains what keeps him coming back to the stage.