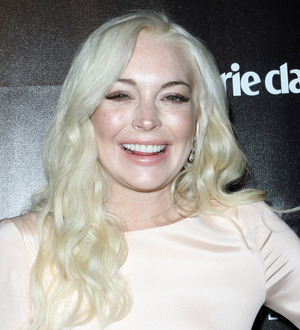 Lindsay Lohan praised by probation judge
Published: 02-23-2012
Lindsay Lohan was overcome with emotion on Wednesday (22Feb12) as a Los Angeles judge told her she will be free to "move on" with her life if she continues to make "positive progress" in her probation.
The Mean Girls star appeared in court for her latest progress report hearing in relation to her 2011 conviction for a probation violation, and it appears she continues to impress Los Angeles County Superior Court Judge Stephanie Sautner - by completing her required community service hours and therapy sessions.

Judge Sautner said, "We've seen positive progress... You're in the home stretch! You seem to be getting your life back on track."

The actress has a further 14 days of volunteer work to complete at the L.A. County morgue, and five more counselling appointments to attend to fulfil the terms of her sentence for a necklace theft conviction in early 2011.

Lohan must return to court for her final progress hearing on 29 March (12) and if she completes her sentence, her probation for the DUI charge will then be complete.

However, the star was warned to continue staying on the right side of the law.

Addressing an emotional Lohan, Sautner added, "The Beverly Hills (DUI) case will go bye bye, but for the theft you'll still be on probation - informal non reporting probation... Just obey all laws, stay out of trouble and move on with your life."

Lohan has been busy working on her career comeback after numerous stints in and out of jail. She is due to host Saturday Night Live next month (Mar12) and will portray the late Dame Elizabeth Taylor in a new TV movie about the Hollywood legend.

Judge Sautner assured Lohan she can now leave California for work as long as she informs probation department officials of her whereabouts.