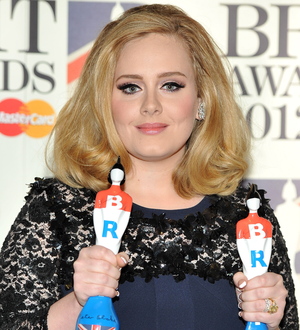 Brit Awards apologize to Adele
Published: 02-21-2012
The organisers and host of the Brit Awards have apologized to Adele after her acceptance speech was cut short during the show.
The soul superstar continued her Grammy Awards success by winning trophies for Best Female Solo Act and Best British Album for her hugely successful record 21 at Tuesday night's (21Feb12) ceremony in London.

She was presented the album award - the biggest of the night - by George Michael, and fought back tears as she thanked fans for their support, however, the event's host James Corden interrupted her speech to introduce rockers Blur, who were closing the bash with a five-song set.

The move prompted boos from the audience, and an angry Adele flipped her middle finger to show her distaste.

Defending her rude hand gesture after she was rushed off stage, Adele explained, "I flung the middle finger. That was for the suits (organisers) at the Brit Awards, not my fans. I'm sorry if I offended anyone but the suits offended me. I was about to thank the British public for all their support but they cut me off. So thank you very much for all your support. It's amazing, so thank you very much."

Now Corden and bosses at the show's broadcaster ITV have said sorry for souring the star's big night.

In an interview after the show, an apologetic Corden said, "I'm alright - I just feel bad about having to cut Adele off. I really don't understand quite why I was made to (by TV bosses), but it's not a very nice way to end.

"I was having the best night of my life but then I had to cut Adele off before she had a chance to say thank you - she's the biggest star in the world. I don't quite understand what happened - but I'm quite upset about it.

"Blur playing for 11 minutes and she gets to just say 'Thank you' once. Up until then, I thought we'd really (been terrific)."

A spokesperson for ITV adds, "The Brits is a live event. Unfortunately the program was over running and we had to move on. We would like to apologize to Adele for the interruption."