Zac Efron Gets Serious About His Role as a DJ in 'We Are Your Friends'!
Written by Nicole Koch. Published: November 12 2014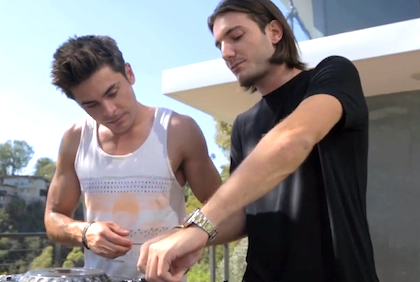 And he's on fire! When isn't he, though...?
We Are Your Friends (AKA WAYF) is a film directed byMax Joseph, whom you've probably seen on MTV's "Catfish" (and in our own YH Studio), and stars swoonboyZac Efron which has just been picked up by Warner Bros. (yay, congrats guys!) and will be distributed throughout North America. In WAYF, Zac plays a 23-year-old aspiring DJ named Cole who ends up meeting an older DJ named James (Wes Bentley) who takes him under his wing. Things start to get real complicated when Cole falls for James's younger girlfriend Sophie (Emily Ratajkowski). Cole must soon figure out what's more important to him: love, loyalty or the future he's destined for.
So, I've been in love with Zac ever since 2006 when High School Musicalfirst released (dang, has it already been almost NINE years?! Maybe I should get my obsession under control…) Anyways, my appreciation for Zac comes from more than his perfect smile and crazy blue eyes --- his work ethic and committment is really impressive. The public always gives him a hard time for his project choices, and I think it's time they start recognizing all of the hard work he always puts in. I mean, did everyone forget that he gained 20 lbs of pure muscle and trained with real marines for his character in The Lucky One? For WAYF, Zac bought his own DJ equipment (not a Macbook Pro -- an actual turntable and such) months before filming began and practiced every single day to make sure his technique was on par. Real DJs like Alesso,Classixx, Dillon Francis, andThem Jeans all gave Zac some one-on-one time to make sure his skills were perfect (uh, why wasn't I invited?!).
Joseph has been releasing behind-the-scenes videos as little teasers for the upcoming film. Pretty smart move to me. I mean, who would miss an opportunity to see Zac hard at work? There is still no official release date, but these teasers are getting everyone on social media fired up and ready to watch.
Don't forget the spread the word about this film! I want this in theatres ASAP!
Until then, check out these clips of Mr. McHottiePants Efron in the Young Hollywood Studio talking about his work in The Lucky Oneand at SXSW dishing on Neighbors!
(Screenshot via YouTube)
- Nicole Koch, YH Staff