PLAYLIST PICKS: Dimestore Prophets
Written by Kate Ferguson. Published: November 12 2014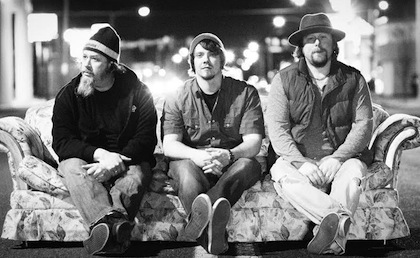 There's always room for some happy, upbeat music out there, and Washington-based "feel good" group Dimestore Prophets are doing their part to spread a positive word through their indie acoustic-funk approach to modern music. 
The group has been together since 2009 and is made up of guitar player and vocalist Ray Glover, drummer John Wilson, and bassist Eric Groff. In the past few years, they've played over 200 shows across the Pacific Northwest and are currently touring to support their newest EP release.
Be Yourself is a 6-song EP that captures the groove/rock/reggae vibe that's welcome if not essential to an afternoon outdoor picnic gathering in the park. The music is focused in their genre and approachable enough that the lead singer feels like he could be a friend of a friend. Every song on the EP showcases a slightly different angle of the mixture of genres that make up their style.
"Hey Darlin" is fun and almost island-inspired in its swingin', relaxed use of instrumentals. "Our Story" is a little more thoughtful in that's it addresses struggles and the matter of "confusing tomorrow for today". "Good Lovin" feels a little more rock/blues-inspired, which shows a lot of inspiration from artists likePepper and Jack Johnson. "Draw For Love" is more straight rock-oriented and delivers its message of throwing pride away in the most serious of songs on the EP. "Sunny Day" has a slight pop vibe mixed in, which makes it a very smooth listening experience.
Overall, the EP is specific to the band but covers a lot of angles in tempo and style despite not being a full-length album, making an ideal option for when you want to feel good but also jam out a little!
Keep up with Dimestore Prophets on Bandcamp, Soundcloud, Reverbnation, Twitter, Facebook, and their Official Website.
(Photo via James Moore)
Kate Ferguson is a Los Angeles local and freelance writer for a variety of blog genres. Look for article links (and the occasional joke) on her Twitter @KateFerg or check out her personal blog ThatsRandomKate.blogspot.com