WonderCon 2016: A Weekend In The Life of an Uber Nerd
Written by Katie Marzullo. Published: March 29 2016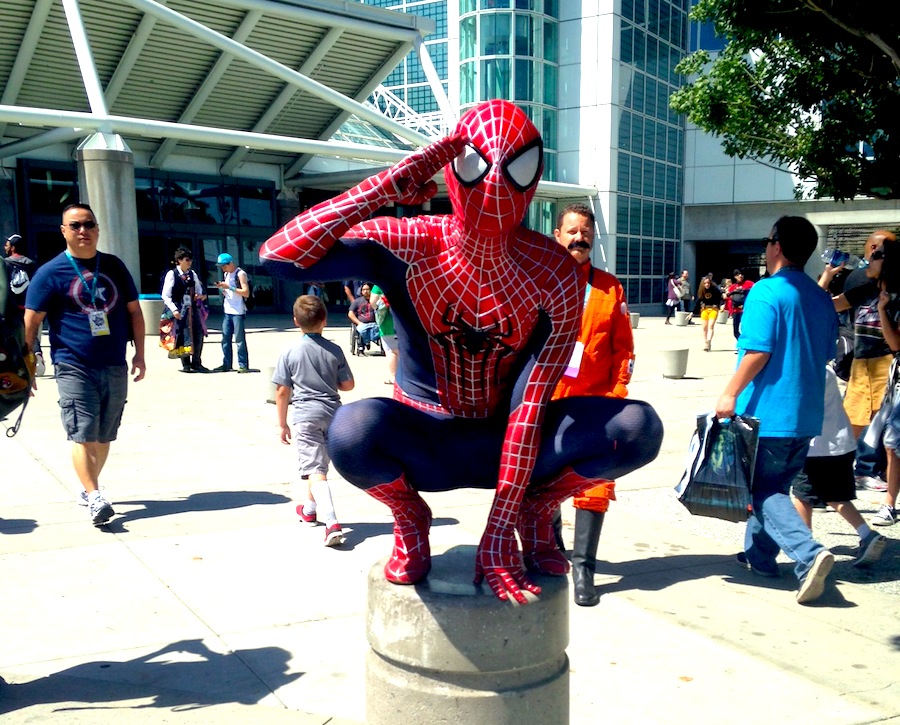 There was once a time, in the Long Long Ago, before the Internet existed, when comic book conventions were really the only place that someone could nerd-out amongst their own kind. Now, with Twitter, Tumblr, Reddit, and the like, we can frolic with our fellow dorks on a daily basis. Even still, there is something very magical about a gathering of kindred souls, of the coming together of fandoms and obsessions in one centralized location. The passion is palpable, and there is something truly… inspiring about being around so many people that love something so fiercely – even if it's not something you particularly care about.
Such is the atmosphere of WonderCon – or, as I like to call it, Comic-Con Lite. The annual convention, this year held on Los Angeles as opposed to its usual location in Anaheim, is the perfect compromise for those who want the Comic-Con experience without all the sponsored hype and massive crowds. While it's true that WonderCon is certainly growing in scale and popularity, it still maintains somewhat of a "homegrown" feel for those of us who are there for the fans, artists, and content-creators themselves as opposed to the studios and celebrities.
In that spirit, I attended WonderCon all three days this past Easter weekend – a fortuitous time to have the Con, considering many geeks consider their fandoms a "religion" – and I am here to break down my experience for you as a card-carrying Nerd™.
DAY ONE
Outfit: Now, I am not a cosplayer (I wish!), but I do like to represent my fandoms any way I can. Day One was A Song of Ice and Fire Day for me. If you don't know what that is… well, first of all, shame on you! Secondly, it is the name of the books series by George R.R. Martin that "Game of Thrones" is (allegedly) based on. So, I wore my gold shirt that says "I Wish The Hound Were Here" (read the books) with a blue winter rose brooch (read the books!) and a house sigil pendant (read the—okay, well, I guess you don't need to read the books for that… but still, read the books, just to be safe). I knew there was little to no chance anyone would know enough about any of my accoutrement to comment on it, and, sadly, I was right.
Panels: A friend of mine, whom I shall call "Squid", accompanied me on my journeys over the weekend, as we happen to share the same obsessions. Most of the panels we attended were Star Wars-themed, and conveniently there were a lot of them.
The first panel we attended, however, was "Cosplay Makeup 101", where we got to ooh and ahh over some splendid work by a panel of incredibly talented artists.
Next up was "Like Father Like Son? Star Wars and Psychiatry in a Galaxy Far, Far Away", in which three psychologists attempted to diagnose Darth Vader, Anakin Skywalker, Han Solo, and Kylo Ren. I was personally hoping for a more in-depth analysis of the relationship between Han and Kylo (there is MUCH to speculate about that right now, after all) but instead we only learned that (a) a majority of fans believe that Kylo Ren is "more psychotic" than Darth Vader, and (b)Matt the Radar Technician is basicallyStar Wars canon now. But seriously, it boggles my mind that people are willing to delve deeper into the psyche of Darth Freaking Vader but choose to read Kylo Ren on such a surface level… Sigh.
After that, we stayed for "Hollyweird Science", which turned out to be one of the liveliest and most interesting panels we went to all weekend! Featuring a panel of scientists working as technical advisors to various film and TV projects, it was very interesting to hear their philosophies on the scientific accuracies (or lack thereof) of fictional media – of how far our "suspension of disbelief" can stretch. Most agreed that, as long as the story itself is solid, then any technical glitches can be forgiven. But I believeKevin R. Grazier (science advisor onGravity and Pirates of the Caribbean) put it best when he stated that the only time that technical inaccuracies bother him is when they could have been easily avoided. I think that's a very reasonable take!
Our last panel of the day was "Star Wars and Fandom in the '70s", which was of particular interest to me since I was born right in the middle of that (yes, I'm old, but it's not about age, it's about attitude, remember??). The sole panelist for this was Craig Miller, who was the publicist for the original Star Wars film and for Empire Strikes Back. So, basically, this guy had a hand in the marketing and merchandising culture thatStar Wars pretty much invented. He was also in attendance at San Diego Comic-Con way back in 1976, before anyone even knew what Star Wars was. Back then, a paltry 1,200 people attended SDCC. By the time they returned a few years later forEmpire, that number had swelled to 6,000! So, I guess blame Star Wars for Comic-Con becoming the behemoth it is now? (Btw, Mark Hamill, who was also there for that fateful 1976 Comic-Con, echoed Mr. Miller's sentiments whenwe chatted with him at Comic-Con a few years ago.)
Misc.: Actors Drake Bell,Sammi Hanratty, Sophia Taylor Ali, Matthew Frias, and Erika Daly, along with writer/producers Barry Wernick and James Hallam, were on-hand to create some buzz for their upcoming comedy thriller Bad Kids of Crestview Academy, based on Wenick and Matthew Spradlin's graphic novel. A panel on Friday and meet-and-greet on Saturday were held to give fans a sneak peek of this film adaptation. The movie is set for a late-Summer/early-Fall release, and you can get more info about it on their official website! 
Cosplay a-Go-Go: Right off the bat, to no one's surprise, we noticed that the most popular cosplay was for Star Wars: The Force Awakens, and in particular for Rey and Kylo Ren. Indeed, you couldn't swing a dead rathtar without hitting at least a dozen Reys. They came in all different shapes, sizes, ages, and even genders! On the other hand, about 90% of the Kylo Rens we saw were female. Some genderbent interpretations, yes, but on the whole, it was just straight-up girls & women dressed in full Kylo Ren regalia. Make of that what you will. We also spotted a couple Poes and Finns and at least one Captain Phasma. Of course, the classics were well-represented too: Vader, Han, Leia, Luke, etc. By far the most interesting was to see all the different cosplay interpretations of BB-8 – no two were alike!
An example of a Kylo Ren genderbend (Kyla Ren?)
While taking this pic of a genderbent Rey, the cutest little Baby-8 just happened to roll by!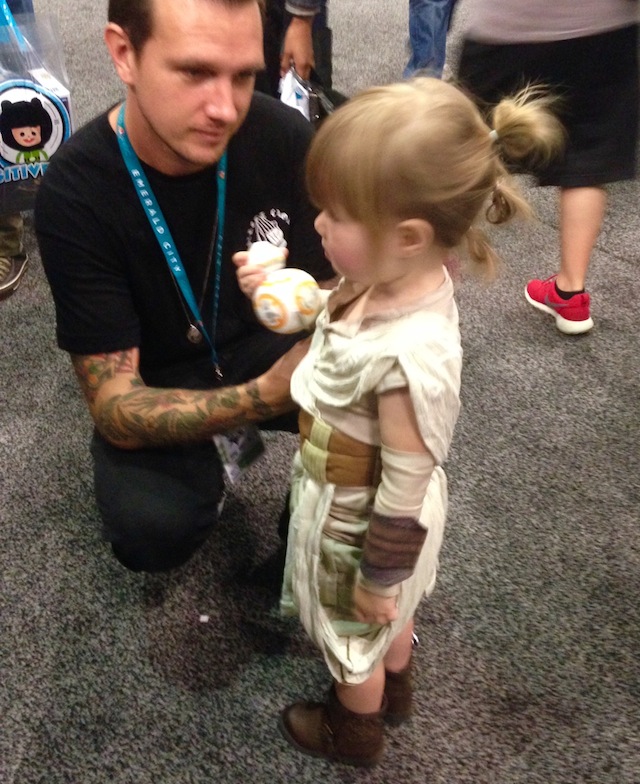 Mini-Reys win the day!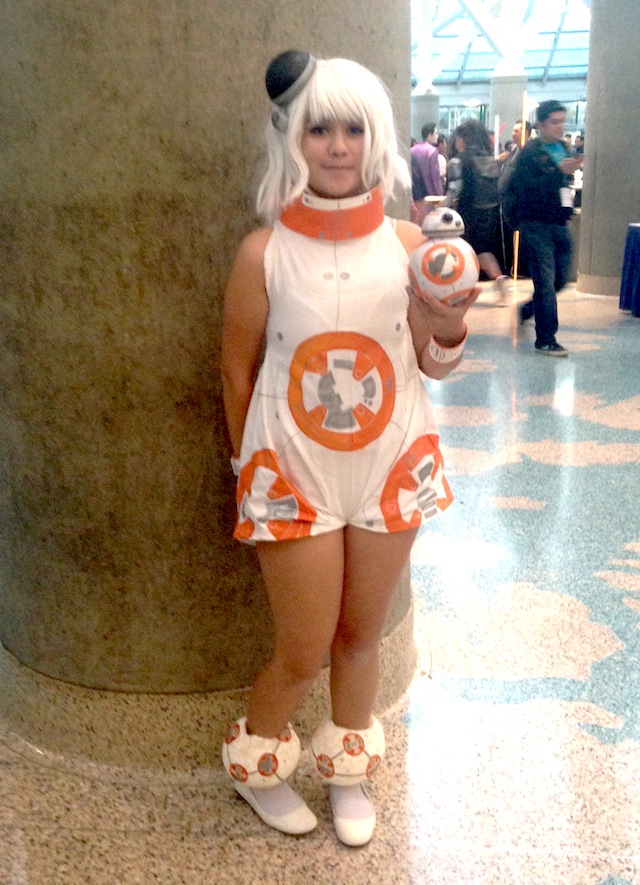 An example of a BB-8 interpretation
These two weren't even together; they just happened to run into each other on the floor! Fitting, no?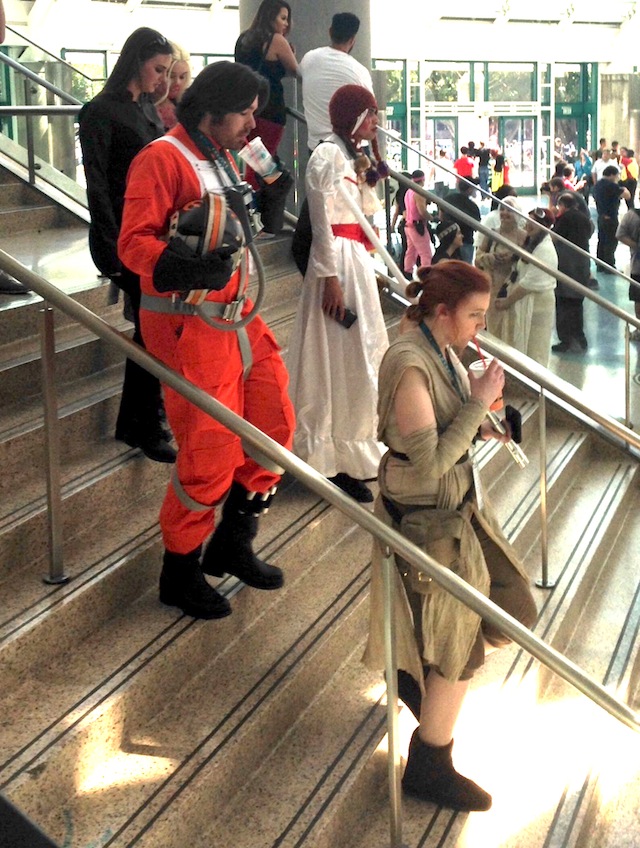 Poe and Rey having a much-needed juice break.
Ain't no party like a stormtrooper party!
'Nuff said, really.
TOO SOON.
DAY TWO
Outfit: Now it's my turn to get into theTFA spirit! I was lowkey repping Reylo (don't judge me!) with my hair done up in Rey's signature tri-buns while I sported a sweet Matt the Radar Technician T-shirt I found online. Topping it off was a necklace with a pendant shaped like Kylo Ren's lightsaber that Squid got for me, though to be honest it looks more like a random red cross. Still, it rocked!
Panels: First on the docket was "Geek Wars: Star Wars Edition", which involved a panel of media folks competing against each other with some TFA-related trivia. Btw, did you know that Captain Phasma actually originated within the pages of a dubiously-titled Star Wars fanfic? Well, now you do! Thanks, WonderCon! In between questions, though, there was some discussion about representation in fictional media, which I found both interesting and encouraging. At the end of the panel, the panelists revealed their theories for Rey's parentage. ComedianChris Gore offered: "I think, in some weird way, Rey and Kylo are gonna end up being brother and sister. And then they'll kiss." (Hey, it is a tradition!) The other panelists seemed to largely agree that Rey is either a Kenobi or a Force Baby. I can live with that.
Next up was "Millennium Falcon, X-Wings, and TIE Fighters: Creating the VFX for The Force Awakens", which was probably the closest we got to the actual movie itself! The distinguished panelists includedTFA's VFX supervisor and 2nd Unit Director Roger Guyett, pre-visualization supervisor Brad Alexander, and post-visualization supervisor AJ Briones, all of whom took us through their processes in creating the epic VFX for the movie! They also treated us to a screening of their first computer-generated pass at the chase scene through Jakku between the Falcon and the TIE fighters, which I was surprised to find that I preferred to the final version! They also showed us a brief clip of one of the featurettes from the upcomingTFA DVD, which goes into more detail about the special effects of the movies. I can say with confidence that's it's gonna be amazing.
After that, we headed over to the "Romance in Sci-Fi and Fantasy" panel, which Squid and I figured would be right up our 'shipper alley. Unfortunately, it turned out to be more of an excuse for the panelists to plug their latest projects than any really edifying discussion about the role of romance in sci-fi/fantasy fiction. Bummer.
Misc: The attendance numbers seemed to have doubled between Friday and Saturday. While Day One was very chill and manageable, Day Two was almost Comic-Con proportions. The main floor was jam-packed. But I will tell you two ways in which WonderCon had it over Comic-Con: (1) CHARGING STATIONS! There was a designated area, secluded from the main crush, with tables and chairs and little stations set up with power strips for people to re-charge their phones and devices. Can you say "life-saver"? Why do these not exist at Comic-Con? And (2) Tap In/Tap Out turnstiles. These were set up in front of the entrances and exits of the main floor and the meetings rooms where panels were taking place, and you had to physically scan your badge before you were able to enter any of these areas. Which is a super efficient way to keep track of people with and without badges, and I'm sure it was easier on the volunteers too! That said, you could easily access the main atrium and the food and beverage areas without badges; meaning, you could still have a pretty decent WonderCon experience even if you didn't have a badge!
Cosplay a-Go-Go: With more people comes more cosplay and it didn't disappoint! The big guns were out this day, and I even saw a few Matt The Radar Technicians!
In true character, he refused to take a pic until I showed him my T-shirt and promised to say nice things about Kylo Ren.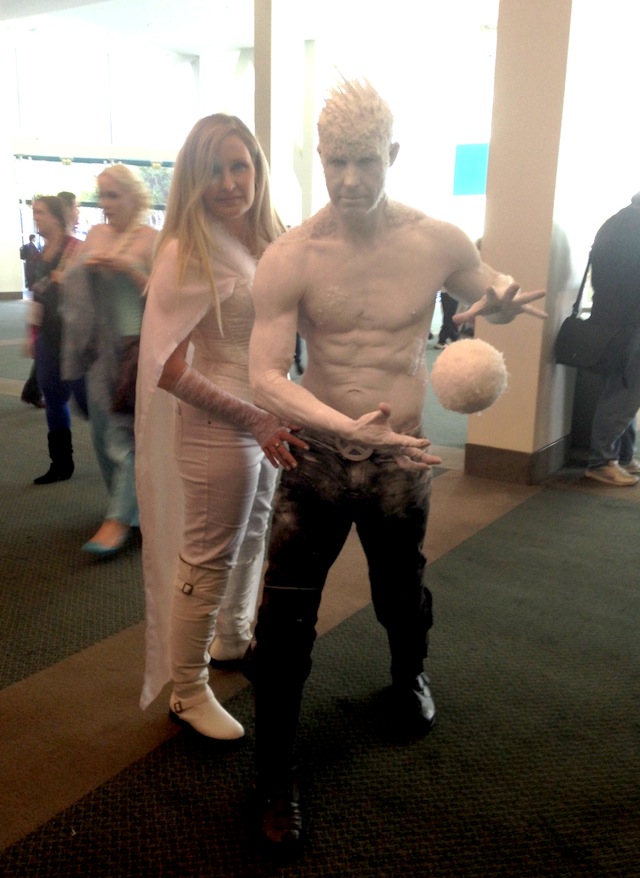 The level of quality of not just the costumes but the make-up jobs on some of these people is outstanding!
Mm. I'll pass.
Truly excellent Mad Mad: Fury Road cosplay!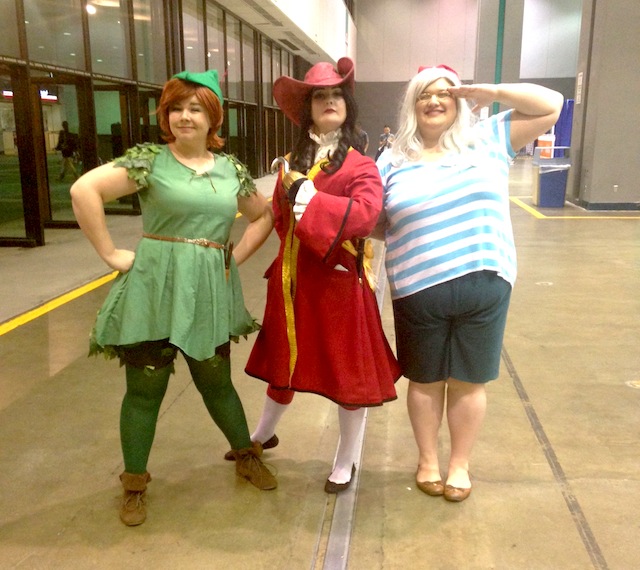 Well now this is just precious.
The family that cosplays Super Mario together, stays together!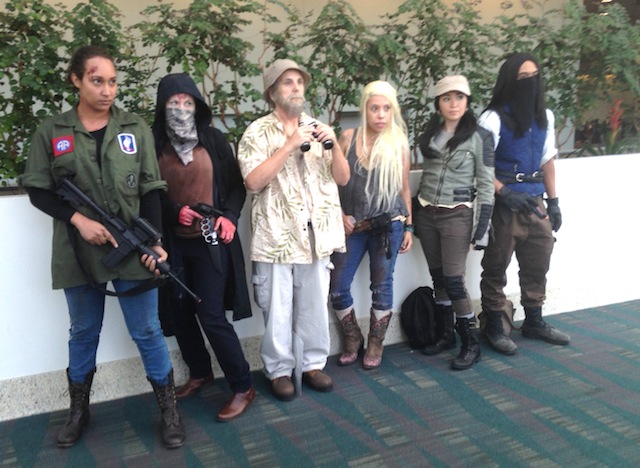 What, no Daryl?
These two are so hot right now.
DAY THREE
Outfit: Today I paid homage to one of my lifelong fandoms, Peter Pan, with my "Take Me To Neverland" tee-shirt and matching necklaces a friend who knows me too well gave me for Christmas. Squid was all set to wear this amazing teal Star Trek cardigan she got from a friend who knows HER too well over Christmas, but she said it was uncomfortable, so I offered to wear it instead. It was a weird look and mish-mash of fandoms (also dishonest since I am obviously Wars > Trek), but it looked great on me, so what can ya do…
Panels: We started the day at the "Nerdist Science: Star Wars Edition" panel, moderated by Nerdist Science Editor Kyle Hill (who looked like a cross between Thor and Jesus, so it was very appropriate for Easter!) and panelists included not one, not two, but THREE female astrophysicists (woo-hoo!) plus NASA's notorious "Mohawk Guy" (remember him?). The panel revolved around the IRL feasibility of such Star Wars tech as lightsabers, TIE fighters, and Starkiller Base. Needless to say, the scientists were having none of it. But they were all super engaging, and once again the nerdy science panel ended up being one of the highlights of the weekend!
The only other panel we attended this day (since it was a shorter day anyway) was – you guessed it – another Star Wars-themed tech panel! "Star Wars: The Science Awakens" was actually rather similar to the Nerdist one, in that there was discussion about whether or not certain technology in the movie could be a reality, but the panelists included a wide array of different scientific disciplines, including writers, production designers, astrophysicists, and psychologists, so the conversation was rather diverse as well. In fact, the deep psychological discussion about Kylo Ren and Han that I had been hoping for on Friday actually took place here! Eureka! We also learned that, if you ask Siri "Are you my father?", she will spit back at you some snarky Star Wars-related response. Try it now!
Misc: I was pretty much spent by Day Three. My feet hurt, I had a headache, and I had been living on crappy convention center food for three days. Not a good combo. At least the weather was nice…?
Cosplay a-Go-Go: We assumed the crowd would thin out since it was the last day AND a holiday, but nothing doing! Possibly most exciting (for me) was to see some cosplay that referred to some possible spoilers for the upcoming season of "Game of Thrones" (maybe):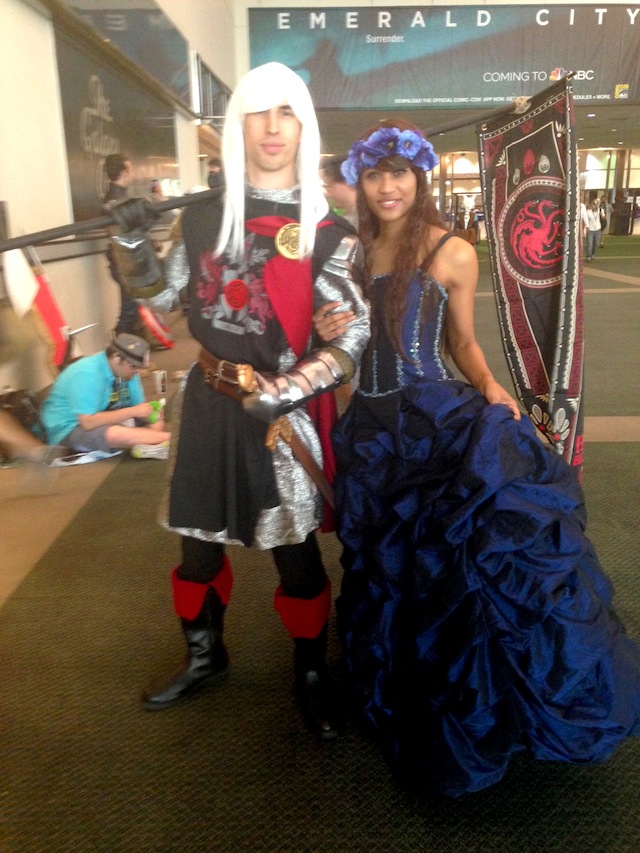 I'm trying to make "Rhyanna" happen...
And there you have it! A successful and educational weekend all around. Now we return to our regularly scheduled nerd solitude…
- Katie Marzullo, YH Staff Editor