Win a Date with Ben Affleck & Matt Damon!
Written by Katie Marzullo. Published: February 13 2014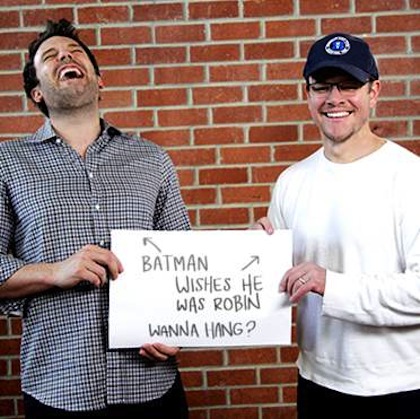 Just in time for Valentine's Day!
There was a time in this country when a double-date with Ben Affleck andMatt Damon was a pretty hot ticket. And, well, for my money, it still is!
Yes, the Oscar-winning pair and BFFs might have a little gray on their temples and a passel of kids each, but let's face it, they're still pretty hot. Affleck is the defending Best Picture Oscar winner at the moment, not to mention the next Batman, and Damon continues to churn out critically-acclaimed blockbusters and thoughtful indie films in tandem. What's not to love?
Oh, and lest I forget to mention that they're both hella generous. Damon in particular is so committed to clean water initiatives that he even founded
Water.org
to help bring fresh water to nations experiencing critical shortages in life's essential element. And now, he, along with his buddy Ben, are trying to get YOU hyped about this great cause by offering the best gift possible in return – HIMSELF. Yep, if you donate just $10 to Water.org, you have a chance to win a double-date with Damon/Affleck (Damffleck?), which includes you and a guest being flown out to a Hollywood to hang out with the twosome at a "super secret, super cool, Hollywood event." If that weren't enough, according to the campaign's page on Omaze.com, you'll learn: "What it's like to act, write, grow up in Boston, play poker, vacation, get named Sexiest Man Alive, win Oscars and be epic… all with your best friend." Well, sign me up!
Get your Alexander Hamilton's ready and
enter here
, but hurry, the campaign ends on February 18!
(Photo via ID-PR)
- Katie Marzullo, YH Staff Editor