Willian Shatner Finally Getting That 'Star Trek' Cameo!
Written by Kevin Donaldson. Published: September 29 2014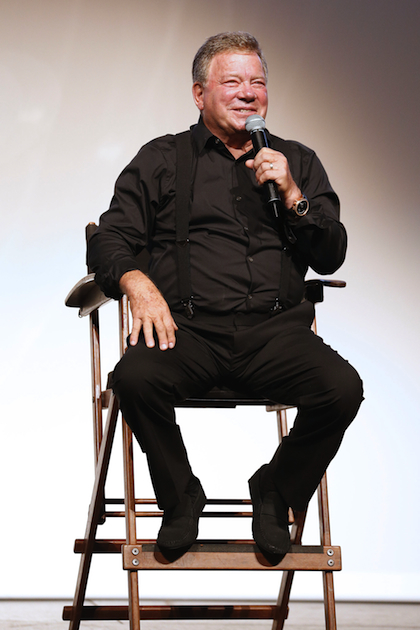 After years of lobbying and, more recently, days of denying rumors like crazy, the OG Captain Kirk himself, William Shatner, will indeed be making a cameo in the third installment of the newStar Trek film series! This comes after Leonard Nemoy has reprised his role as the loveable-yet-robotic Vulcan, Mr. Spock, yet Shatner was notably left out.
Shatner made a recent appearance at Wizard World Nashville Comic Con and took to the stage to announce an offer for a cameo given to him byJ.J. Abrams himself at the request of the newStar Trek director, Roberto Orci. The funny thing is, when Shatner was given said offer, he told Abrams, "'I won't even tell my wife. I won't tell anyone. I wouldn't do that, JJ.' I get back from Australia, and it's all over the Internet, that the director held an interview and said they wanted Shatner and Nimoy to be in the next movie. I thought, I bet you J.J.'s frothing at the mouth at this point. So, the news is out that they have an idea that they want Leonard and myself."
So, even before Nashville, Shatner let the cat out of the bag, but it's all right, the director Orci wants to get Shatner himself involved. Plus, It's William Freaking Shatner! He's incredible and can do no wrong. So far, there are no details as to what the cameo entails, and Shatner doesn't even know what's going, but we can probably make some educated guesses. I'm sure Orci and Abrams are happy about it.
Are you excited to finally see William Shatner in Star Trek 3?
(Photo via Joe Kan/WENN)
- Kevin Donaldson, YH Staff