Why You Need to Watch "RuPaul's Drag Race: All-Stars"!
Written by Katie Marzullo. Published: October 22 2012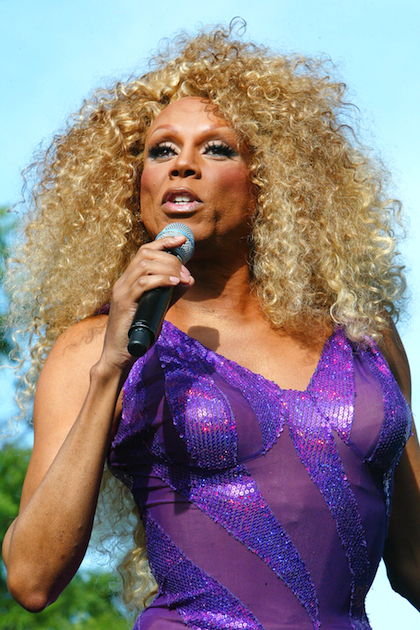 The 5th season of Logo Network's "RuPaul's Drag Race" is premiering tonight, but this time, the contestants will look wholly familiar. That's because this season brings back some of the best drag queens from the past four seasons! But, unlike the current All-Star edition of "Dancing With The Stars" taking place right now, there are no past champions here; these are all ladyboys looking for another shot to be crowned the Next Drag Superstar!
Anyone who has watched the show religiously since Season 1 (like me) can tell you, as seemingly goofy and outrageous as this show might seem from a distance (and it is), it is also so much more than that. This is a show about acceptance, about finding your own inner diva, no matter what gender. Almost all of these contestants have a story, whether it be facing bullying as a child, being estranged from intolerant family members, of even living with HIV.RuPaul himself, who hosts the show and decides the queens' ultimates fates, is a borderline spiritual guru, who has parlayed many years of struggling and self-realization to impart some truly profound wisdom upon his contestants. "RPDR" is more than just a bunch of dudes wearing makeup and deftly hiding their manhoods. These are ARTISTS, and they happily shirk societal restrictions to do what they love and live their passions. We can all take many a page from their bedazzled books.
I actually had the pleasure of attending the premiere party for the show last week at The Abbey in West Hollywood (natch!), and among the lovely ladies that I got to meet (Willam Belli,Raven, Pandora Boxx, and judgeMichelle Visage), I was delighted to discover that the ones who seem like the biggest hardasses on the show couldn't have been lovelier in person! Here are a bunch of fellows who could literally crush you in BOTH genders, but they were incredibly approachable. I would like to think that the years they have spent struggling for acceptance for who and what they are have helped them develop into genuine, accepting people themselves. How ironic that the sincerest folks I've met in Hollywood are grown men dressed as the opposite gender!
Sold yet? Well, okay, then let me introduce you to the returning queens!
Nina Flowers (runner up, Season 1)
For my money, Nina Flowers should have taken it all home in the inaugural season. If drag truly is an artform, then Nina has perfected it. Using that tactic moreso over the "female impersonator" illusion, Nina's drag is so far out of the box and unique that she should be her own exhibit at the Getty.   
Shannel (4th place, Season 1)
Shannel was another one of my faves from that first season, mostly because her glam was just too blinding. Blessed with a naturally gorgeous set of blue eyes, Shannel doesn't need to do much to entrance you, but she'll go over-the-top anyway with her glittery showgirl style. Side note: her dress at the Premiere Party nearly impaled me. Atta gurl!
Tammie Brown (8th place, Season 1)
In my opinion, Tammie Brown did not get enough of a fair shake. Tammie is from the old school of drag, where it's camp and comical and less about trying to actually pass yourself off as a female and more about entertaining. Her quirky style is definitely divisive, but I'm a huge fan of it. She's like if Marlene Dietrich and Bozo the Clown mated. I definitely hope she goes farther this season.
Raven (runner up, Season 2)
One of my ultimate all-time favorites, Raven is another contestant that I feel was robbed of her rightful title. Raven is all about class and glamour with an edge. She's like a walking talking Art Deco creation, with razor sharp lines here and luscious round surfaces there. She developed somewhat of a reputation for being a "villain" in Season 2 for her don't-give-a-fluck attitude and brutal honesty, but hey, girlfriend was just telling it like it is! I know I probably shouldn't play favorites, but… Raven is my drag soulsister, and I really really hope she avenges herself this season! (Also, Raven is just as hot out of drag as in, and I respect anyone who can be hot in two genders!)
Jujubee (3rd place, Season 2)
Everyone needs a little Jujubee in their lives. And I can't express how excited I am that this Thai-Laotian spitfire is back! Jujubee is a glam queen with a sense of humor, never taking herself too seriously, even when she looks like she just stepped off a Paris runway! Both her stage and real-life personas are infectious, but make no mistake -- she can read ya to filth!
Pandora Boxx (5th place, Season 2)
Pandora Boxx is an interesting blend of old school camp and new school fishiness ("fishy" being a term referring to a drag queen who can actually pass for a biological woman). She shined brightest in Season 2 during challenges where she had to be comical, like when she imitated theatre legend Carol Channing for a "Match Game" spoof. On the other hand, she can kill aMadonna drag look. Pandora is a comely balance between humor and glamour.
Manila Luzon (runner up, Season 3)
This was the first season that my favorite queen from the outset (Raja Gemini) actually made it all the way to the end. If there had been no Raja, though, then Manila Luzon would have certainly taken the crown. Manila's looks are to die for, not only in their creativity but in their commitment to certain "themes". Manila does not simply put on a dress and some jewelry – she creates entire fashion homages. Her creativity is top-rate, and I am so excited to see more of her creations this season!
Alexis Mateo (3rd place, Season 3)
BAM! You just can't help but love Alexis Mateo. Although not considered the most creative or glamorous queen ever to grace Ru's runway, Alexis has a completely endearing and bubbly personality which makes her shine above the rest. She's just beautiful inside and out (her lip-sync performance of Fantasia's "Even Angels" still gets me every time), and I cannot be more thrilled that she is getting a second chance to show the world how amazing she is!
Yara Sofia (4th place, Season 3)
Yara Sofia is very much a part of the Nina Flowers school of drag, where she elevates the illusion to an artform, creating Cecil B. DeMille-level drag looks that you can't take your eyes off of. And she can barely speak English, which makes her hilarious.
Mimi Imfurst (11th place, Season 3)
Mimi Imfurst is the lowest performing queen returning to the show, having been the 3rd queen to go home on Season 3. But she definitely left an impression! Criticized for being perhaps a little too insecure and a little too overzealous (not to mention her troubling stunt wherein she physically manhandled fellow contestant India Ferrah during their lip-sync performance), she nonetheless proved that she knew how to dress for her body type. I hope she's resolved any past issues she's had, because she has a great classic look!
Chad Michaels (runner-up, Season 4)
Again, Chad Michaels probably would have had this one in the bag if she hadn't been up against the eventual winner Sharon Needles. I was quite skeptical of Chad at first – she was initially presented to us as a Cher impersonator (which, granted, she NAILS), but I wondered if she had anything else up her sequined sleeve... Yes. Yes, she did. You'd be hard-pressed to find an actual woman with as much class, dignity, grace, style, and glamour as Chad Michaels (her real name, btw). It's not even so much her look, which is flawless, but her character. Chad, who is older than the average contestant, is right up there with Ru in terms of been-there-done-that wisdom, and she is a credit to drag queens everywhere.
Latrice Royale (4th place, Season 4)
And last but NEVER least, Ms. Latrice Royale! Latrice is by far the most successful plus-sized contestant on "RPDR", and for good reason – sister OWNS IT! The problem with other plus-sized contestants in the past is their glaring insecurities, which usually resulted in them going home early. Not Latrice. Girlfriend KNOWS she's fierce, and you are not gonna ever convince her otherwise. Latrice has also been through the ringer in her personal life, having even done some time in prison! So, she is a tough nut to crack, and she will give any skinny queen a run for her money! "The shade of it all!"
And there you have it, your "RuPaul's Drag Race" all-stars! Be sure to tune in tonight at 9pm on Logo to watch the feathers fly and see these gorgeous men make herstory!
(Image via Carrie Devorah/WENN)
- Katie Marzullo, YH Staff Editor